Triathlon could be confusing and very expensive if you do not know what you are doing. Especially for the ones that are just starting off their journey. It is clear that triathlon has some hectic barriers to access the sport such as cost and lack of proper informative content for beginners and youth athletes
With the help of other triathlon enthusiasts, we aim to use "Triathlon Budgeting" to provide a comprehensive and easily accessible guide to the public in order to help them throughout the process of becoming triathletes
"No matter what is their financial or physical capacity"
A Brief History Of Myself
First, please consider subscribing to our newsletter!
In October 2014 I went through ACL reconstruction surgery.
My insurance did not cover the cost of my treatment and it was painful to spend all my savings on it. Further to my surgery, I was diligent in my rehabs advised by the doctor, then to pick on a scalable challenge I moved from playing football to endurance sports, which was a completely new field to me.
Since my surgery and completing my rehab, I've been engaging in extreme endurance events, and I am very pleased to have been considered as a potential candidate for sponsorship earlier, which helped to motivate me to do more.
Over the few past years, I ran 120km once and 100km ultra trail races twice with 4k+ elevation over some cute mountains. Did 2 Full ironman triathlons and 1 Extreme Celtman triathlon in Scotland (an ironman but in extreme conditions -i.e Ironman on steroids ).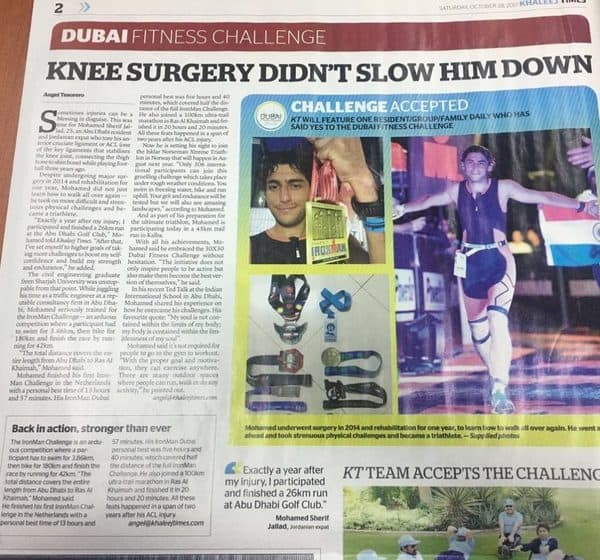 Overall in the past 5 years, I participated in more than 45 events where I covered elevations equivalent to climbing Everest a few times, ran and cycled to Europe, and back and swam around the gulf.
I can proudly say that only a hand full of people were able to go through similar experiences.
Here are some of my media appearances
Strathclyde Business School Blog Post-August 02,2018," Enjoying the journey: Work, MBA, and Triathlons" [email protected] Speaker – October 15, 2017, " The Importance of Setting Measurable Goals"
And here is a link to my Linkedin Profile & Facebook Profile