Since you are already here, chances are you must be thinking of how great was your accomplishment, OR, you are looking for your next thing.
When we talk about endurance sports, it always boils down to the comparison of whether triathlon is harder than marathons and ultra-marathons.
I am an extreme triathlete and an Ultramarathoner, and I would like to express my view on this topic in this article. I have completed several Ironmans, Extreme triathlons, and many Ultra Marathons ranging from 45km to 120km. Check my bio in this link to know more about me > MY BIO
But first, let me answer the question briefly, which is harder, triathlons, Marathons, or Ultra Marathons?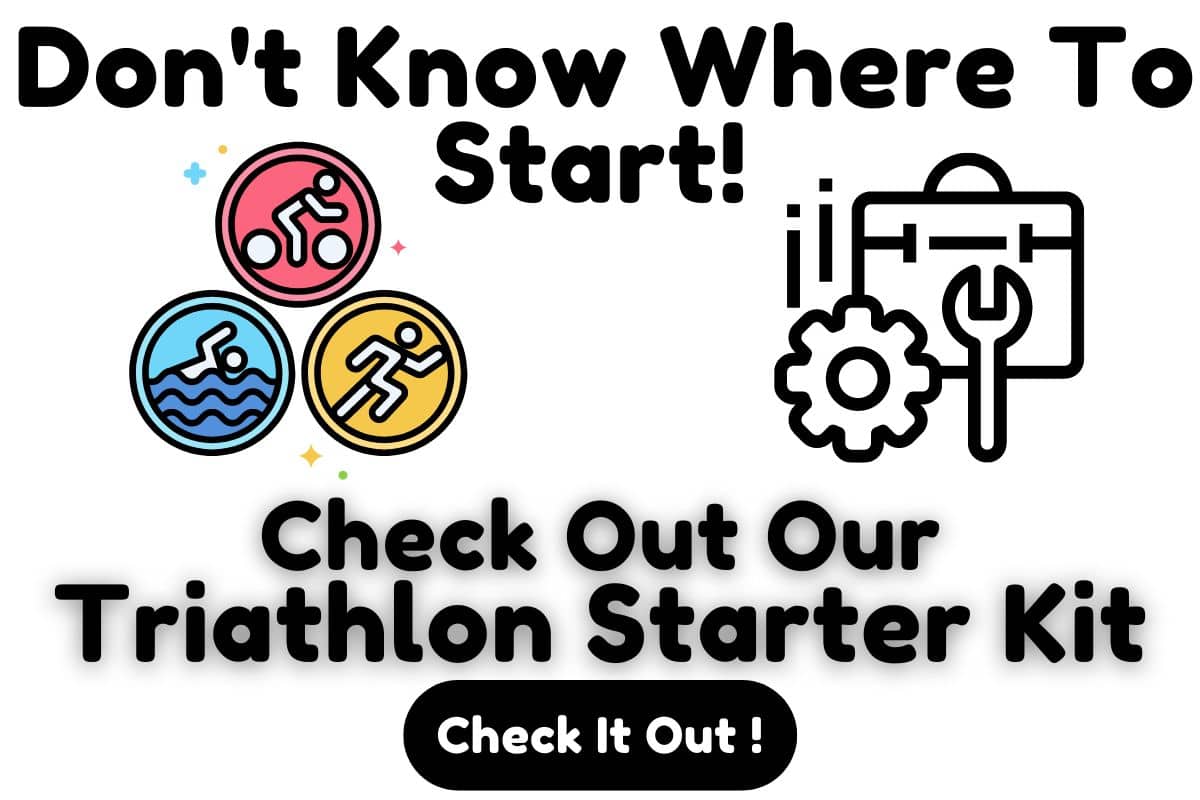 When comparing all triathlon distances against a marathon, then clearly triathlon is more challenging considering that the Ironman distance also hosts a full marathon distance, however, when comparing Triathlons to Ultra Marathons, the scale shifts to Ultra Marathons.
Check this post for more on; Is Triathlon and Ironman the Same? What You Need to Know Before Signing Up!
Trying to put this in numbers I developed the table below from my experience. I am suggesting that triathlons are almost 3 times more difficult than running marathons, which I believe is reasonable when taking into consideration that it's 3 sports in one. However, I am suggesting that Ultra marathons are 25 to 50% more difficult than triathlons.
For more on long-distance running check out our post What Is Considered a Long-Distance Run? Race Types & Rules Listed!
I did some analysis in this article and came up with the following table which ranks endurance events difficulty based on the listed factors such as duration required to finish an event, required finance, sleep deprivation etc.
---
| Factor | Triathlons | Marathons | Ultra-Marathons |
| --- | --- | --- | --- |
| Event Duration | 3 | 1 | 5 |
| Financials | 5 | 1 | 2 |
| Sleep Deprivation | 3 | 1 | 5 |
| Number of Disciplines | 4 | 1 | 1 |
| Muscle & Joints Pounding | 3 | 2 | 5 |
| Navigation | 1 | 1 | 5 |
| Safety | 3 | 1 | 5 |
| Elevation Gain | 2 | 1 | 5 |
| Training | 5 | 2 | 3 |
| Total Points | 29 | 11 | 36 |
Measuring and comparing Events Difficulty (Score from 0 to 5)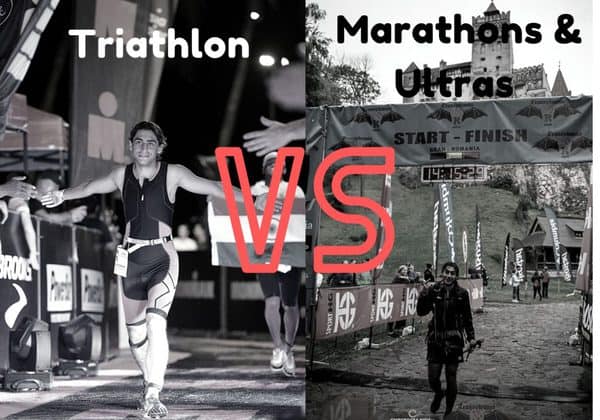 Factors Used To Measure Sport Difficulty – Triathlon Vs Marathon Vs Ultra Marathon
Event Duration
Forget the distance, instead, think of how long will it take you to finish this specific race. 1, 10, 30, or even 50 hours. That's what really matters.
From a personal experience, the most I have spent in a triathlon was around 17 hours which was in 2018 celtman extreme triathlon, however, in one 120km race in turkey, it took me close to 24 hours to cross the finish line.
Triathlon races do not usually stretch more than that, but ultra marathoners can go to crazy limits of more than 48 hours. For more on the triathlon distance options and typical finish time, we highly recommend that you check out our post : Triathlon Distances & Average Timings Analysis (Infographic); Pick Your Right Fight !
Also, check out the article we wrote on What Are Triathlon Races Cutoff Time? What's a Good Finish Time!
Thus, in terms of event duration, I would score Ultra marathons 5/5, marathons, 1/5 and Triathlons 3/5.
Financials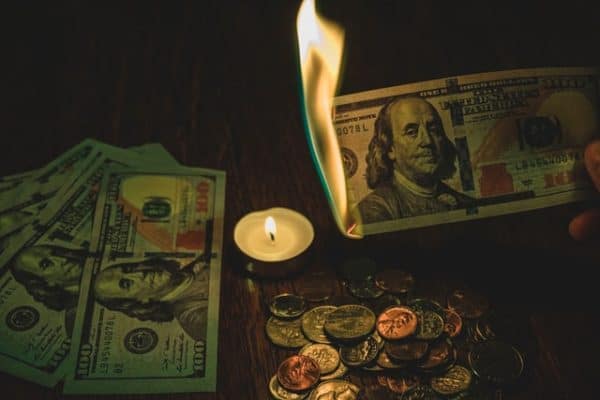 There is no doubt that Triathlons is a way way more expensive sport than any type of running activates.
The two main expenses that make triathlon stand out are bike part and event registrations, which are way more expensive than running events.
Check out the post we wrote on Is Triathlon An Expensive Sport? How Does It Compare With Other Sports!
Also our other post on The Actual Cost Of Racing Triathlons; First Timer, Beginner, Enthusiast, And Advanced
I would rate Triathlon 5/5, marathons 1/5 and ultra-marathons 2/5 in the financial category.
Sleep Deprivation
If you ask me, this is the toughest aspect of any endurance sport and ultra running is by far the winner here.
Some ultra races even start in the evening, giving your brain the space to mingle with one heck of a spin from the very start.
When comparing Ultra with a marathon or even triathlon ironman event, a slow runner will finish a marathon in 4 hours or so, and 17 hours tops for an ironman, then the athlete heads back home to a cozy bed and a good night's sleep or a short nap.
This is not the case in Ultra marathons ranging from 80 to 210 km.
I would rate Triathlon 3/5, marathons 1/5 and 5/5 for Ultra Marathons in this category.
We also recommend that you check out our post "Is Running At Night Bad? What Road & Trail Runners Should Know!"
Number of Disciplines to Master
Everybody knows how to run, but not everyone knows how to swim, bike and run, and to transition between them.
I am yet to find a triathlete how is equally good in all disciplines. There is always this one discipline where the triathlete can do better. Check out this article on What Is Triathlon Order? Hardest Part And Why Start With The Swim!
lifting the bar in one discipline while still keeping the others afloat is no easy deal.
I will rate Triathlon 4/5 and ultra-marathons and marathons 1/5 in the Number of disciplines
Muscle and Joints Pounding
Although triathlon seems to be demanding when discussing the different sets of muscles engaged when transitioning from one sport to another, it actually makes it easier on your body when compared to just running.
Imagine spending 17 hours hammering your joints in one discipline, such as running, and compare to triathlon where the 17 hours is split in 1-2 hour of swimming, 6-9 hours of cycling, and 3-5 hours of running.
I myself, by the end of each ultramarathon, my kneecaps feel like they may explode at any moment.
I will rate Triathlon 3/5 and ultra-marathons 5/5 and marathons 2/5 in Number of Muscle and joint pounding.
Navigation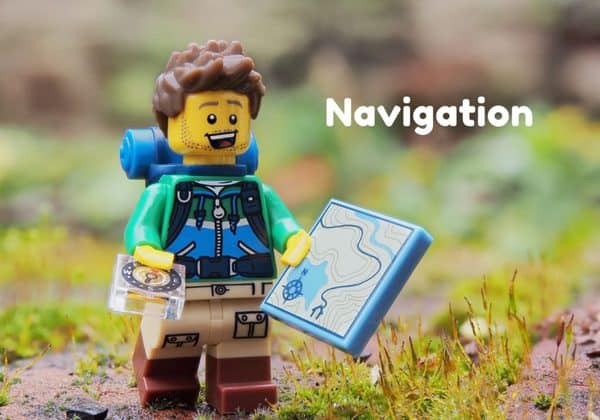 It is rare that anyone gets lost in a triathlon. It's just that there is a lot of signs and people around you to guide you. The same with marathons.
But Ultra Marathon is each man for himself. Organizers will try their best to mark the route, but it, when it's a 100 km of marking over mountainous terrain, not only does the task, becomes more difficult, but also some of the markings may get blown away or covered by snow.
Getting lost in Ultra marathons is very common. I myself have gotten lost in virtually every ultra I ran. In one of the Ultras, I got so lost that I was not able to make it back to the aid station in time for the cut-off.
Also, some ultras are self-guided, which means the athlete will have to figure it out himself using his own sense, a map, and GPS.
This definitely adds another significate layer to the mental difficulty of the sport. The constant dilemma of " Am I lost!"
I will rate Triathlon 1/5 , ultra-marathons 5/5 and marathons 1/5 in Navigation Difficulty.
Safety
Triathlon fatality rate is 1.5 per 100,000, which is two to three times the Marathons rate (Source).
I couldn't find much about the Ultramarathon fatality rate, but I found this; there have been only 51 recorded death in 12 years (from 2008 to 2019) (Source).
So if we do the math by assuming that there have been around 1,000 participants in 120 races every year, that's a total of 51 death in 120,000, which is a staggering 20 times higher than triathlons.
I will rate Triathlon 3/5 , ultra-marathons 5/5 and marathons 1/5 in Safety.
Also, check out What Weather Conditions Could Cancel A Triathlon Race? Other Possible Reasons!
Elevation Gained
While there is some elevation gain in triathlons and marathons, it is uncompilable to some ultra marathons.
Some ultramarathons feature 8,000 meters or more, which is equivalent to climbing Everest.
I will rate Triathlon 2/5 , ultra-marathons 5/5 and marathons 1/5 in Safety.
Training
Training is an inseparable part of taking on the feat of an endurance event.
I would tend to train less for Ultra Marathons than triathlons, mainly because it's more of a mental challenge, and a single discipline sport, which means all I have to do is run every now and then.
For more on this, check out our post on How Long Does It Take to Get Into Running Shape & Out ?!
But in the case of triathlon, one has to swim bike and run almost every week and sometimes back to back.
I will rate Triathlon 5/5 , ultra-marathons 2/5 and marathons 3/5 in Training.
For more on this topic, check out our article What Is The Hardest Parts Of Any Triathlon? Here Is The Most Important Thing To Do !
What's The Point Of All of This? To Endure Or Not To Endure!
From experience, Endurance sport is for those who are looking for something. Something different. Something that we do not know exactly what it is. A feeling. An emotion. An experience. A pursuit of self-exploration, of What makes you, you.
And what draws people back to the sport is because it delivers. Well, one area is staying healthy. For more on this aspect, check out our post "Do Triathletes / Endurance Athletes Live Longer? Why!"
Endurance sport is a journey of Self-exploration spiritual journey. But it doesn't come easy or cheap. It's a lot of hard work. And in the process one exposes himself. I find myself obligated to share the video below which talks about the emotional rollercoaster of Endurance sports. If you are not willing to take on these challenges, then maybe endurance sports is not your thing.
For more on the Endurance mindset, check out our post titled What You Should Think About When Running? The Fascinating Endurance Mindset!
Other Endurance Sports to consider
Duathlons: A sport of Cycling and running. It's like a triathlon but without the swim leg. check this article we wrote: What Is A Duathlon? Distances, Order, Gear, How To Train & Beginner Tips
SwimRun : A team sport consisting of two people traveling through nature and time while dependent on each other. The team alternates between running and swimming between islands and lakes while being within a few meters of each other. (source)
Marathon Swim: 10+km swimming event. It could be in a pool or open water. Find out more on Marathon swimming and check out pir post How Long Is a Marathon & Ultramarathon Swim? (Distance & Duration)
Ultra-distance cycling: A bike race that is longer than 160 to 200 Km
For more on this, check out our post on What Is Harder than Running A Marathon ?! (List of Next Level Challenges)
Which One Should You Do?
Having listed the above criteria, I think it's a personal choice and you should go with the one, or even a mix of endurance sports that fits your goals and how much you could sacrifice for what you are trying to achieve.
But I will mention this, the harder the goal, the more rewarding the accomplishment.
I did all types of events and by far the sensation I get from running ultras is from another world. It's a feeling that is hard to put into words. There are no shortage of people who try to explain it, but it is not one that is taught but rather experienced.
I do think that the perfect match is a mix and match between triathlon and ultra-marathons. Triathlon has its own unique flavor and is an amazing sport to keep you fit. Plus, triathlon unlike Ultra Marathons is an Olympic sport. Check our article on Is Triathlon an Olympic Sport? Olympic VS Sprint & IRONMAN Triathlon
One way to make it a bit easier is to gather people around you who would cheer you up. Check out What Is Jockstrapping In Triathlon? Funny Triathlon Cheering Quotes You Should Use
But if triathlons and ultras are too much, at least one can give a marathon a go.