Starting out in and sport can be a daunting experience. With triathlon even more so, because you have three sports to prepare for. That means three sports to train for and three lots of kit! In this article, we will lay out the essential kit for beginner triathletes that will enable you to participate in your first triathlon.
As you spend more time going to triathlon events and training with triathletes, you will notice that the list of things to buy can feel almost endless. However, a lot of the fancy gear you see is totally optional. For a beginner triathlete this is all you really need:
Swim suit
Goggles
Swim cap
Waterproof watch
Wet Suit
Bike
Cycling shorts
Helmet
Bike repair kit
Running shoes
Tri-Suit
Sunglasses
Water bottle
Race belt
---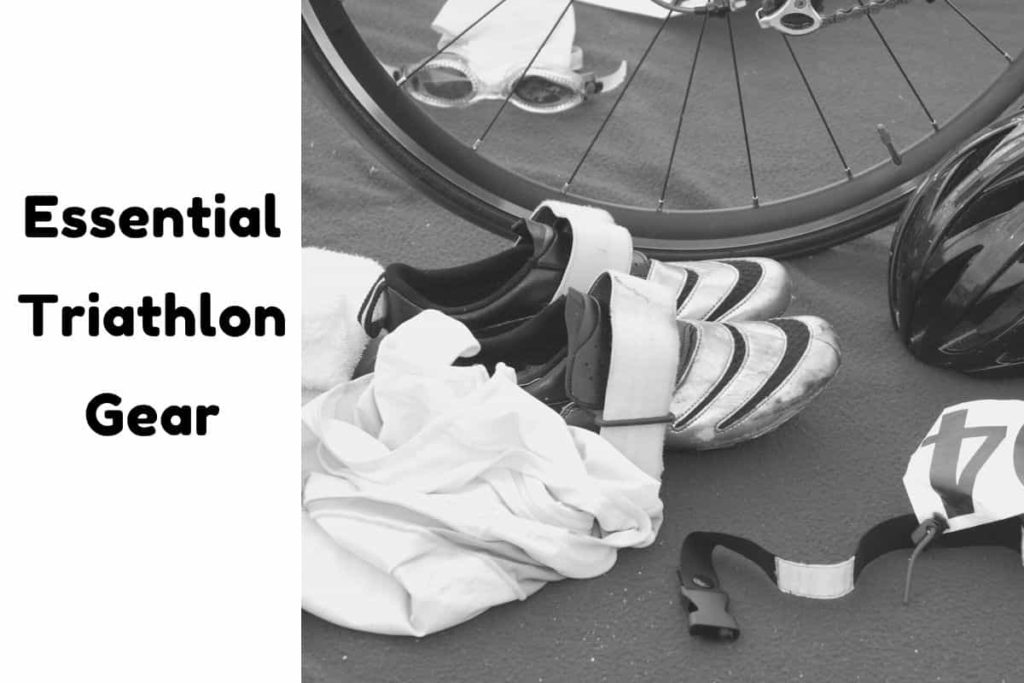 What Do You Need For The Swim Leg Of A Triathlon?
Your basic equipment will include a swimsuit, a pair of goggles, a swim cap, and a waterproof watch. If you venture into open-water swimming then you will also need a swimming buoy for safety, and a wetsuit if the water is cold.
The swim leg of any triathlon is the shortest in both time and distance. That said, many triathletes fear this leg the most unless they come from a swimming background. The reasons for this trepidation are many, but for certain a major part of it comes from the fact that swimming is the most technical of the three disciplines.
This means that, whether you have a swimming background or not, you will be spending a lot of time in the pool and in open water if you are lucky enough to have that option.
What Do You Need For Swim Triathlon Training In The Pool?
When swim training in the pool you can keep things very simple with just a swimsuit, a pair of goggles, and a swim cap.
SwimSuit
When investing in a swimsuit steer away from board shorts or anything that will create drag. While boardies might look cool on the beach, in the pool we are looking for speed; and that comes from a well-fitted, streamlined swimsuit.
Goggles
Goggles are a must and it would be a good idea to research a little before you invest. Check out our article 'How Much Should Swim Goggles Cost?'. Make sure that you choose a pair that fits well and will be comfortable throughout training and your races.
Swim Cap
A swim cap is recommended because any competitions that you enter will almost certainly require you to wear a swim cap, as it helps organizers to identify swimmers. As such, it would be a good idea to get used to wearing one in training.
Swim caps also make you more streamlined and offer an element of protection for your hair. For more information on the benefits of swim caps, especially those with long hair check out our article on 'Big Head Swim Caps'.
A Stop Watch OR a Triathlon Watch
A waterproof watch will enable you to keep track of your progress, and you can wear this on the bike and run too even if it is raining.
What Do You Need For Open-Water Swim Training?
Swim training in open water may mean a lake, river, or ocean. The idea of jumping in a lake to go for a swim may sound slightly crazy to new triathletes, but if you are looking to join a competition that has an open-water swim leg then there is no substitute for practice.
Wherever it is that you are hoping to train, open-water swimming has more considerations than swimming in a pool.
Swim Buoy
A swim buoy means that you can be seen more easily by other water users. There are some that double as waterproof bags, so you can keep your clothes and keys inside rather than leaving them on a riverbank somewhere. Be aware that swim buoys may provide an element of floatation, but they are not life preservers. Always swim in a group if you are new to open-water swimming, and let someone on land know when and where you are planning on swimming before you go.
Wetsuit
Keep in mind that wetsuits are only allowed in events with water colder than 78°F (25.5°C), but if the open-water options around you are colder than that then you will want to invest in a wetsuit. Check out our article on 'What To Wear For Any Triathlon' for a detailed discussion on wetsuits.
What Do You Need For The Bike Leg Of A Triathlon?
The bike leg of a triathlon is where you will have the most financial layout, but it need not break the bank.
Bike
Obviously, you will need a bike and the price of Tri-Bikes can be astronomical, over $12,000 in some cases (source), but for beginners, anything that has two wheels and is in good condition will get you around the course. It is not an uncommon sight to see fold-up bikes or mountain bikes trundling around the course when you go to beginner-focused short-distance triathlons.
Once you have enough experience to be sure triathlon is for you, then you will want to invest in a road bike or tri-bike. We have some great information on entry-level tri-bikes that offer great value in our 'Triathlon Bikes: Complete Entry-Level Buyer Guide'.
Bike Shorts
You will spend a massive amount of time on your bike during training. During the race, you will likely opt for a tri-suit, but this is not feasible for training as you will wear out your cool tri-suit and also bike shorts will provide more comfort and protection. The extra padding in bike shorts is especially useful for beginners who are not used to the discomfort that long rides can lead to.
Helmet
A helmet is a prerequisite to race and must be worn throughout the bike leg, including the transition area. You do not need a fancy aerodynamic helmet, just something to keep your head safe should you take a spill.
Bike Repair Kit
Not only do you need one of these, but you also need to know how to use it. In training, you will have many friends around willing to lend a hand if you get a flat tire, but in a race, you are not allowed outside assistance, so be sure you know how to use your tools. Typically your kit will contain a bike multitool, a spare tire, and a mini pump.
---
What Do You Need For The Run Leg Of A Triathlon?
The run leg of a triathlon is the simplest in terms of equipment. All you really need is some running shoes and your basic sportswear. You can invest in running shorts and quick-dry running tops if you want but to begin with, any pair of sports shorts and a t-shirt will do.
Running shoes
Take your time in choosing a pair of running shoes that are well-suited to the terrain you will be running on, and are a comfortable fit. You need to have enough ankle support in the shoe, and enough cushioning to withstand the continuous impact of long-distance running.
What Additional Kit Do You Need For A Triathlon?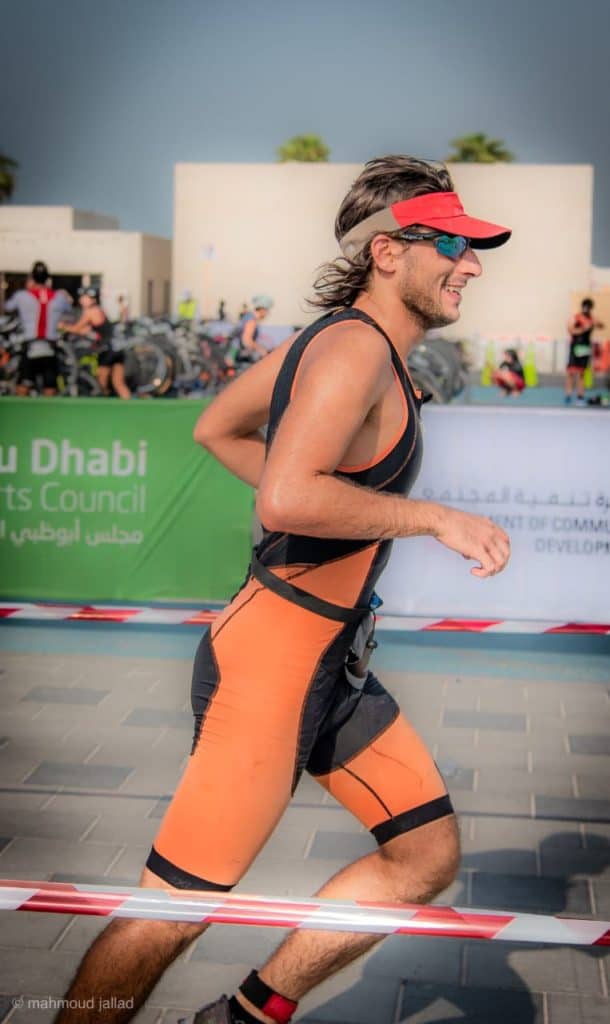 Once you have your sport-specific kit sorted, there are a few other pieces of gear that you will need that cross over into more than one discipline.
Tri-Suit
A tri-suit is a specific piece of clothing that you can wear for the swim, bike and run, in competitions. This cuts down massively on transition times and having your own tri-suit feels like you are putting on your battle gear when it is competition time. We have some more detailed advice on tri-suits in our article 'What To Wear For Any Triathlon'.
If you are interested in getting a triathlon suit then you must check the Best Budget Triathlon Suit – I've Used It for 7 Years! (Guide & Options For Men & Women)
Sunglasses
Even if it is not sunny, sunglasses offer protection for your eyes on the bike. Dust, insects, and rain can all make for a pretty uncomfortable biking experience. You can get various different tints depending on your needs and you can carry them over into the run if you want.
Water Bottle
Hydration is key when doing endurance sports, so you will want to make sure your bike is fitted with at least one bottle holder. This is something that you can also take on your runs in order to keep hydrated.
Race Belt
While this is not essential equipment, race belts are very inexpensive and they mean you do not need to put pins through your beautiful new tri-suit. They also come with extra loops where you can store your gels or other nutrition, for easy access.
For more on triathlon gear, check out our Best Triathlon Battle-Tested Budget Gear
Final Thoughts
Triathlon is three sports mixed into one, so there will always be a lot of gear to buy. That said, lots of the equipment listed here you probably have laying around the house anyway, or can borrow from friends. Be sensible when starting out; there is no sense in buying the best possible waterproof watch if all you need is a simple stopwatch.
Find a basic model and then use the money saved on the kit that really matters, like the bike or the running shoes. And remember that you do not need to buy all this gear at once, have fun slowly building your triathlon kit.