I still remember the time I looked into the matter of what to wear for my first triathlon. I have tried almost everything from dragging shorts to conventional swimming shorts. However, nothing comes close to the convenience and comfort offered by a Triathlon Suit when racing a triathlon.
The perk of not having to change in the transition, the fabric that is designed to prevent chafings, and the padding which will make your saddle tolerable along with the added aerodynamics (marginal) are enough reasons to make any beginner make the leap to a triathlon suit.
Having been in the sport for more than 7 years now ( check my bio), I can confidently recommend the trusty triathlon suit that I have used in every kind of triathlon you can imagine, from super sprints to Ironmans and extreme triathlons.
Here is a triathlon suit that served me well from the very beginning of my triathlon journey, excelled for many years and is still going!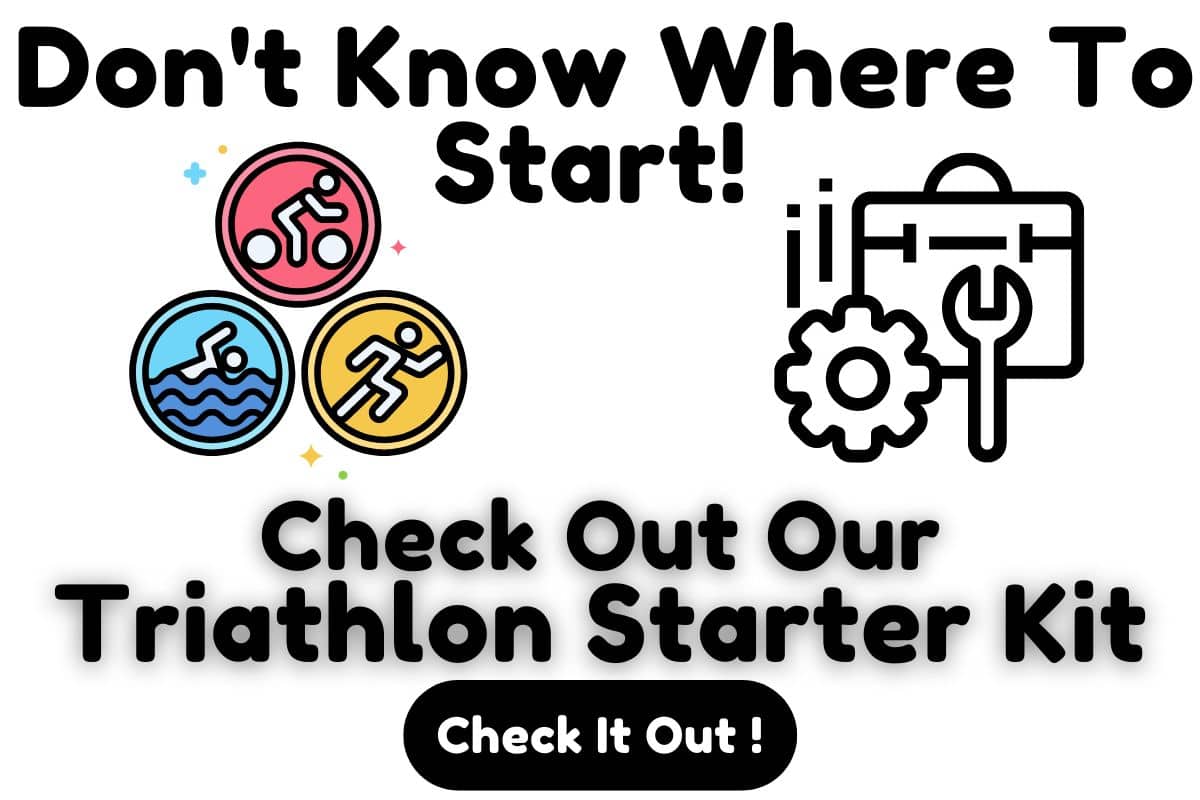 When I say best triathlon suit, I am referring to the best value you can get for the money while also providing superior performance.
---
The 2XU Perform Front Zip Trisuit (The Winner)
There are many good triathlon suits in the market but the 2XU proved itself to be one of the best out there. It is comfortable and a very reliable triathlon suit in all disciplines, swim, bike, and run. I have used it for 7 years, so it proved itself to be one of those things that will last you some good time.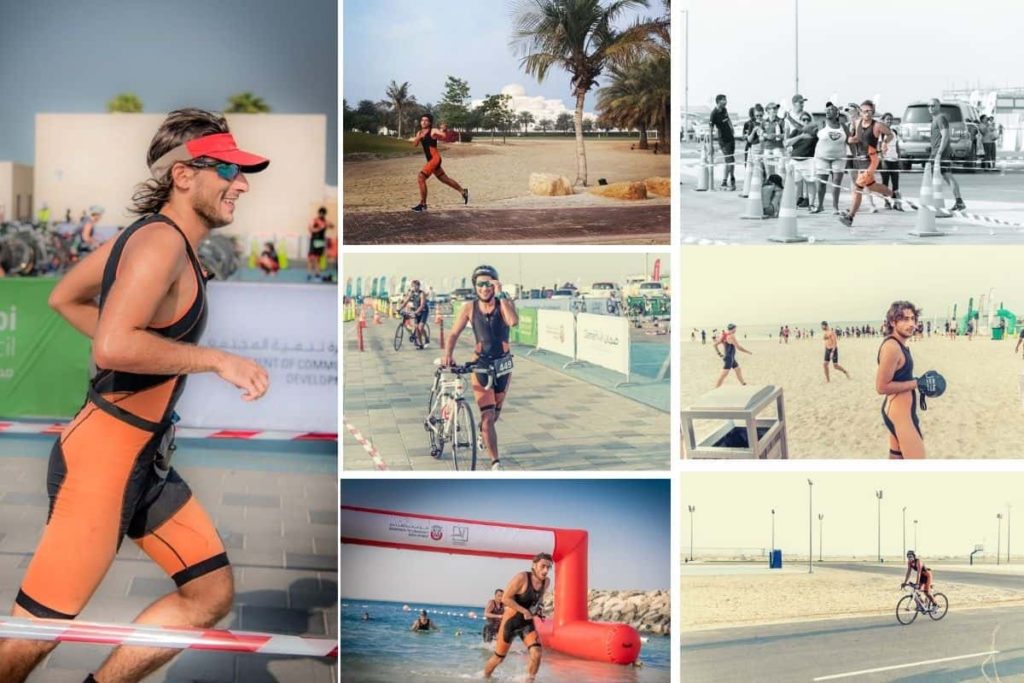 The orange color I am wearing in the above photo is no more offered but there are plenty of other cool colors. The full black suit in my opinion looks badass.
The suit has 3 pockets in the back for gels. While back pockets may create some drag in the swim if you wear the tri suit without a wetsuit on, it's worth the sacrifice as the utility and the ability to take some gel with you on the bike and run leg it provided is superior.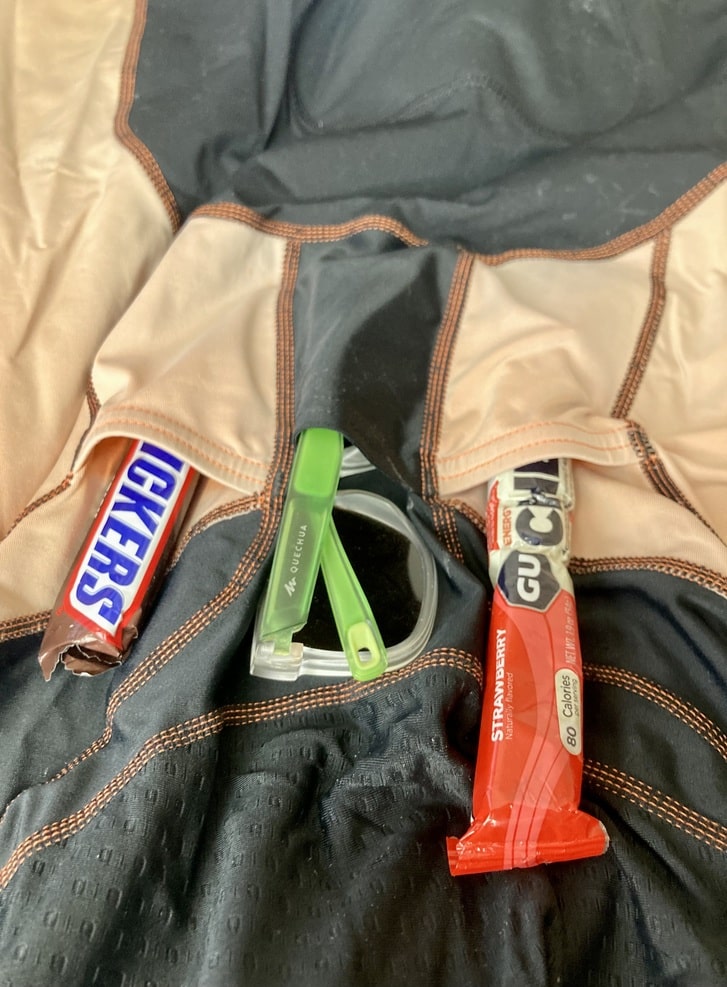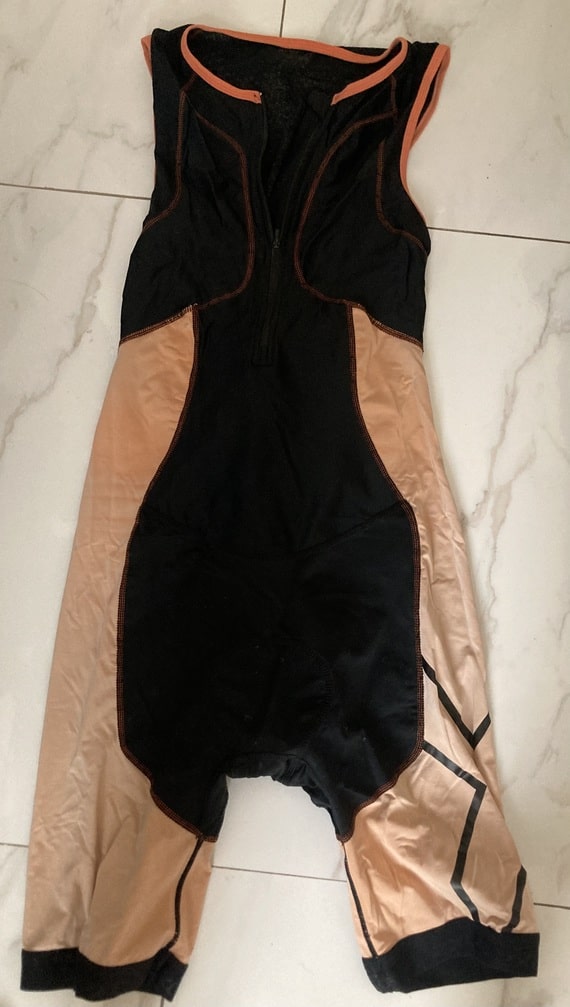 The suit is reasonably priced at around 150$ USD.
I also have to highlight the logo does tend to get worn out after a few uses but it will not have any effect on the look of the tri suit.
Here are some other features of the suit
Powerful compression, cooling fabric technology, and maximum ventilation
Constructed from aerodynamic and cooling Vent fabric
Low Profile multi-layered Pro LD chamois with 80 density foam
Semi-auto-lock zipper and rear pockets for easy access.
Designed for all distances – short and long courses
Flatlock stitching to resist chafing and irritation
UV 50+ Sun protection
Quick-drying
Thick and comfortable Padding in the Bike and run
This Tri suit is able to handle professionals and beginners and is suitable for any distance race. The 2xu is a company that really focuses on triathlon, and triathletes around the world thank them for that.
Pros
Aerodynamic Fabric
Quick-drying fabric
Decent UV – Sun protection
Reasonably Priced
Great Padding
Will last for years
Works for all triathlon distances
Cons
Colour seems to fade off after years of use
The logo peels off after some time
Here is a short video displaying the tri-suit
Affordable Alternative
If you do not have the money to spend, but you still want the experience of racing with a try suit then try the RunBreeze Men's Triathlon Suit, selling for an unmatched price ranging between 30$ and 50$ USD.
The following are some features of the suit,
UV Protection
Quick-Drying
Breathable fabric
It does have Paddings
Dual Rear Pockets
Pros
Very Affordable

Quick-drying fabric

Works just fine for first-timers and basic short triathlon distances
Cons
People did complain about the zipper easily breaking

The fabric appears to be very thin and looks cheap

Light Padding which may not be suitable for long rides
How To Evaluate a Triathlon Suit? (Factors To Consider)
1- Aerodynamics
Sleeved suits started becoming more important at the professional level a few years ago for the marginal benefits they could provide from an aerodynamics perspective.
In a case study, a pro triathlete name Luke McKenzie worked with a company called ERO to find extra speed in his race in Kona. They tested the fit, equipment, and clothing, and one of his major changes was to switch to a sleeved tri suit which saved him around 7 minutes over the course of the Ironman triathlon.
So when making up your mind on a triathlon suit, especially if you are looking to go pro, Aerodynamics has to be one of your items on the list to keep an eye on.
2- Chafing
Chafing is one of your worst enemies in triathlon, especially when racing one of the long-distance races. In reality, you will not be able to make sure that the tri-suit you are using will not cause you to chafe unless you try it for some time. So before heading to a long triathlon distance race, make sure to have tested the suit a few times
3- Quick Dry
Obviously, no one would fancy the idea of riding wet. I think this is not an optional feature, but a must-have feature in every triathlon suit
4- UV protection
Do not underestimate the importance of UV protection in triathlon suits, especially in long-distance races.
I have experienced this myself in my Malaysia-Langkawi Ironman Race. My whole back was sunburned just around the edge of my tri suit. Check the photo below. If you are racing a long-distance race and expect it to be exposed to the sun for some time then UV protection is something you need.
Also, the sleeved option will cover more of your body protecting a bigger area of your body.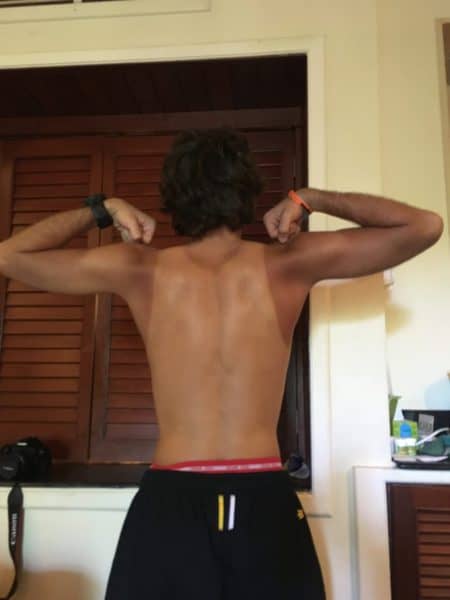 5- Padding
The Padding on Tri suits is much less padding than the bulky one in bike shorts. They are designed so that the athlete can run in them conveniently.
6- Zipper durability
Triathlon suits are exposed to many harsh elements, saltwater, chlorine water, sweat, cold, and heat, and in the process, the zipper starts to corrode. The more fancy brands know that and they take better care in designing the zipper to last longer.
7- Number of pockets
Tri Suit pockets are not necessary but a luxury. They are located at the back of the suit. You can throw in your energy gel or a banana in there and easily pull it out as you ride or run. Some suits do not have any pockets but others will have up to 3 pockets.
It is to be noted that the pockets create some level of drag in the swim.
8- Fit
It is important to make sure that your tri suit fits just right. Too big, it'll slow you down, too small, it'll be extremely uncomfortable and may rip off.
9- Temperature Control
On a warm day, you would want a tri-suit that is optimized for heat dissipation, but for a cold-weather race, you would want something to keep you warm but not too warm that it will start frying you from the inside.
10- Comfort
At the end of the day, nothing matters more than how you subjectively feel when putting a tri suit on. Only after testing a triathlon suit, one can deem a triathlon suit comfortable.
Types of Triathlon Suits & Which One to Pick?
– Sleeved Vs Sleeveless Triathlon Suit
Here is a basic comparison between the Sleeved and Sleeveless Tri suit options,
Legality: Only in 2016, the world triathlon cooperation allow Sleeved Tri Suits but ITU does not allow it, so make sure you are allowed to use Sleeved tri-suit before taking it to your race
Mobility: Sleeveless suits allow for more mobility for the shoulders
Bike aerodynamic: Sleeved triathlon suit is a bit more aerodynamic than non Sleeved
Toilet Breaks: Its easier to take off and put on a sleeveless suit than a sleeved one
Temperature control: Heat dissipation is more efficient in a Sleeveless Tri suit
Sun Protection: Sleeved suit covers more of the body thus providing extra protection to the forearms
Check out our Recommended "2xu Sleeved Triathlon Suit" Version
Check the video below for more on this Tri suit,
– Front vs Rear Zipper Triathlons Suit
In general, the Rear zipper triathlon suit looks better but it's a struggle to take off for bathroom breaks. It is commonly used by professional triathletes to meet ITU elite category specifications and mainly for the purpose of professional presentation.
– One Vs Two Piece Triathlon Suit
Here is a basic comparison between the one and two pieces Tri suit options,
Drag & Aero Dynamics: One-piece tri suit is more tend to provide a better fit and lower drag in comparison to the two-piece Tri suit
Bathroom Break: It is very likely that triathletes will have to hit the bathroom in a long-distance triathlon, making a two-piece suit more suitable because of the ease of taking it off and putting it back on
Fit: It is easier to mix and match two pieces to find the perfect fit that when trying to find the best suitable fit in a one-piece triathlon suit
Chafing Vournability: Because the two-piece is a two-piece suit, the movement of the shirt/singlet may cause chafing unlike the one-piece suit which does not allow for this type of friction
Check out our Recommended 2 Piece Triathlon Suit
The "2XU Perform Triathlon Shorts"
The "2XU Perform Triathlon Shirt/Singlet"
Triathlon Suit FAQs