Talking about seat posts, how much a seat post weighs? Road bike seat posts weigh within 150 to 400g, whereas aero seat posts weigh in the range of 150 to 350g. However, the material used to fabricate saddle posts (seat posts) can impact this range.
Finally, with relation to weight, how much weight the saddle and seat post can withstand? Well, the weight limit ranges from 90 to 120 kg that can vary with different seat posts.
The above conclusions are based on the data we collected from different brands and provided in the tables below,
| | | |
| --- | --- | --- |
| Road Bike Saddle Models | Weight(g) | Price($) |
| Cadex Boost | 138 | 300 |
| Pro Stealth | 205 | 220 |
| Prologo Scratch M5 PAS | 185 | 181 |
| Scicon Elan | 199 | 240 |
| Syncros Tofino | 185 | 198 |
| Tioga Undercover Stratum | 150 | 236 |
| Selle SMP Well | 280 | 144 |
| Specialized Power Expert | 233 | 160 |
| Specialized Power Pro Elastron | 231 | 275 |
| Fabric Line-S Race | 235 | 100 |
| Average | 204 | 205 |
List of Road bike Saddles Weight and cost
| | | |
| --- | --- | --- |
| TT-Saddle Models | Weight(g) | Price($) |
| Specialized Sitero Pro | 270 | 240 |
| Bontrager Hilo Pro | 330 | 230 |
| JCOB Delta 38 | 355 | 230 |
| PRO Aerofuel Saddle | 200 | 145 |
| Selle SMP T4 Triathlon | 295 | 245 |
| Prologo TGALE PAS Tirox Rail | 252 | 172 |
| Repente Magnet Tri Saddle | 139 | 250 |
| PRO Aerofuel Carbon | 200 | 213 |
| ISMPN 1.1 Saddle | 399 | 181 |
| Profile Design vertex 80 | 384 | 209 |
| Average | 282 | 212 |
List of TT Saddles Weight and cost
From the above table, we can also extract the cost of the bike saddle.
So how much does road and triathlon bike saddle cost? The average cost of a bike saddle is 200$ while ranging from 100 to 300$. Bike saddle cost will depend on the material, brand, and design of the saddle.
---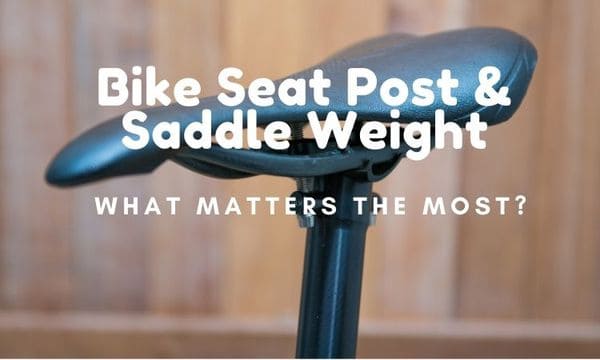 Does Saddle Weight Matter?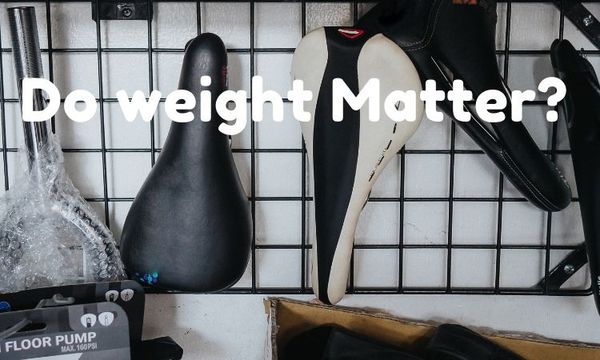 The saddle is the only component for which the rider is more anxious about the comfort it renders regardless of the weight. The reason being, saddle makes direct contact with the most sensitive part of your body.
Furthermore, I would like to draw your attention to the fact that no matter how many times you have replaced your saddle with the better version each time you ride.
Your expectation can never meet the level of satisfaction and comfort you enjoy while sitting on an armchair.
Note (source): You should never be numb anywhere when riding your bike. If you experience numbness at any time while riding, you should first get a bike fit and then a saddle upgrade.
Are you interested to get a quality level of bike fittings? Read the article we wrote about The cost of bike fitting and what to expect (Amateur, advanced and professional)
Which saddle should you buy?
Which saddle should you buy? I would say the saddle choice should solely depend upon the bike you are riding. Many of you would be searching for the most comfortable saddle that can help you on long rides without numbing lower extremities.
Here is the one that worked for me for more than 4 years in all my races, from short to very long 180km ironman distances. The trusty "Prologo Kappa Space T2.0 Saddle"
The video below will help you choose which one is the best saddle for you and why,
If you are riding a road bike the wider area on the rear side of the road saddle can support your sit bones and therefore benefits in a course that includes climbing, descending, etc.
Whereas TT saddles are designed to ride in a further forward position on the saddle to achieve aerodynamics posture.
The front two-thirds of the TT saddle is meant to support the rider's weight so that a rider can use aero bars readily. Therefore TT saddles are most suitable for time trial bikes.
What makes a saddle TT specific?
Following features in a saddle makes it most suited for triathlons and time trial rides
Long nose that supports pressure applied by a rider due to forward lean posture.
Added padding to make rider sit in forwarding perched position.
Grip features on the nose that refrain rider from slipping whilst riding in an aero position.
Some TT saddles have a cut-out style that features a channel at the rear side of the saddle to relieve pressure on the pelvis while using aero bars.
For more on this, check out our post titled TT/Tri vs Road Saddle; Why Are Triathlon Saddles Different & When To Use Them?
For a better triathlon experience, consider upgrading your road bike with a fast-forward seatpost. Check out our article Fast Forward Seatpost For Triathlon; Is it Necessary? What You Need To Know !
How To Eliminate Saddle Discomfort?
There are some ways you can avoid bruising and soreness caused after a long ride. But before getting into it, let's discuss what type of discomforts are considered normal and what type of discomfort can put you in great trouble.
Type of discomfort you cannot avoid
Severe pain in the lower portion under the pelvic known as pubic ramus.
Difficulty in urination
Low Urine Output.
Severe skin irritation.
Prolong soreness over genitals
Urinary incontinence
Knee pain
Type of discomfort you can avoid
Slight skin irritation
Aching sit bones for a short period.
Minor bruising on thighs.
Also, check our post on How Long Before Your Butt Stops Hurting From Cycling?
I have gathered some ways to avoid saddle discomfort after going through the reviews added by the triathletes in which they talk about the complication that bug them during a ride. Try out the rides with different saddles and find out which one is comfier. If this doesn't work you can remove saddle discomfort by
Adjusting the saddle height just right for you.
Get the best saddle position.
Get the best saddle designed according to your anatomy and the bike you are riding.
Limited padding.
Try integral suspenders of good quality
Good hygiene of your sensitive part.
Excessive use of chamois cream.
For more on this, check out our post titled; Where Do You Position Your Genitals When Cycling ?!!
Does the Seat post material make a difference?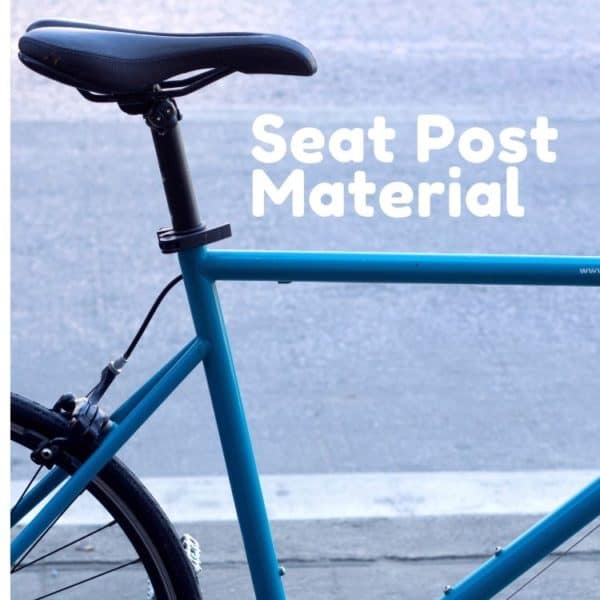 Does seat post material matter? Yes, the choice of material matters a lot. It's interesting to note that the weight range of the road and aero seat posts doesn't diverge greatly until we talk about the material used to construct them.
The carbon seat posts have been designed to replace aluminum/titanium frames to remove excess weight from the bike. Carbon seat post weight can lie in the range of 120 to 280g. Carbon seat posts make rides smoother and unambiguously comfortable.
"According to the data available, a well-designed carbon Seat post flexes at a rate 100x greater than a steel frame"
It has been found that a carbon seat post needs a lesser amount of force to flex compared to standard bike frames (source).
A flexible seat post helps in reducing road vibrations frequency and helps with big impacts in terrains such as dirt roads.
Carbon Seat post Vs Aluminum Seat post
The following tables can help you compare the weight of different seat posts and how the material affects the weight.
| | | | |
| --- | --- | --- | --- |
| Road Aluminum Seat posts | Weight(g) | Road Carbon Seat posts | Weight(g) |
| Zipp Service Course x350mm(length) | 278 | Syntace P6 Carbon Hi Flex x400 mm | 206 |
| Tune Leichtes Stuck x40mm | 155 | Easton E90 x350mm | 197 |
| Thompson Elitex250mm | 201 | Enve Carbon x300mm | 178 |
| System Ex EL Suspension Seatpostx350mm | 430 | Specialized S-Works Pave x380mm | 209 |
| Bontrager Comp Seatpostx330mm | 300 | Canyon S14 VCLS 2.0x345mm | 220 |
| Average | 273 | | 202 |
List of Road seat posts Weight
| | | | |
| --- | --- | --- | --- |
| Aero Aluminum Seat posts | Weight(g) | Aero Carbon Seat posts | Weight(g) |
| BLB Aluminium Aero Seat post | 287 | Corima Ellipse Aero Carbon | 148 |
| Triplex Silver Al Aero | 252 | Carbon Aero Seat post | 226 |
| Compagnolo Chorus Aero | 246 | Cannondale Slice Aero Carbon | 280 |
| Athena SP-AT Aero | 312 | Giant Carbon Aero AS | 297 |
| NOS Gipiemme Aluminum Seatpost | 346 | BLB Notorious Carbon | 224 |
| Average | 289 | | 235 |
List of Aero seat posts Weight
What is the world's lightest bike Saddle?
Next comes the weight. Are you in search of the world's lightest bike saddle? It was a challenge to call forth the saddle that should weigh less than 40grams. We already have saddles such as S3 of 45g, G3 of 50g, and E3 of 55g by Gelu Carbon Creation Company.
And of course, the benchmark in riding technology SLR C59 of 61g by Selle Italia is suitable for road cycling. It is lightweight, superflow, and a total package of comfort with high performance. It can carry a weight of 90kg and can be recommended equally for professionals and beginners. The saddle offers no padding to preserve weight. The carbon fiber helps to absorb vibrations and keep up the comfort. This one costs around $599.99.
GELU Saddle K-3 Carbon is by far the lightest saddle that weighs between 38g to 59g limited for road bikes. The company has a collection of some outstandingly comfortable lightest saddles versions in the K series. K-3 costs $499.99 and can withstand the weight of 80 to 85g.
Last but not the least, Dash Cycles Tri.7 is the lightest comfortable triathlon saddle ever made. It weighs between 77 to 95g in different sizes. A cut-out style with a fully padded feature has made it most desirable for long rides. The saddle costs around $555.