Do you find yourself traveling across countries often as a triathlete? And not so happy experiencing the hassle of taking your regular bike with you, especially if you are traveling by air?
Purchasing a folding bike could be the best option for you as they have been constructed in such a compact form for easy storage and transportation. Folding bikes can be assembled and disassembled easily. This makes it easy to be carried for travel either on a plane and in public transportation.
You should note that different folding bikes in the market vary in compactness, weight, price, durability, speed, and ease of folding.
Now the big question here is this – Can you use folding bikes in triathlons? Considering that one can compete in a triathlon race with any bike that satisfies the organizer's standards. The majority of folding bikes available in the market meet these standards and are permitted in triathlon races. While it is not common, but it is a feasible option for traveling triathletes considering the ease of packing the bike and the flexibility it provides.
A review was done on the Dahon Speed Pro TT folding bicycle and it stated how perfect the folding bike is good for triathletes who want a compact, performance bike suitable for quick rides and good compact storage. (Source)
Also, make sure to check out "Road & Mountain Bikes Essential Upgrades For Triathlons: A Beginners Guide" AND "Are Bikes Provided In Triathlon Races? What Are Your Options ! "for ideas on how to improve your ride experience.
Before you make up your mind, we highly recommend that you check out our Best Road Bike for Triathlon Beginners (700 To 2,600 USD Bikes)
---
Here is also a testimonial from a triathlete who purchased a folding bike and raced a triathlon with it,
My wife just got a Reach Racing folding bike.
It does not fold in seconds (15 minutes) but it does fit in a regular size suitcase for people who travel a lot…Its only 1 of the only fold bike you can actually race on by adding a few components (i.e clip on bars etc…)So far so good, she only got 1 ride on it but really enjoyed how it feels. (Source)

sportstats
Now the question about using a folding bike in triathlon has been answered, let's proceed further to know the pros and cons of a folding bike, what the range costs could be, and so much more.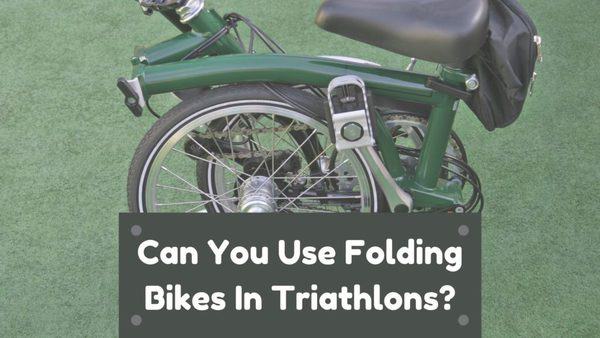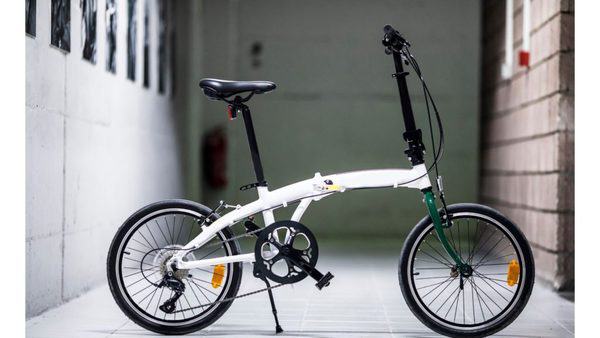 Pros and cons of a folding bike in a triathlon
A folding bike comes with lots of pros and cons, and these are discussed below. (Source)
The pros of a folding bike in a triathlon:
Folding bikes are portable and saves space – The ability of such bikes to be folded in smaller sizes makes it easy to create space for the storage of other things.
Folding bikes make traveling easy – As a traveling triathlete. You can carry your folding bike as a piece of luggage when moving from one place to another without restrictions. On a type of transportation where bikes are not allowed, they can be folded and carried just like any other luggage.
Folding bikes helps you avoid theft – A foldable bike makes it easy for you to take your bike from one place to another, and easily carry it in resturants and where you stay, so it doesn't run the risk of theft.
Folding bikes are of good quality and they maintain their resale value – Folding bikes are made with high-quality materials. They are liquid assets, as in it is easy to sell them at any time. This mean you can buy a folding bike with an assurance of reselling at a good price.
Folding bikes can be easily adjustable – they are commonly equiped with on the go adjustable handlebars and seat posts.
The cons of a folding bike in a triathlon:
Lack of stability – Despite how compatible a folding bike might be, it has much smaller tires than a regular bike. These small tires have an impact on their stability, thus causing a limitation when riding on the bike through bumpy roads.
Minimal speed – Considering the triathlon sport includes long distances, riding on a small tire of a foldable bike would wear a person out thus reducing the overall speed at which a triathlete rides.
High prices – Foldable bikes are more expensive than regular bikes when comparing the components quality. For this reason, it is advisable you prurchase a second-hand folding bike if you are on a low budget. A second-hand folding bike is not a bad idea since the majority of well know folding bikes brands are made up of good quality materials.
Attracts Attention – Considering how different the folding bikes look from the regular bikes, you would expect to have other participants staring at you. This becomes a disadvantage to people who are trying to blend in and avoid any form of attention.
Comfort – Folding bikes are harder to control and less comfortable when compared to road and triahtlon bikes.
Considering the pros and cons of a folding bike, we can say that A folding bike is more expensive, uncomfortable, and offers less speed than a regular bike. But on a good note, folding bikes are compact and useful when commuting from one place to another as a triathlete.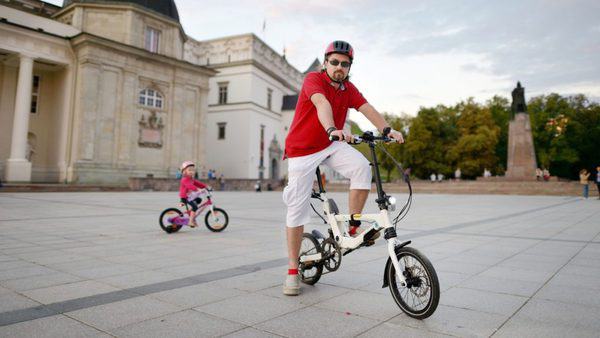 The Cost Of A Folding Bike
On Average, the cost of a folding bike is 1,206 USD ranging between 300 USD and 1,525 USD. The prices of these folding bikes vary from one bike store or brand to another and depend on the features other than just folding such as weight, size, folding mechanism, and the number of gears.
Due to the variability of its folding mechanism, its compactness, weight, durability, and the more number of parts it has, folding bikes are considered more expensive than non-folding bikes.
Here is a table that we compiled that shows the prices of some folding bikes.
| Folding bikes | Prices (USD) |
| --- | --- |
| Montague Boston | 779 |
| Dahon Mariner D8 | 700 |
| Schwinn Loop | 295 |
| Brompton M6L Black Edition | 1,525 |
| Average | 1,206 |
A table showing the prices of some folding bikes.
Also, check out Is It Possible to Race a Triathlon with A Hybrid Bike ?!
Which Folding Bike To Use In A Triathlon
One good example of Folding bikes that work very well in triathlon is the Montague folding bikes. with some upgrades to the saddle, and paddles, and maybe the installation of clipless aero bars, the bike ride experience, and efficiency could become comparable to a standard road bike. Check out our recommended Best Triathlon Budgeting Gear
Having mentioned all the pros and cons of folding bikes, some bikes work better than others in triathlon. A full-size folding bike could go a long way in improving your ride comfort and will also reflect on the red efficiency.
Factors To Consider When Buying a Folding Bike
Considering we have elaborated so much about folding bikes, let's talk about some points you should consider when purchasing a folding bike.
The weight of the folding bike: Folding bikes are usually heavy because of the many compartments gears they have. So, if you commute through stairs more often, it is advisable you purchase the folding bikes with less gears and light-fitting frames so you could commute with ease along with your bike. Check out our reserach on How Much do Bike TT Aero HandleBar Weight and Cost? What matters the most!
The size of the folding bike: The folding bike comes with features to help you adjust to levels fit for you. So, when purchasing a folding bike check for effective and well-adjustable features for a good ride.
The folding mechanisms of the bike: This is an important point especially as a triathlete who commutes by air. if traveling by air or a bus, you would require a bike that folds super quickly.
How Do Folding Bikes Fold ?
Here is a video to help you understand how the folding mechanism works. Check out how compact they could gets
After your bike has been folded, it is advisable you use locks such as a chain or a folding lock. This will help hold all the bike compartments in one place while commuting with it.
Final Thoughts
If you are a traveling triathlete, you could opt-in for folding bikes. This is because of its compactness and ease of transport, but it will come at the price of performance.
There is a variety of folding bikes with unique folding mechanisms, compactness, weight, and durability, which you could choose from.
The major problem with getting a folding bike, especially for a triathlete is the limited performance and efficiency they provide. When folding bikes are compared to regular bikes, folding bikes are less comfortable and less stable.
In terms of speed, folding bikes are much slower than regular bikes and this could be due to the instability of the folding bikes. Check if Triathlon Bikes Comfortable & When Should You Get One!