One of the things I like best about the sport of triathlon is how welcoming it is to athletes of all skill levels. From the very beginner who is attempting to finish their first sprint race, to the grizzled veterans who complete multiple Ironman events each year. Everyone is welcome to jump in and try their best.
Another great thing about triathlon is that no two courses look exactly alike. Swims can take place in pools, ponds, rivers and even the open ocean. Bike courses can weave through city streets, sprawl out onto country roads, or roll over mountain passes. The running portion can be on a track, on pavement, or some even head into the hills and take place on trails.
For example, the XTERRA race series takes place completely offroad in locations around the world. Swim in lakes and rivers, then run and bike on forest trails and/or mountain paths. (Source)
Just as each triathlon course looks different, so too does each triathlete. Go and watch a race sometime, and you'll see that the participants come in all shapes and sizes.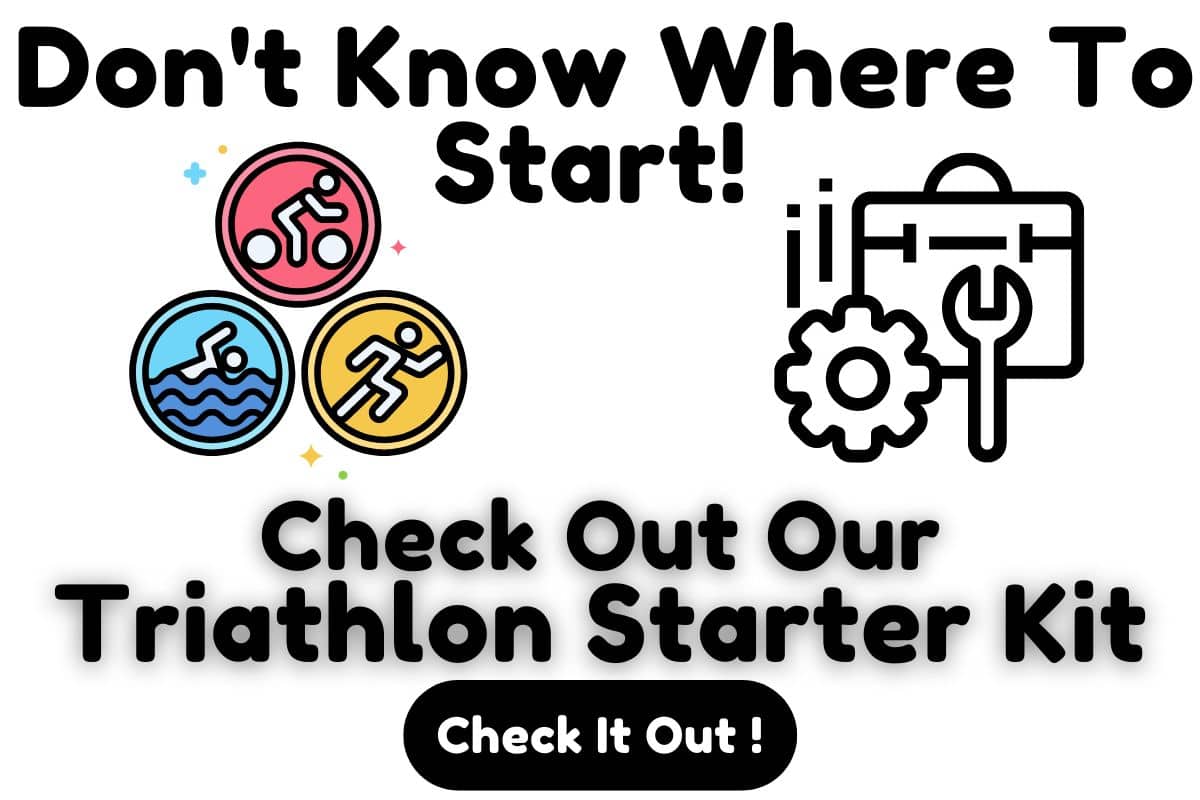 Some are big and tall, others are short and slender. Everybody type combination is likely to be represented in a typical triathlon. Because of the three very different disciplines involved in triathlon, each athlete's size and shape has its advantages as well as its drawbacks.
---
So do triathletes have to be tall? Definitely not. There may be some advantages to being taller than average in a triathlon, but there are just as many benefits to those on the smaller side.
Swimming is easier for taller people – they cut better through the water and have more energy stores to use. Especially in shorter races where explosive bursts of energy can make a difference.
Michael Phelps is one of the greatest swimmers of all time. He is able to push his 6'4 frame (193cm) across the pool faster than nearly any other competitor. As a result, he has 28 Olympic medals in his collection.
However, the taller and heavier we are, the harder it is to propel ourselves forward in the cycling and running portions of the event. These sports are where shorter athletes have an advantage. Most professional marathon runners and cyclists tend to be shorter than average. Most of them have slender upper bodies and arms, but extremely lean and powerful leg muscles that they can keep churning for hours on end.
Here are a few examples. Slovenian cyclist Tadej Pogačar stands at 5'9 (176cm), which is slightly less than the average height. He has won two Tour de France championships (2020 & 2021) for the UAE Team Emirates as well as an individual Olympic bronze medal from Tokyo 2020.
In the world of endurance running, Kenyan Eliud Kipchoge is only 5'6 (167cm) tall and is the current Marathon World Record holder. In addition, he is a 14-time champion of major marathons around the world. Kipchoge's accomplishments include winning London (4 times), Berlin (3 times), as well as bringing home gold medals in both the 2016 and 2020 Olympic marathons.
Are There Any Short Triathletes?
There are a number of athletes who are shorter than average. One of the most well-known women in the sport of professional triathlon is only 5' 3 (160cm) tall.
Mirinda Carfrae is a 3-time Ironman World Champion, and she finished on the podium 4 additional times. She may not be tall, but she packs a lot of power into her small frame and has been known to dominate and set records on the run course.
Another diminutive triathlete who has been setting records in the sport is Norway's Kristian Blummenfelt. At a height of only 5'1 (154 cm), Kristian has numerous championships to his name, including Olympic gold medals at Rio 2016 and Tokyo 2020. As a powerful cyclist, he uses his dominance on the bike to establish a lead and then holds off the competition during the final run leg.
What Is the Average Height of Triathletes?
The average height of Olympic and professional triathletes is 5'8 (173cm) for women and 6'1 (186cm) for men. (Source A , Source B )
These average numbers are taller than one would see when looking at the heights of professional cyclists and endurance runners. When it comes to those sports, the extra body mass of taller individuals makes it difficult to keep up with more compact competitors.
Here is a chart that shows the height of the Ironman World Champions for the past decade:
| Year | Women's Champion | Height | Men's Champion | Height |
| --- | --- | --- | --- | --- |
| 2010 | Mirinda Carfrae | 5'3 (160cm) | Chris McCormack | 5'11 (180cm) |
| 2011 | Chrissie Wellington | 5'7 (170cm) | Craig Alexander | 5'10 (178cm) |
| 2012 | Leanda Cave | 5'10 (178cm) | Pete Jacobs | 5'10 (178cm) |
| 2013 | Mirinda Carfrae | 5'3 (160cm) | Frederik van Lierde | 6'0 (183cm) |
| 2014 | Mirinda Carfrae | 5'3 (160cm) | Sebastian Kienle | 5'11 (180cm) |
| 2015 | Daniela Ryf | 5'9 (175cm) | Jan Frodeno | 6'4 (193cm) |
| 2016 | Ðaniela Ryf | 5'9 (175cm) | Jan Frodeno | 6'4 (193cm) |
| 2017 | Daniela Ryf | 5'9 (175cm) | Patrick Lange | 5'10 (178cm) |
| 2018 | Daniela Ryf | 5'9 (175cm) | Patrick Lange | 5'10 (178cm) |
| 2019 | Anne Haug | 5'5 (165cm) | Jan Frodeno | 6'4 (193cm) |
Triathletes' Hights by Gender and years (Ironman World Champions)
As you can see from the chart, with a few exceptions, most of the athletes on the podium hover right around that average height. Similar findings appear when looking at charts of the Olympic triathletes who participated in Rio 2016 and Tokyo 2020.
On the larger end of the size spectrum is 3-time Ironman Triathlon World Champion Jan Frodeno. Jan is a massive 6'4 (193cm) tall German, and towers over many of his fellow competitors. Frodeno is not a specialist in any of the triathlon disciplines, but instead is extremely proficient in all three.
Are Triathletes Skinny?
People with bodies of all shapes and sizes can participate in triathlons at the amateur level. However, when it comes to professionals, they tend to be very lean and strong. Most of them have an ideal weight range that they shoot for by balancing their calorie intake with their training load.
These pro athletes spend hours each day training in each of the three sports. In between training sessions, they are fueling their bodies with high-performance foods. For most pros, their diets consist of lots of vegetables and lean meats.
You probably won't see a lot of them binging on high-fat items like pizza or fried chicken. They choose to make adopt these healthy diets in order to keep their bodies at their ideal race weight. Eliminating extra body fat along with their training regimen enables the athletes to obtain peak performances while on the racecourse.
Pro triathlete Cody Beal has a blog site where he talks about and lists his diet plan in great detail. One interesting note that Cody talks about is that for a long time he was actually too skinny to perform well. It wasn't until he regulated his diet and put on an additional 20 pounds that he was able to perform at his best. (Source)
For more on this, we highly recommend that you check out our post " What Is The Ideal Weight for A Triathlete? BMI Impact!"
---
So all of this goes to show that there is no one ideal body type for the sport of triathlon. The sport is extremely accessible to people of all body shapes and levels of ability.
As long as you can swim, bike, and run proficiently, then you can participate in this unique combination of sports.