There are three separate disciplines within the sport of triathlon, which makes finding the right clothing a massive challenge. What works for the swim won't necessarily work for the bike ride, and that's before even getting into the pros and cons of wearing socks. What it all boils down to, though, is this:
Do you need to change clothes during a triathlon? Triathletes will have to change at some point during the triathlon, but how much they change depends on what they decide to wear. Triathletes prefer to find one outfit to rule them all so in order to limit the amount of time they spend in the transition area. It also means fewer things to pack and, therefore, fewer things they will likely lose or misplace.
If you are interested in getting a triathlon suit then you must check the Best Budget Triathlon Suit – I've Used It for 7 Years! (Guide & Options For Men & Women)
This article will go over the different clothing options for triathlons and what you might need to change during each transition.
---
For more on triathlon transition, check out our post What Is Transition in Triathlon? Everything You Need To Know!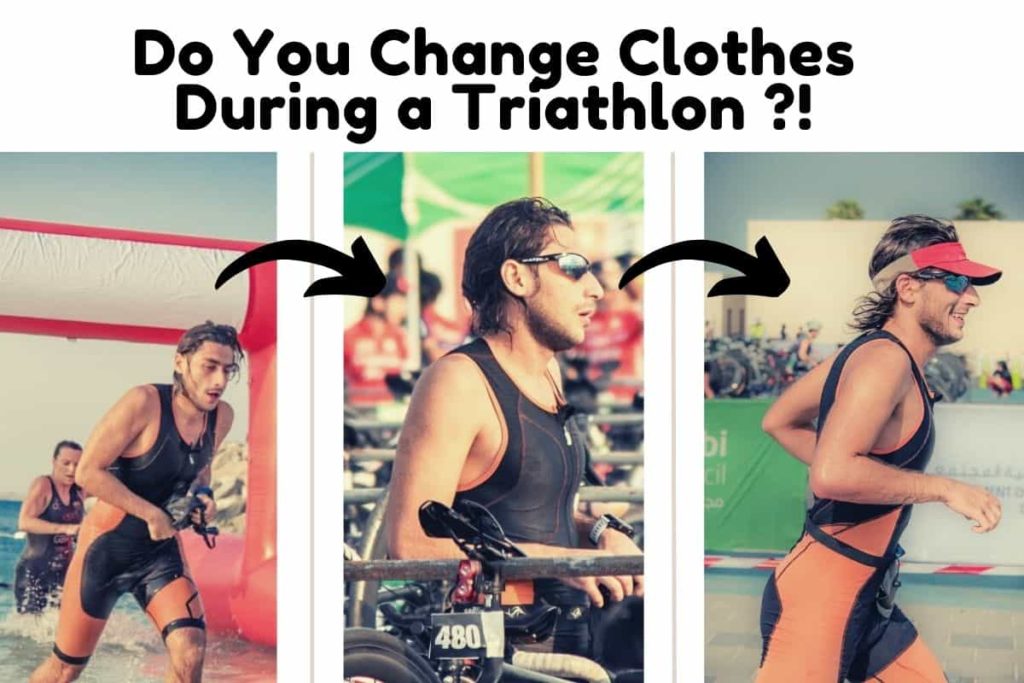 What Can I Wear During a Triathlon?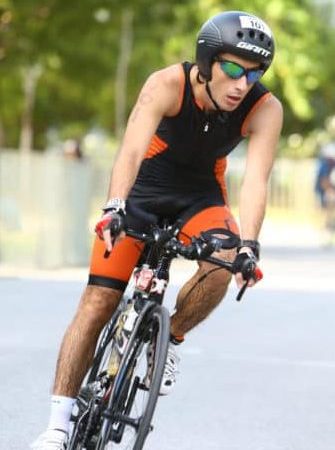 The best option is to find an outfit that works for all three disciplines so you only need to swap out accessories. Here are three examples of efficient outfits:
Tri Suit
Tri Shorts + Cycling Jersey, Running Tshirt or just sports bra
Tri Shorts + tri top (sports bra optional)
You'll want to avoid baggy swim trunks, heavily padded bike shorts, and shirts that can't be worn during the swim. The less clothing you have to change, the better. We also recommend that you check out our post titled "Can You Wear Running / Exercise Shorts For Swimming & Triathlons?"
If you decide to go with one of the efficient outfit options, then you'll only need to change a few things during each transition. Here's how that might look:
| Remove | Add |
| --- | --- |
| Goggle | Cycling shoes |
| Swim cap | Helmet |
| Wetsuits | Socks (optional) |
| – | Sunglasses (optional) |
What to change to in T1 (Swim to Bike) – Triathlon
| Remove | Add |
| --- | --- |
| Cycling shoes | Running shoes |
| Helmet | Socks |
What to change to in T2 (Bike to Run) – Triathlon
Having fewer things to change means a faster transition time and that ultimately results in a faster race.
On a side note, find out Why Do Cyclists Wear Long Socks? Cycling Socks Guide !
Do Triathletes Change After Swimming?
The first time triathletes need a change of clothes is after the swim. Some triathlons will allow or even require triathletes to wear a wetsuit during the swimming portion.
A wet suit can add a bit of buoyancy, which can help athletes feel more comfortable in the water. It can also provide warmth so some triathlons will require wetsuits if the water temperature is too cold to safely swim in.
Of course, putting on and taking off a wetsuit is no joke. The biggest mistake new triathletes make is not allowing time for their new wetsuit to stretch. You'll want the wetsuit to fit tight enough that water doesn't get in through the access points, but not so tight that it starts choking you. In general, a brand new wetsuit will need about an hour in the water before it loosens up to its correct size. You can either soak it in a tub of water or swim in it to break it in (Source).
Wetsuits can be worn over swimsuits or tri suits. You can put vaseline on the inside of the foot holes to make removing the wetsuit easier. You can also put some baby powder or cornstarch on your body before putting the wetsuit on to make for quick removal.
The Global Triathlon Network put together a video with some helpful wetsuit hacks:
Regardless of the wetsuit rules at your race, you'll have to wear a swimsuit. Usually, your swim bottoms will double as your bike shorts, and you can find triathlon-specific styles that have enough padding for the bike ride while still being comfortable to swim in.
You may choose to put a shirt or bike jersey on once you're finished with the swim, but some athletes will go without one. Otherwise, you can opt to just wear a tri suit for the entire race. For more on shirtless triathlons and what to wear on the swim check out our post : Can You Run in Speedos? Or Do A Triathlon Shirtless!
What Is a Tri Suit?
A tri suit is one garment that can work for all three triathlon disciplines. It can be worn under a wetsuit or function as a swimsuit on its own. The shorts will have a small pad, similar to bike shorts, but it's designed to dry out quickly so you won't be sitting on a soaking wet cushion during your long bike ride (Source).
There are a few different kinds of tri suits to choose from.
Most are a one-piece option, typically with bike-length shorts. Some will have a zipper down the front while others (like ITU-style) feature a back zipper.
There is also the option to have sleeveless tri suits or a sleeved version. The latter provides a bit more aerodynamics and is more aesthetically pleasing. However, sleeveless options have a full range of arm movement and can be nice for particularly hot races.
It ultimately comes down to personal preference whether you decide to use a tri suit or do shorts and top combination.
Tri suits are primarily useful for triathlons, so if you're just getting into the sport, feel free to use clothing that you already have. The most important part will be finding shorts that are comfortable to swim and bike in. You should always test your clothing during a training ride – waiting until race day to try something new is always a recipe for disaster.
Here are some pros and cons of choosing a tri suit:
| Pros | Cons |
| --- | --- |
| Efficient, works for each discipline | Can be hard to find the right size and fit |
| Comes in a variety of styles and colors | Good quality options can be expensive |
| Easy to wear under a wetsuit | Less padding than standard bike shorts |
Tri Suit Pros and Cons
For more on triathlon suits, check out our post "Best Budget Triathlon Suit – I've Used It for 7 Years! (Guide & Options For Men & Women)"
Also have a look at our recommended our list of Best Triathlon Battle-Tested Budget Gear
Do People Change Clothes During an Ironman?
Most Ironman athletes will wear one outfit for the duration of the race and only change their shoes. Limiting the number of changes needed during the transition can save valuable time. It's also one less thing to think about so all of the mental focus can go into the race itself.
Women can wear bike shorts and just a sports bra. The long-distance means that comfort and temperature regulation are key. The fewer layers, the better.
You may even notice that some women seem to be wearing a one-piece swimsuit during Ironman races. This probably won't be very comfortable for the average triathlete, so it's best to go with something like a tri suit or anything else that provides a bit more padding during the bike ride.
One thing to note is that no one is around to go topless on the Bike or Run leg of the triathlon so even men have to wear a top layer.
Also check out our post on Clips Shoes and Transitions; What Are Your Options?
Do You Wear a Sports Bra with A Tri Suit?
Female triathletes don't need to wear a sports bra with a tri suit. Tri suits are built to be super tight and have some compression to keep things in place. However, if it is found that one is more comfortable wearing a sports bra underneath, then there's no reason not to.
Sometimes tri suits alone just aren't enough.
In fact, some women forgo the tri suit altogether and just wear a sports bra and tri or bike shorts. This provides more flexibility in choosing sizes that fit your body.
Another way around this is to get a two-piece tri suit. These provide all of the benefits of a sports bra and padded shorts but are typically more aerodynamic and tend to be more comfortable, especially on long races.
Final thoughts
At the end of the day, the most important clothing you can wear is what makes you comfortable, but it will always help to keep it as simple as possible.
You want your focus to be on the race, not on your soggy bike shorts or too-tight wetsuit. A lot of this comes down to trial and error, so it's worth experimenting with different options until you find the right fit for your needs.