When people talk about fast in the Marathon and Ultramarathon world, they don't typically talk about the actual speed. Instead, they usually mention the finishing time ("She is a 2:45 marathoner", or "I ran a sub-4 hour race"). Occasionally you'll hear someone mention their running pace ("I ran 8:30 miles" or "The winner averaged faster than 3 minutes per km").
There is a wide spectrum of speeds and times run during a typical distance event. There might be a separation of many hours between those who broke the tape and those at the back of the pack.
The beauty of these events is that each participant comes in with their own goal and is not necessarily competing to win. In fact, only a small handful of the people entered are trying to come in first. The rest of the runners are there to accomplish their own personal goals. That goal might be just to finish, it may be to obtain a better time, or it could be that they are there to raise awareness or money for some cause or charity.
The marathon distance is 26.2 miles or 42.2 kilometers. Participation numbers in this distance have exploded over the past few decades. Becoming more popular with the general public means more interest from sponsors and bigger prizes for the winners. This has resulted in the fastest times in the history of the sport, at least as far as those who are competing for the prize money.
Ultramarathons events vary widely from one to another. The most popular event distances are the 50km, the 50 miles, the 100km, and the 100 miles. Very few of these ultra events are held on pavement, which means the times and speeds are more varied because of the differences in terrain.
Usually, the shorter the race distance is, the faster the pace of those who finish first. When it comes to the longer races, the average pace will be quite a bit slower because of the need to utilize aid stations to take in calories, change out clothing, or use the bathroom.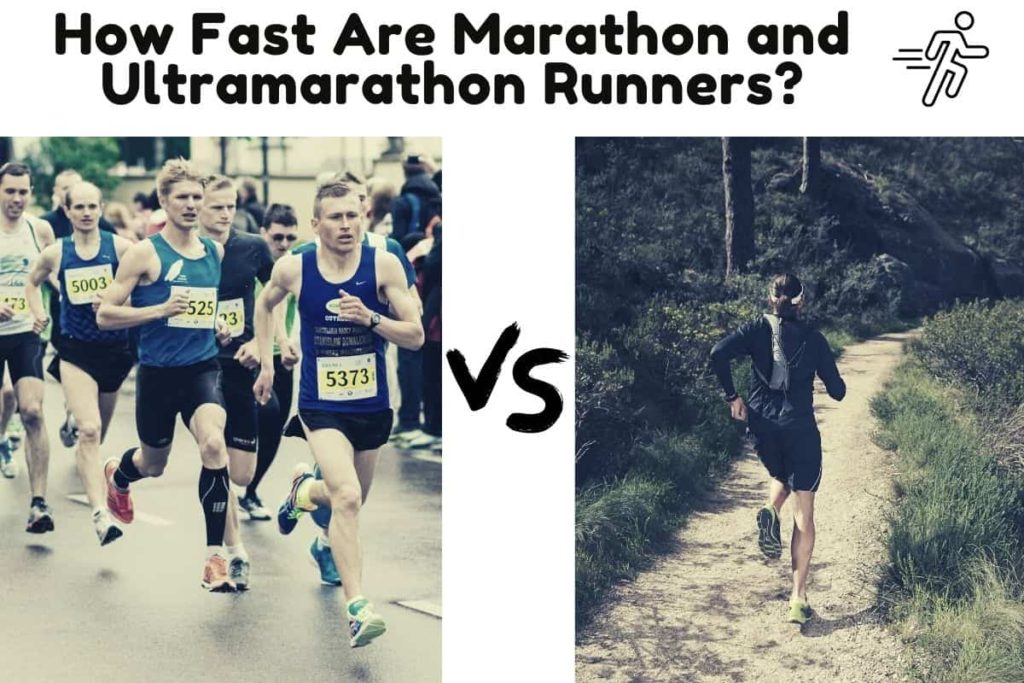 So How Fast Are Marathon and Ultramarathon Runners?
In a typical marathon, the winner will cross the line in a little over 2 hours. This means the pace they ran was around 5 minutes per mile (3 minutes per km). Ultramarathons tend to be a little slower, due to the excessive distances of those events. For a 50 mile ultramarathon, the first finishers will come in around the 5.5-hour mark, an average of 6:30/mile (4:00/km).
Those are typical times for the event winners, which of course is a very small and elite group of runners.
Some of the most popular marathon events will have over 30,000 participants. Of those, approximately 29,990 of those have no intention of trying to win. The majority of the runners will finish between 3 ½ and 5 hours, which equates to around 9:00/mile (5:40/km).
| Event | Fastest | Average Runner | Slowest |
| --- | --- | --- | --- |
| Marathon (Road) – 2021 New York City (25,000 runners) | 2:08 | 4:39 | 10:49 |
| Marathon (Trail) – 2019 Leadville Trail Marathon (700 runners) | 3:03 | 5:20 | 7:57 |
| Ultramarathon – 2018 Caumsett 50K (95 runners) | 3:03 | 5:00 | 7:32 |
| Ultramarathon – 2019 JFK 50 Miler (867 runners) | 5:38 | 10:20 | 12:57 |
| Ultramarathon – Black Canyon Ultras 100K (516 runners) | 7:20 | 13:37 | 19:13 |
Marathon And Ultra Marathon Timings
On a side note, also find out How Fast Do Olympic Runners Run? Men vs Women vs Average
How Do Elevation and Terrain Impact Running Speed?
Running at a higher elevation becomes more difficult, especially at 3000 feet (around 1000 meters) or more above sea level. There is less oxygen available for the body to use, which means runners need to slow down from their normal pace. Terrain can also affect speed quite a bit. Races held on smooth flat roads mean faster finishing times than those held offroad.
Many popular races in the ultrarunning world, like the Leadville 100 held each year in Colorado, combine the double difficulty of high elevation and tough terrain. These trail races often require runners to navigate over fallen limbs and/or pick their way through creek crossings. Extra time is required when a runner has to think about where to safely take their next step to keep from twisting an ankle. Especially when they are running in an oxygen-deprived environment! (Source)
How Many People Run Marathons and Ultramarathons Each Year?
Around 1.1 million people globally run in marathon distance events annually. By comparison, a little over ½ of that number, approximately 600,000 athletes, will participate in all the longer ultramarathon events combined. (Source A) (Source B)
It should be noted that the number of ultramarathon participants is rapidly increasing lately – nearly doubling since 2012. The same increase in popularity can also be seen in trail running. It is estimated that there are almost 2 million trail runners around the world. On the other hand, marathon participation has been relatively flat over the past decade.
On a side note, we recommend that you check out our post titled Can You Be Naturally Good at Running? (Contributing Factors!)
What Is the Fastest Marathon in The World?
If you look at a list of the World's Best marathon performances in the past 25 years, you will the majority of them took place at the Berlin Marathon. When it comes to the mens' record, 8 of the last 10 World's Best times were in Berlin. (Source)
There are a few reasons why the German race is such a speedy site.
First, they have the money to draw the best pool of talent. Berlin organizers pay the fastest runners in the world to appear at their race each year and give large bonuses for any records that are set on their relatively flat course.
Second, the timing of the race each year means it usually has ideal running conditions. September in Germany is typically cool and dry, which is an ideal combination for record marathon attempts.
Third, there are professional pacemakers in the race. These very talented runners are paid to start the race, hold the world record pace for as long as they possibly can, and then stop aside. Pacers help the athletes who are attempting to break the record by taking away the stress of regulating their speed. Instead, they can relax and just follow the leader and save that extra energy for the last part of the race when they are on their own.
What Are the Current World's Best Marathon Times?
The current World's Best time for men is 2:01:39, held by Eliud Kipchoge. For women, there are two separate times – the women's only time of 2:17:01 (Mary Jepkosgei Keitany) and the "mixed-sex" time of 2:14:04 (Brigid Kosgei).
The reason there are two separate times for women has to do with the pacers. During races such as the London Marathon, women are competing against other women with no men present. (Source)
Record performances during these events are held aside from races where men and women run together. During the mixed-sex races, it's possible that women would be paced by faster men for the entire distance of the race. For that reason, in 2003 the International Association of Athletics Federations established an additional category to qualify the Women's World's Best.
In October 2019, a successful attempt was made to break the 2-hour marathon barrier. While the resulting time of 1:59.40 is amazing and historic, it was not considered an official World's Best time. The event was not a competition, and it featured pacemakers that were allowed to start running at strategic points along the route rather than only from the start.
Also, check out our post on What Is Harder than Running A Marathon ?! (List of Next Level Challenges)
What Is the Biggest Ultramarathon Race?
Although it is named the Comrades Marathon, this is the oldest and largest ultramarathon event in the world. Each year tens of thousands of runners from over 60 countries come together in South Africa to take on either the 87km uphill or 90km downhill courses, depending on the year.
The Comrades Marathon has been taking place since 1921 and calls itself The Ultimate Human Race. This test of endurance through mountainous terrain was created by a train engineer from Durban, South Africa. His idea was to create a living tribute to the bravery and sacrifice of his many fallen comrades during World War I. Since the inception of the race over a century ago, over 400,000 participants have the bragging rights to say they conquered Comrades. (Source)
---
So by now, you can see that there is a wide range of running speeds and times during a marathon or ultramarathon. Each athlete participating in a distance event has their own goal and is racing against themselves and testing their own abilities. Part of the attraction of distance running is that there is a spot in it for people of every level of talent. So why not look into signing up for a nearby marathon or ultramarathon for yourself?