As a triathlete, you have to be good at three different sports: swimming, biking, and running. Beginner athletes often wonder just how long a triathlon can take to complete, and specifically how long they should plan to take in each section.
The range in times is immense due to the different triathlon lengths and who is running them (a professional will certainly be faster than an amateur).
On average, a professional triathlete running speed competing in a full ironman distance is around 10 mph.
So how fast do triathletes run? It really depends. We'll examine a few different races and what you might expect for an average time, plus how much running you should expect to incorporate into your training routine. Let's dive in.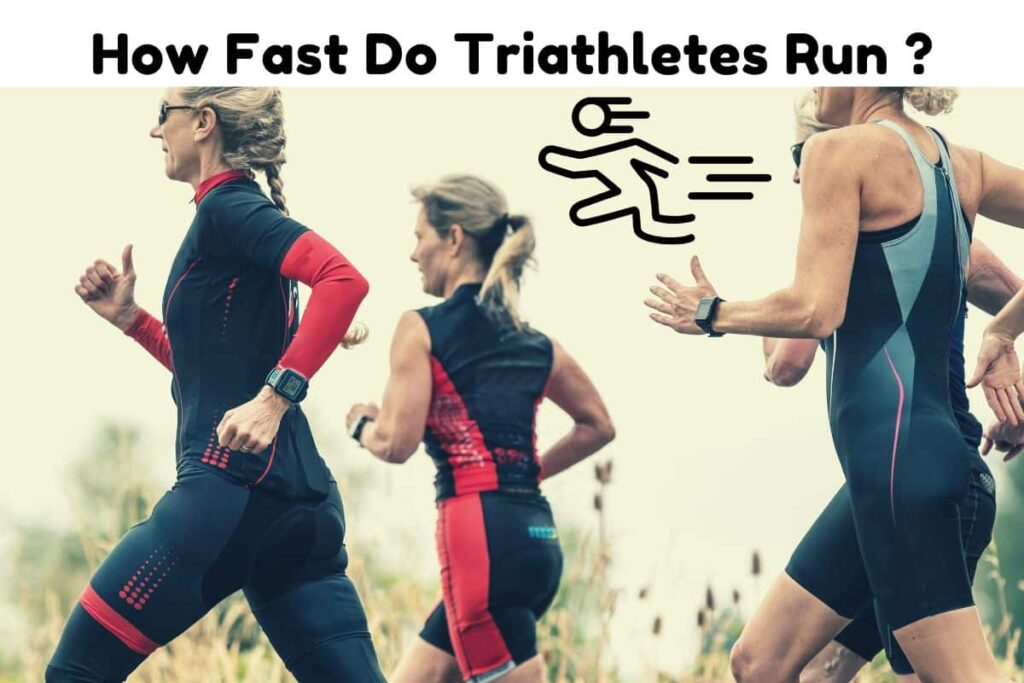 Are Triathletes Good Runners?
Running right after hopping off of a bike (and finishing a swim) is not for the faint of heart, so in that sense every triathlete is a "good runner." But in objective terms, it helps to get more specific.
Let's look at the running speeds of professional triathletes versus professional runners.
For the ease of comparison, we'll examine the speeds of the first place Ironman winner compared to the first place Olympics winner in the marathon distance.
The 2022 Olympics were held in Tokyo. The winner in the men's category was Eliud Kipchoge from Kenya with a total time of 2:02:04. The winning woman was Brigid Kosgei from Kenya with a total time of 2:16:02.
For 2022 Ironman world championships were held in Kona. Gustav Iden of Norway won the men's division with a total time of 7:40:24. His running portion lasted 2:36:15.
The women's winner was Kristian Blummenfelt from Norway. Her total time was 7:43:23 with the run lasting 2:39:21.
2022 FIRST PLACE: MEN
2022 FIRST PLACE: WOMEN
In general, Olympic marathoners are faster than triathlon runners. However, it's important to note that the first place Ironman winner may not be the fastest runner. Every triathlete comes from a different background and they work to their strengths.
There are many racers who have a faster running time than the winner. This can come down to being faster at the swim or the bike, or even having quicker transition times.
How Fast Do Triathletes Run a 10k?
The average 10k run time for an Olympic distance triathlon is 57 minutes and 30 seconds. The women's average is 1:01:46 (an average pace of 9:58 minutes per mile). The men's average is 55:29 (an average of 8:57 minutes per mile).
It's important to note that this is the average of competitive triathletes, specifically those who competed at the Noosa Triathlon in Australia, which is one of the most popular Olympic distance triathlon races in the world. In other words, these are averages for a very specific set of competitive racers.
Fortunately, many local races post the results of their previous races, so you can get an idea of what the competition pool will likely be for any race you sign up for.
It's very likely that many triathletes could run a 10k race faster than their average triathlon pace, simply because they'd be doing it on fresher legs (not coming off of a 40k bike ride).
How Much Should Triathletes Run?
The longer the triathlon distance, the more often you'll want to incorporate runs into your training schedule. Beginners should aim for at least three days a week of running while more advanced or competitive athletes will likely run five or six days per week. (Source)
The intensity and distance will also vary depending on what race distance you'll be participating in.
Here is a general weekly guideline of what you can expect depending on the distance you'll be training for:
Run Training Hours by Race Distance
| | | |
| --- | --- | --- |
| Race Distance | Hours Spent Running (average) | Total Runs |
| Sprint Distance (5k run) | 1:15-1:30 | 2 runs, plus a run off the bike |
| Olympic Distance (10k run) | 2:00-2:30 | 2 runs, plus a run off the bike |
| Half-Ironman Distance (13.1mi run) | 3:00-4:00 | 3 runs, plus a run off the bike |
| Ironman Distance (26.2mi run | 4:00-5:00 | 3 runs, plus a run off the bike |
Run Training Hours by Triathlon Race Distance (Source)
Many long distance training plans will include a peak week, which can mean significantly more time running. For example, a half ironman peak week will have you running 4 to 5 hours.
An Ironman peak training week will look more like 4.5 to 5.5 hours spent running. Of course, this is in addition to the training you'll need to do for the other disciplines.
For example, a sprint distance triathlon will involve around 5 hours of total training a week. An Ironman, on the other hand, can be up to 18.5 hours a week of training.
It's important to pick a distance that you have time to adequately train for. This is why many new triathletes will choose a sprint distance or Olympic distance race for their first triathlon, regardless of how fit they are. Training can take a lot of time and energy.
We also recommend that you check out our Triathlon Starter Kit; Everything You Need in One Place!
Things to Keep in Mind
It can be very difficult to summarize how fast or slow triathletes run their races. It will always come down to the distance, who the primary competitors are (amateurs or professionals), and even the overall race conditions.
Regardless of what distance you plan on competing in, though, running will take up a significant portion of the total race distance so you should train accordingly.
Running more will often lead to becoming a better runner, so training for a triathlon is a great way to increase your overall running performance.