Maybe you have never done a triathlon before, or perhaps you have tried a Sprint or Olympic distance triathlon and are interested in branching out into longer distances.
Either way, it is prudent to understand how long the swim portion of a triathlon is so that you can prepare properly and feel fresh going into the bike leg.
So, how long is the swim portion of a triathlon? There are many different distances for triathlons and more extreme versions are being created every year, however, the main 5 distances are Super-Sprint, Sprint, Olympic, Half Ironman (also known as a 70.3), and Ironman.
The distances for the swim portion of each triathlon race distance is listed below in Kilometers and Miles: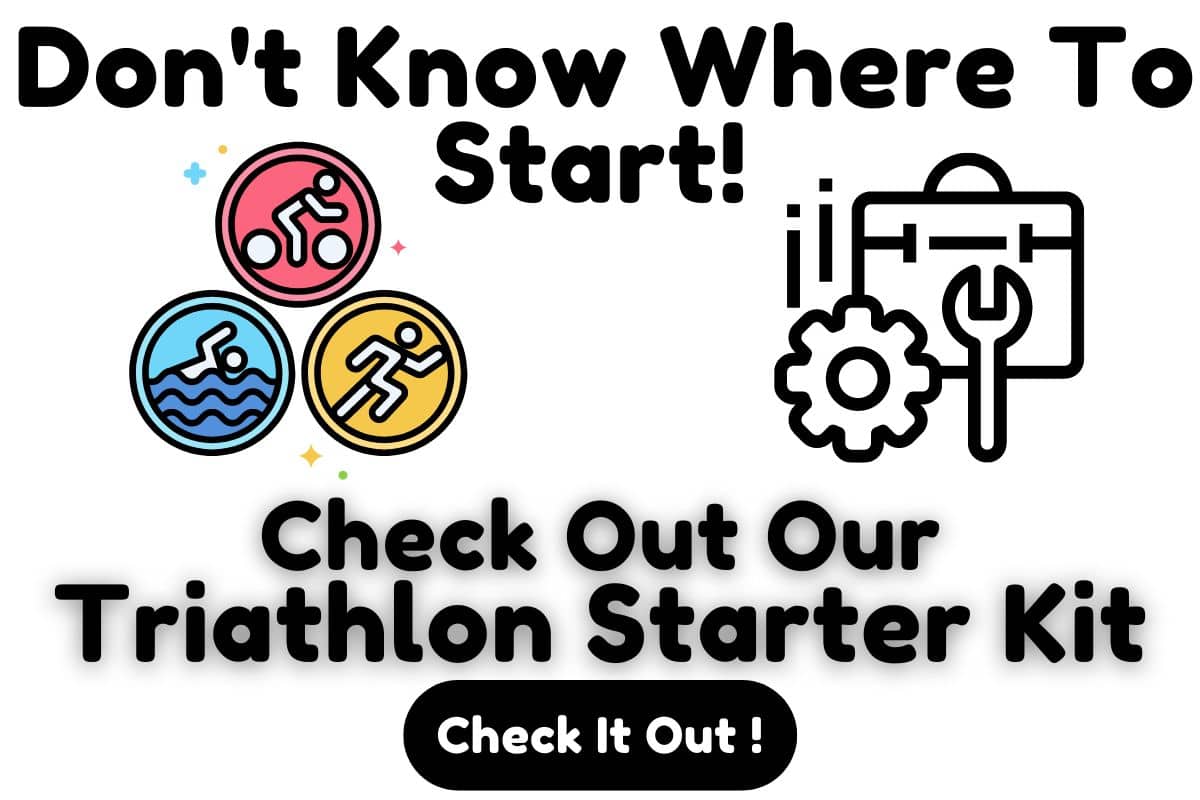 | Event | Swim Distance (Km) | Swim Distance (Miles) |
| --- | --- | --- |
| Super Sprint | 0.4-0.5 | 0.25- 0.30 |
| Sprint | 0.75 | 0.5 |
| Olympic | 1.5 | 0.9 |
| Half Ironman (70.3) | 1.9 | 1.2 |
| Full Ironman | 3.8 | 2.4 |
length of Triathlon Swim leg
For a complete guide on Triathlon distances and good finish time, check our post on Triathlon Distances & Average Timings Analysis (Infographic); Pick Your Right Fight!
Also check out Why Does Triathlon Start With Swimming? How Risky Is It!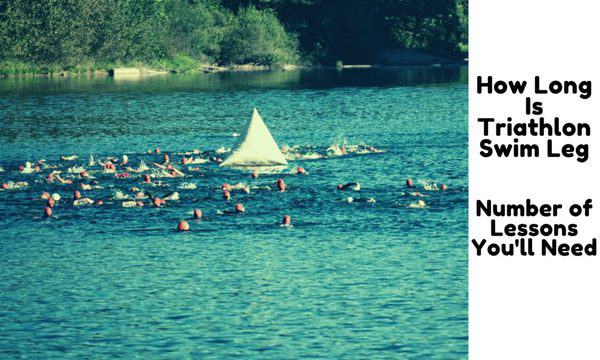 What Is An Average Triathlon Swim Time?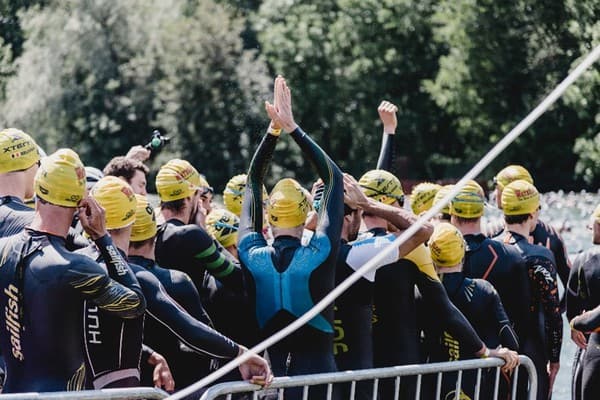 Once you have competed in a few triathlons it becomes clearer that this question is rather irrelevant, but we all still ask it and we all want to know!
It is a natural thing for us to know how we stack up against the average. Just keep in mind that you will most likely always have people faster, and slower, than you in all three disciplines of a triathlon.
You really are competing against your own best times, or just trying to complete such a grueling event.
---
That said, what is the average triathlon swim time? An average triathlete is expected to complete the swim partition for a sprint triathlon in 15 minutes, 30 minutes for the Olympic, 38 minutes for the half ironman, and 1 hour and 15 Minutes for the Full Ironman. A beginner would usually use take 30 to 40% more while a professional on the other hand is expected to be around 30 to 40% faster.
Here is a table we compiled to come up with the above conclusion ( Source 1) (Source 2)
| Distance | Beginner | Average | Professional |
| --- | --- | --- | --- |
| Super Sprint (400m ) | 12 Minutes | 8 Minutes | 5 Minutes |
| Sprint (750m swim) | 25 mins | 15 mins | Under 10 mins |
| Olympic | 40 mins | 30 mins | Under 20 mins |
| Half Ironman (70.3) | 50 mins | 38 mins | 25 mins |
| Ironman | 1 hour 40 mins | 1 hour 15 mins | 52 mins |
Triathlon Swim Distance typical timings
If you do not fancy swimming but you still want to compete in a triathlon-like event, check out our article on What Is A Duathlon? Distances, Order, Gear, How To Train & Beginner Tips.
Commonly Asked Questions
Can You Rest During Swim Portion Of A Triathlon?
Safety is of great importance to the organizers of triathlon events and for that reason, you can rest during the swim portion of a triathlon.
If you are in a pool, for a sprint triathlon for example, then feel free to hold onto the side and take a breather. For open water events, competitors are allowed to rest so long as they do not gain an unfair advantage (Source).
If you can stand up on the bottom, or if you see a buoy, a raft, or any other non-moving object then you can grab hold of it and take a rest, but be aware that if you do move forward while resting on an object then you will be disqualified.
For more on this, check out our post titled: Can You Rest During A Triathlon Swim? Why It May Save Your Life!
Can You Wear A Lifejacket During Swim Portion Of A Triathlon?
Typically you will not be allowed to wear a lifejacket for competitive events such as the Ironman and Half-Ironman (70.3) because they add buoyancy which can actually make you swim faster by keeping you higher in the water, thus creating less drag.
However, with less competitive triathlon events you will see people wearing them. In particular, people with medical conditions, lacking confidence in the water, and also children may even be mandated to wear a lifejacket.
If in doubt you should speak directly to the event organizers to clarify their position.
How many laps of a pool are 500 meters?
Swimming pools vary in length but the main ones are 25 meters, 33 and a third, and 50 meters.
Why 33 and a third you might be wondering? Because 3 lengths work out at 100 meters and it is a good compromise for those that wish to have a longer pool but do not have the space for a 50 meter (also known as Olympic size) swimming pool. As such these are the number of lengths for each pool size you would need to complete in order to reach 500 meters:
| Pool Size | Number of Laps for 500m |
| --- | --- |
| 25 meters | 20 |
| 33 and a third meters | 15 |
| 50 meters | 10 |
Number of Pool laps for 500 meters Swim
For more on Swimming pool specifications, check out our post on How Many Gallons & Litres Are In Olympic Swimming Pools? Specification Explained
What is the average time for swimming one mile?
A beginner swimmer is expected to complete one mile ( 1609 m) in 40 to 50 minutes, while an intermediate swimmer will take 30 to 35 minutes and an advanced athlete will take less than 25 meters ( Source).
We have compiled the table below accordingly,
| Swimmer Level | One Mile Average Timing |
| --- | --- |
| Beginner | 40 – 50 mins |
| Intermediate | 30 – 35 mins |
| Advanced | 25 mins or less |
Average time to swim one mile
This should give you a baseline with which to place yourself into one of the categories of beginner, intermediate or advanced. You can then use this information to guide your training.
As a beginner, you should be heavily focused on swim drills that focus on improving technique rather than increasing your distance and engraining bad habits.
As an intermediate swimmer, you can look at a mix of drills and longer sessions in order to build both techniques and speed endurance.
How many swimming lessons you need to prepare for A Triathlon?
The answer to this question will vary immensely from individual to individual because swimming is the most technical part of a triathlon.
Just about anyone can ride a bike, and there is no reason why you can't go out and put on a pair of running shoes and train for the run section.
Swimming, however, is altogether different. Good technique is critical to getting a fast swim time without leaving you drained of energy for the rest of the event. Let us try and break this down based on your current level.
I am comfortable with breaststroke, but cannot manage 100m of freestyle without stopping.
There is nothing that says you cannot swim breaststroke in a triathlon, but you will find yourself at the back of the pack very quickly.
It would be a wise idea to invest in a good swimming coach who can teach you the basics of how to swim freestyle efficiently and focus on good breathing techniques so that you do not burn too much energy in this portion of the triathlon.
If you are in this category then try starting with a sprint triathlon where the swim is a lot shorter.
If you are prepared to train 3 times a week for around 45 minutes then you should be able to swim 100 meters freestyle without stopping after one month or two. From there you will want to slowly increase that distance until you are comfortable with the sprint swim distance.
I am comfortable swimming 100m freestyle, but I need a good rest to get my breath back afterwards.
If this is you then you probably already understand the basics of freestyle but you are using far too much energy.
This could be due to improper breathing, poor body position in the water, not 'catching' the water properly, or a number of other factors. Certainly taking some lessons is going to help you see big gains in a short period of time.
Again, this will depend on how much work is needed on your technique but with a good swimming coach you should be able to see improvements in your efficiency within a few weeks, and within a couple of months, you can expect to be swimming with much less effort.
I can swim sets of 400m freestyle, but I want to improve my speed and efficiency.
If you fall into this category then you are likely a confident swimmer and the swim distances of most triathlon events are within your capabilities, but you want to take it to the next level and be able to finish in the top percentage of your age group for the swim.
The unfortunate news is that your position on the learning curve means that you will be subject to diminishing returns. This means that you will have to train for longer and will see only small increases in your performance. For some swim motivation, we recommend that you check out our post "Can Swimming Make You Taller (or Shorter)? What Does Swimming Do To Your Body!"
You may still benefit from swimming lessons, but do not expect great leaps in performance. An alternative option may be to join a local swimming club so that you have an organized training regime that is geared towards making you faster over long distances.
If you can spare some serious cash, then consider an endless pool to up your swimming training. Check our Endless Pools: Are They Worth It ?! Pros, Cons, Sizes, Speeds, Cost & Alternatives!
Final Thoughts
The swim portion of any length of triathlon can be the most daunting for many competitors, but remember that with proper focus and dedication you will be able to conquer your fears and reach the transition feeling proud that you have completed the first leg of the journey.
Also check out: Big Head Swim Caps: Should you Use One? Everything You Need To Know!
---