Participating in a triathlon race is overwhelming but what makes it scarier is not having a suitable kit for the race. A tri suit is a needed and unavoidable essential for enthusiasts and advanced triathletes that can be expensive, but there are still quality ones that you can get on a budget.
I have had a fair share of triathlon myself, and I can tell you having a quality kit is a big confidence booster. Even an experienced triathlete will tell you not to joke with your equipment as they go a long way to improve comfort and performance in a race.
So, how much does a triathlon suit cost? The average cost of a tri-suit is $230 while ranging between $75 and $475. The cost of the triathlon suit depends on the brand, if it is a one or two-piece suit, sleeved or sleeveless suit, and the materials used.
Note that sleeved tri-suits tend to be more expensive than sleeveless tri suites.
If you are interested in getting a triathlon suit then you must check the Best Budget Triathlon Suit – I've Used It for 7 Years! (Guide & Options For Men & Women)
I was able to pull the list below of tri suits with prices with which the above conclusion was made,
One-piece Trisuit

Brand
Prices
Louise Garneau Men's vent suit
$169
DeSoto Forza flitsuit sleeved tri suit
$289
Decathlon tri suit
$75
Zoot sport Ulta Aero
$275
Orca Core Race suit
$130
Coeur Kenna Zele
$400
DeSoto Women's Femme Mobius Tri suit
$148
Huub Anemoi
$475
Zone3 Women's Aquaflo short-sleeved tri top
$109
Average
$230
List of one-piece tri suit and their price
---
A triathlon suit is an excellent investment because it is engineered to handle the three activities of a triathlon without causing discomfort to the user. Check out our post " What To Wear For Any Triathlon? A Brief & Complete Guide" For more on what to wear on your next triathlon.
Check out the article we wrote about What to wear for triathlons? Everything you need to know – Trisuit and Wetsuit choices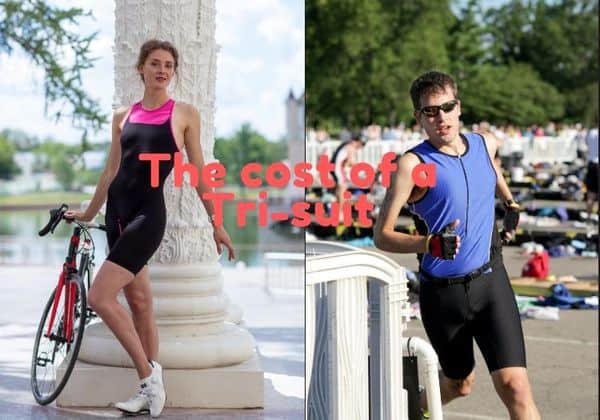 Can you do a triathlon with your Regular Tops and Bottom?
Of course, you can! While you can train without a tri suit, it is not advisable to race without one in the actual event because a tri-suit boosts comfort, reduces transition and drag time. For more on this, check out our post titled Do You Change Clothes During a Triathlon? Your Options of What To Wear!
Are there Women-specific Tri suits?
Yes, some triathlon suits are designed specifically for women and they are tailored to boost comfort and increase efficiency. Women's tri-suit has chamois designed to fit a woman's anatomy. Some feature an inbuilt bra that provides extra support during a race, while others are without a bra.
Both bra and braless tri-suit have their advantage, but the popular opinion is that a separate bra swimsuit is more comfortable and versatile, especially when taking a loo break.
Check out our post on What Is A Triathlon Singlet & How To Pick A Triathlon Specific Sports Bra!
What you should look for in a Triathlon suit?
First, check out the triathlon suit we use and recommend (Amazon Link)
Creating clothing suited for one sport is hard enough, Imagin one clothing for three-sport. Furthermore, You need to find a material that will balance the three activities without a fuss, and this can be a difficult task for the manufacturers.
Sometimes, if the swimming part is taking place in a warm pool, then the tri-suit is pretty much all you need, but on the contrary, if the event is taking place in cold open water, you Will probably need a triathlon wetsuit as well.
The wetsuit is worn over your triathlon suit and can be taken off in transition.
As a beginner, some factors should be present in your gear. The presence of these factors means you can gain precious time during the transition and race in comfort.
Quick Drying Material
Since triathlon is a three-sport activity that involves swimming, getting submerged in water is unavoidable. However, getting a triathlon suit made of quick Drying material will make you comfortable. Moreover, the last thing you need when transitioning from swimming to cycling is a wet and clingy suit that won't just dry off.
Cycling with a wet tri-suit can cause great discomfort as it restricts your range of motion when cycling, causing you to waste precious effort in turning the pedal – what should have been an effortless task.
Don't forget; a wet tri-suit means an extra weight that you don't need, especially if you are trying to be as aerodynamic as possible.
Good Breathability and Hydrophobic properties
Chafing and irritation are a common phenomenon for triathletes when racing, especially if you have a misfitted tri suit on – Trust me, a breathable and perfectly fit suit is a blessing. Generating heat is common when you are running and that is why you should go for a breathable material that wicks moisture away from the skin. Check out How To Avoid Chafing And Blisters In Triathlons? Prevention & Treatment Tips
Light chamois or Pad
Padding in a triathlon suit is a very tricky area; getting it wrong means you will experience a long uncomfortable race.
Generally, triathlon padding is less thick than what you will find in cycling shorts. Less padding means it dries off quickly while reducing chafing. However, you still want the chamois to be thick enough to provide enough comfort during cycling.
Staying comfortable throughout your race is the key as you are battling different elements and factors to reach the finish line.
UV Protection
When shopping for a tri suit, select a suit that offers UV protection as triathlon requires you to be out in the sun. if the triathlon is a long-distance race, you are going to need UV protection
Compression fabric
Some suit comes with compression fabrics sewn unto it. A tri suit with compression property is a good choice because it supports your core, efficiency, and delays fatigue – perfect for running.
Furthermore, it boosts endurance and reduces recovery time.
Women's tri-suits are engineered to provide additional support in some areas; as a woman triathlete, go for a tri-suit that contains an inner bra. This way, you can stay cool and comfortable throughout the event.
Aerodynamic
The expert will tell you that an aerodynamic edge should be high on your list. An aerodynamic tri suit can make a huge difference and reduce drag.
So, it isn't only your bike that you can boost aerodynamics; apparently, you can achieve it with your attire too.
Also, sleeved tri suits are slightly more aerodynamic on a bike than their sleeveless counterpart. (Source). Ensure your tri suit is firm and well-fitted to your body; after all, flapping contributes to the drag encounter when on the bike.
Storage
Storage is not a big issue on a shorter race; however, this is a different story with a long race course. You need all the help you can reach the finish line in a little time; Some triathlete carries nutrition and other essentials to help ensure the race.
What Should I Wear for a Triathlon Race?
What to wear is another big question you need to answer before the actual event. I think the confusion is mostly between wearing a one-piece suit or a two-piece suit. Another factor that poses a significant challenge is going for a sleeved or sleeveless suit; you can check out our post about what to wear for a triathlon to clear your confusion.
Should I Wear Underwear Beneath my Tri-suit?
The answer is a big "No". Normal underwear can easily retain water and cause discomfort during racing. Triathlon clothing materials are designed to dry off quickly; that is why they are a better option.
Does Tri-suit Have padding?
Yes, padding is one of the features to look for in a tri suit; a good tri-suit should provide a moderate level of padding that will cushion your ride and prevent chafing when cycling.
Should I Get a Customize Tri suit?
If you have the cash, why not! The benefits of quality tri-suit are enormous; first, they provide comfort during the race and allow you to perform at your best.
Tri suit comes with different features, sometimes making it difficult to get one that suits your taste. Each triathlon race is unique and requires certain factors to boost your comfort and confidence in the race.
One fantastic benefit of customizing your tri suit is that you can pick the materials it is made from. Also, it allows you to create all the features you love in a suit. (Source)
So, customizing your tri suit is a good choice if you can afford it.
How Can I Maintain My Tri Suit?
Maintaining your tri suit is quite simple. Here are a few tips for maintaining your tri suit
Always wash your tri suit at low temperature, that is, not more than 300C in a machine
Do not tumble dry your tri suit
Hang them away from direct sunlight when drying
Do not Iron your tri suit; if you want to preserve their properties longer
Final Thoughts
Generally, triathlon is expensive because of the equipment used in the sport and preparation process. But if you are in it for the performance, then investing in a tri suit is one of the best investments you can make in the sport. Check out my Best Triathlon Battle-Tested Budgeting Gear for some more guidance.
Bonus Tips
If you are a Beginner triathlete or working to cut down triathlon expenses, I would recommend that you go through eh following articles,