I have been riding my road and triathlon bikes for years now and never thought twice about the weight factor. I always thought that lighter must mean better. I also know many people, whether advanced athletes or those who are just getting their first triathlon or road bike, consistently ask the same question of whether or not the weight of the bike impacts performance or the ride experience, and it always sparks the debate.
So I looked it up online and turns out over the years the weight of a bike is a heavily debated topic; there is this widespread opinion that the lighter bike is the best, with magazines telling us the type of bike to select depending on the weight. Now, is that true? I am writing this article to put an end to this debate once and for all!
The first question to address is how much does a road bike usually weigh? The weight of a road bike is around 16 Lbs (pounds) or 7 Kg while ranging from 14 to 18 Lbs, or 6 to 8 KG. Additionally, there are no indications of a correlation between the bike weight and its cost.
In contrast, how much does a TT triathlon bike weigh? The weight of a TT triathlon bike is around 20 Lbs (pounds) or 9 Kg while ranging from 18 to 21Lbs, or 8 to 9.5 KG. We can also conclude that a TT triathlon bike is heavier than a road bike.
If you are looking to race on a budget and make the most of your money, check out this article I wrote about Top 47 Tips For A Triathlete on a Budget: How to afford triathlons?
---
I did the exercise of collecting several bike wights and compared them in the following table, with which I was able to come up with the above conclusion.
| Road Bikes Model | Weight (lbs) | Weight (Kg) |
| --- | --- | --- |
| State Bike 4130 Road | 17 | 7.7 |
| Cannondale Super Six Evo Hi-Mod Disc | 16 | 7.2 |
| Giant TCR Advanced pro 0 Disc | 14 | 6.3 |
| Specialized S-works Tarmac SL7 | 14 | 6.3 |
| Pinarello Dogma F12 | 16 | 7.2 |
| 3T Exploro Team Force | 17.5 | 8 |
| Bianchi Aria | 17.5 | 8 |
| Orange Bike R9 RS | 17 | 7.7 |
| Specialized Venge Pro | 16.5 | 7.4 |
| | | |
Road Bike Weights
| Triathlon Bike Model | Weight (lbs) | Weight (Kg) |
| --- | --- | --- |
| Orbea Ordu M10iLTD | 19 | 8.6 |
| Ventum GS-1 | 18 | 8.2 |
| Canyon Speedmax CF7 Disc | 20 | 9 |
| Felt IA Advanced Ultegra | 21 | 9.5 |
| A2 Bikes Road Phreak | 20 | 9 |
| Cervelo P5X | 22 | 10 |
| Canyon SpeedmaxCF8 | 18.5 | 8.5 |
| Cube Aerium 68SLT Low | 20 | 9 |
| Scott Plasma20(9) | 19.5 | 8.8 |
| BMC Timemachine 01 DISC | 20 | 9 |
| Aerium Race C:68 | 19.5 | 8.8 |
| Speedmax CFR DISC eTap | 20 | 9 |
| Wilier Turbine | 20 | 9 |
| Quintana Roo PRsix | 21 | 9.5 |
| Diamondback Andean 3 | 20 | 9 |
Triathlon Bike weights
You should know that the weight of a bike highly depends on the frame materials used (Carbon fiber, Aluminum or Steel).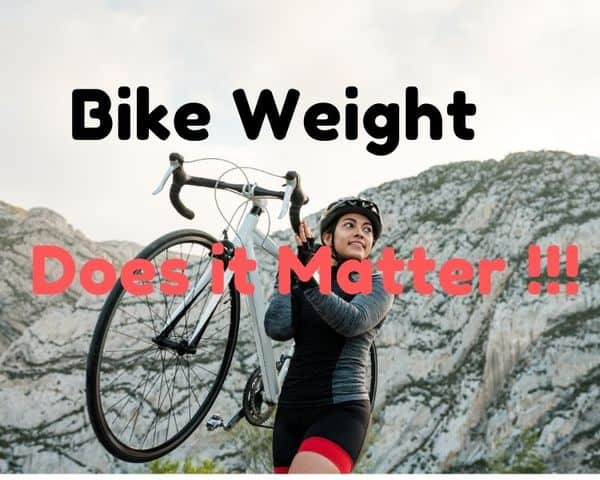 Does the Triathlon or Road bike Weight Matter?
Does the Triathlon or Road bike weight Matter? Road and triathlon bike weight has a marginal impact on performance and does not make a noticeable difference, especially for amateur athletes, unless the route is an uphill climb.
This is proven by am an experiment (source), where average riders were asked to race a distance of 3,900 KM, some weighing 85 Kg overall and the others weight 80 Kg. So that's a 5.9% reduction in the overall weight as a whole. The result came that even with such aggressive weight reduction, the average speed improvement was just at 1.9 %.
This actually gets even more interesting when looking at the data in relation to the gradient in different sections. The table below extracted from the (source) shows that there is virtually no improvement in flat sections, around 5 % better performance climbing up hills, while heavier bikes performed better by 3% going downhill.
| Gradient | Distance (Km) | Change in Speed |
| --- | --- | --- |
| <-7 % | 232 | -3.1% |
| -7% to -4 % | 259 | -3.1% |
| -4% to -1 % | 793 | -2.2% |
| Flat | 1364 | 0.5% |
| 1% to 4% | 763 | 3.1% |
| 4% to 7% | 257 | 5.2% |
| >7 % | 232 | 5.9% |
| Total/Average | 3899 | 1.9% |
Change in rider speed after reducing the weight from 85 to 80 Km
We can still notice some improvement from the weight reduction, around 1.9%, but remember that this is based on the extreme scenario of a reduction of 5KG, not few grams. Also no mentionable improvement on the flat section.
So in short, road and triathlon bike weight has a marginal impact on performance and does not matter for amateur athletes.
Professional athletes who are measuring their performance by the second may decide to invest heavily for the additional benefit of this marginal improvement.
Another study (source), analyzing weight in relation to speed, had a consistent result showing that there is only a slight difference in the speed of different weighted bikes; that is; the difference in speed between a light bike and a heavy bike is minute. Not to mention, that lightweight bikes are more expensive. Some people think a lightweight bike makes them go faster, but this is not entirely true.
One more experiment conducted through Global Triathlon Network (Source)in which a road bike Cervelo S5 and a TT triathlon bike Cervelo P5X that weighs up to 7kg and 10kg respectively, was tested by a former pro triathlete Mark Threlfall at Santa Majorca, Salvador Climb.
The route involved climbing, descending, and cornering where the weight of the bike played a major role in maintaining the riding speed. The results showed the difference in time and power for both bikes. The triathlon bike took 15minutes, whereas the road bike took 15minutes 2seconds to run 4.8km long with the same strength and energy as the rider. Just 2 Seconds!
Scientific explanation
Here is a video that explains the relation between bike mass, acceleration, and speed from a scientific perspective. The high level description that you need more force to speed up on a heavier bike, but to maintain the the speed , weight doesn't have an impact. However, to slow down, you need equal force in the opposite direction equal to the force you exerted initially to accelerate, ( Friction and air resistance in the bike case ) which eventually balances out.
We can conclude that bike weight does not matter especially in the following cases,
When you are riding through a flat course.
Not competing against timepiece.
Not competing for the podium.
At the end of the day, it is not really about the weight but how the bike can perform overall. It would be wiser to focus on the aerodynamics of the bike which will have a much higher impact on performance. So yes, "aero trumps weight!".
Bike Weight versus Cost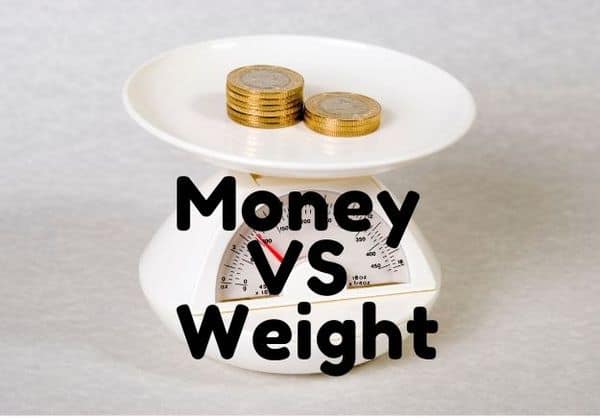 Does a bike weight correspond to the cost? There is no correlation between weight and the cost of triathlon or road bikes.
Normally you would expect that a heavier bike should be costly, but it is not the case. What really determines the price of a bike is its specifications and features. Bikes with extra features might be more expensive than a regular bike, so it doesn't depend on weight.
Here are some sample bikes weights and prices for comparison
| | | |
| --- | --- | --- |
| Triathlon Bikes | Weight (lbs) | Price |
| Orbea Ordu M10iLTD | 19 | $9,000 |
| Ventum GS-1 | 18 | $2,900 |
| Canyon Speedmax CF7 Disc | 20 | $3,800 |
| Felt IA Advanced Ultegra | 21 | $5,000 |
| A2 Bikes Road Phreak | 20 | $2,000 |
Triathlon bike, their price and weight
| | | |
| --- | --- | --- |
| Road bikes | Weight (lbs) | Price |
| State Bike 4130 Road | 17 | $481 |
| Cannondale Super Six Evo Hi-Mod Disc | 16 | $10,799 |
| Giant TCR Advanced pro 0 Disc | 14 | $5, 250 |
| Specialized S-works Tarmac SL7 | 14 | $12,000 |
| Pinarello Dogma F12 | 16 | $6,500 |
Road Bike, their price, and weight
Besides, what makes a bike lighter is the materials used in constructing its frame coupled with some accessories like bike saddle, wheels, and pedals. Bike frames are made from carbon, aluminum, and steel.
Also, check Why Are Triathlon Bikes So Expensive?What To Look For & Is Used A Good Option!
Why are Triathlon bikes Heavier than Road Bikes?
A triathlon bike is heavier than a road bike by 2- 4 lbs or 1 to 2 kg. The reason is that the aim is to make a triathlon bike more aerodynamic rather than lightweight as it is in road bikes.
The triathlon bikes come with bigger aerofoils and bigger frames than the road bike. This sometimes puts the triathlon bike at a disadvantage going uphill, but it is faster on flat ground. Furthermore, the triathlon bike handlebar is heavier than a regular bike handlebar. For more on this, check out our post Can Triathlon Bikes Climb Hills? Is A Road Bike Better!
If you are confused about your Triathlon bike purchase then make sure to check our Triathlon Bikes: Complete Entry Level Buyer Guide
Is a Triathlon Bike Faster than a Road Bike?
This question often comes up if you intend to use a triathlon bike as a road bike. The answer is Yes! Triathlon bikes are designed to ride faster hence why they are built aerodynamically.
A rider's position is important for speed, but road bikes are majorly built to be ridden in an upright position compared to the steep built of a triathlon bike. Furthermore, the speed is improved with a steeper steering column giving a stiffer feel to the front of the bike. This steeper steering column makes it more responsive to surges and around corners. Also, the steeper steering column coupled with the tighter rear triangle creates a shorter wheelbase that helps navigate corners and bends. All these features boost the momentum and efficiency of the triathlon bike.
You can say a triathlon bike is built to face the challenge of the triathlon's competitive nature and race straight and flat course.
What is the Best Frame Material for my Road or Triathlon Bike?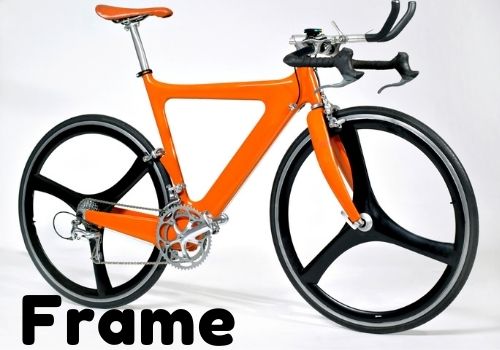 While carbon fiber is the most favored material, we cant say that it's the absolute best material for a frame. All the frame material can be used to produce a good frame. The ride characteristics of a frame depend on the frame design and assembling process.
The truth is when you are climbing uphill; a light triathlon bike may gain an edge compared to a heavier bike. This purpose may be defeated when you are on flat ground. Sometimes, we trade parts and components of our bike for less heavy ones to make it faster. Many manufacturers will tell you that their product weighs less than their competitors in a bid to get you to patronize them.
What you don't know is that the bike's weight is only part of the overall weight; your body weights, clothes, and water bottles all contribute to the overall weight. One smart way of reducing your weight is to shed bodyweight. If you really want to make your bike fast, then the best way is to make it more aerodynamic.
Types of Frame Materials
Over the years, the materials used in frame construction have evolved; definitely a big step-up from plastic and bamboo. Currently, there are four major materials (Source) used in making a frame: aluminum, carbon, steel, and titanium. You should also note this; one material can be used to build two frames with different ride qualities entirely. The reason is that these qualities depend on factors like material manipulation, geometry, and tube shape.
Aluminum
Aluminum became a popular frame construction material in the 1980s, although it had been around for about a century before then. It gained popularity when construction processed were perfected, and large-diameter tubing was born. Today, aluminum is one of the most popular and efficient materials used in constructing the frame. The frame made from aluminum have quality tubing and construction, which depends on the price;
the higher the quality, the higher the cost!
One disadvantage of aluminum in the early years is that it creates a jarring ride due to its inability to absorb shock; however, this is no longer a problem thanks to improved construction techniques, alloy discovery, and large-diameter tubing. The alloy discovery has significantly improved the properties and allow the frame to absorb shock better while giving an incredible riding experience.
Aluminum is the most popular frame material because it is light – lighter than carbon and titanium, making it a great choice for road and triathlon bikes. Another attractive feature of aluminum over steel is the anti-trust properties. Aluminum alone is not strong enough to make a bike frame, but its alloy is. The common alloy used includes magnesium, zinc, and silicon. Furthermore, manufacturers can shape aluminum alloy to be more aerodynamic.
Carbon Fibers
Also known as graphite, is a popular and unique material for a bike frame because of its ability to absorb shock. Also known as fabric, it composes a glue called resin that allows the shaping and joining of metals, further increasing the uniqueness and functionality of a carbon. They are durable, stiff, and super light. It is called a carbon fork because it weighs less than a pound.
Carbon has one significant advantage over steel and aluminum in that it can be easily manipulated into different and complex shapes partly because it is a fabric. This ability makes it a valuable material, especially when trying to make a more aerodynamic frame. Carbon fiber gives the manufacturer a creative edge to build something unique as it can be fine-tuned to provide a frame with superb ride qualities.
Carbon is not metal, so it is impervious to corrosion, unlike steel, and due to its low density, it possesses a natural ability to absorb shock. But with these creative properties and features comes a price. Carbon frames are on the expensive side, although the price has dropped in recent years. And because it is not a metal, it is more prone to fracture and may become unfit to ride.
Steel
steel is one of the first materials used by frame builders and has been in use for over a century. But over the years, two factors have been responsible for its decline – weight, and cost. It is heavier than aluminum and carbon, making it undesirable for high-end but on the bright side, durable, affordable with excellent ride qualities. Furthermore, steel is easily repairable.
Steel is easily bent into different shapes and even be aerodynamically inclined, and it is strong. But be careful; steel is subjected to rust, unlike its aluminum and carbon counterpart.
Steel is still highly favored by the custom builder because it is easy to work with and create a frame with excellent ride qualities on a budget, unlike titanium. It is easier and less expensive to work with compared to aluminum and carbon fibers.
Steel is denser, stronger, and highly resistant to fatigue, and can absorb shock, Making it a suitable frame material for harsh terrain. Steel frames are known for their responsiveness and comfort.
Titanium
titanium frame possesses excellent qualities, no wonder it is a popular material among custom builders. They are strong, durable, long-lasting, and well know for producing structures with unique ride qualities. You can say it combines the best qualities of the other three materials: the lightness of aluminum, the comfortable steel feel, and the smooth ride quality of carbon.
Titanium rivals aluminum in terms of weight and is said to have the highest strength-to-weight ratio of all the materials. However, it is very costly, and only a few companies can manufacture it because of its high production and material cost.
Titanium frames are labor-intensive, and the material is rare, making it an expensive purchase, but the titanium frame is the best.
Does the frame material of a bike influence its weight?
Frame materials are of different types, but they influence the overall frame weight (Source). However, frame material is not the only yardstick used to measure the weight of a bike. Besides, even the bike weight is only part of the total weight, excluding the rider's weight, clothes, and water bottles, if he is carrying one.
Due to improved technological processes, even aluminum can build a frame as light and comfortable as carbon. It is entirely possible to use aluminum to create a lighter frame than carbon because carbon comes in different grades, which affects the final results.
Can a Road Bike be used in a triathlon?
Of course! road bikes are built for comfort and are easy to handle. Now, you can use a road bike for a triathlon race; only it is not as fast as a triathlon bike on a flat as triathlon bikes are more aerodynamic.
Make sure to check out our post on Road & Mountain Bikes Essential Upgrades For Triathlons: A Beginners Guide
Also check if You can Use Folding Bikes In Triathlons
There are several ways to modify your road bike to fit a triathlon one, although you might not be able to replicate the geometry position of a tri-bike completely.
The first step in modifying your bike is to change the handlebar to an aero bar. This will allow you to improve the aerodynamic position of your road bike. You can also try a deep-sectioned wheel to improve resistance.
Check this article we wrote about Is a TT Tri Bike Faster than a Road Bike?
Can I use a Triathlon Bike as a Road Bike?
Well, it depends. The triathlon bike is not built for comfort, and if you are the type that prefers comfort, you should stick to your road bike. Moreover, road bikes are more comfortable for long-distance cycling and stable when drafting in groups, thus, making them a safer option.
Road Bike Versus Triathlon Bike: The Big Difference
Many often wonder about the difference between a road and a triathlon bike. In the triathlon world, questions like "What type of bike should I buy – tri bike or road bike?" "What is the difference between the two?" are often frequently asked, especially by beginners.
Time trial triathlon bikes are racing bicycles designed for speed but can be used for casual rides too. Time trial triathlon bikes are quite different from road bikes; in that, time trial triathlon bikes are more aerodynamic and have different wheelbases. Also, the wheelbase of time trial bikes is a lot shorter than that of road bikes. This places the rider a lot lower towards the front area of the cycle to reduce airflow obstruction.
There is one huge difference that sets both bikes apart: the geometry of the bicycle frame – precisely the seat tube angle. The seat tube is the tube that connects the bottom bracket with the top tube, while the seat tube angle denotes the angle of the seat tube with the ground. A triathlon bike has a steeper seat tube angle at 76-78 degrees compared to the 72 degrees of a road bike.
The steeper seat angle allows the rider to assume a more aerodynamic position. The aerodynamic position allows the rider to travel at a faster rate because it reduces the wind resistance. The presence of an aero bar in place of a regular handlebar is another striking difference between them. All these features present in a triathlon are designed to minimize drag and increase speed.
However, Time trial triathlon bikes are less convenient as they are arguably bigger than typical road bikes. They also possess hollow tube sections, which make the frame a lot more aerodynamic in motion.
Components That Affects the Weight of a TT Triathlon and Road Bike
The weight of the bike is greatly influenced by the components that make up the bike. Major Components of TT bikes are
Frame.
Cranks.
Wheels.
Aerobars.
Hydration systems.
Also Check out Does Bike Cassette Speed Actually Matter! 9 VS 10 VS 11 Speed & Cost To Upgrade?
Let's take a look at these components and see why TT bikes, however fast, still weigh the aforementioned average weight.
For a more in-depth analysis, check out our article How Much Should Road And Tri Bikes Components Cost And Weigh? How Do They Differ !
Frame
The frame is a basic structure that rudiment or braces a system. A bicycle frame is the central part of a bicycle, in which wheels and other parts are placed. The updated and most popular frame design for a good bike is based on the safety bicycle, and it has two triangles: the central triangle and a paired rear triangle. It is also called the diamond frame. This will influence the weight of the bike as it is the basic form of the bike. The weightier the frame, the higher the weight of the bike. An ideal tt bike frame weighs about 4-5pounds
Cranks
Cranks are a part of a pivot or spindle, bent out at right angles for changing correlative to circular motion and vice versa. The crank is a bike part that also known as the drive train, which changes the correlative motion of the rider's leg into circular motion used to drive the chain, which also drives the rear wheel. This affects the movement of the bike and its corresponding speed. It also influences the weight as it is a major part of the bike.
Wheel
Wheel is a round object that rotates on a pivot and is placed below a bicycle or other objects, allowing it to move smoothly over the ground. This component tells on the lower region weight of the bike.
The most popular bicycle wheels you are likely to see often are made of 5 parts:
The tire is the rubber part of the wheel part that rotates continuously when racing or riding on the ground; whenever the bike moves, it does the continuous rotation until the bicycle stops.
The inner tube is a balloon-like shape component that can be blown up and flattened using a valve. The inner tube is your air cushion, and when blown up inside the tire, it provides you with a convenient, stress-less ride. Except your bike has been changed to tubeless, your bicycle will surely have inner tubes. These also tell on the lower region weight of the bike.
Check out How Common Are Flat Tires In Triathlons? Causes And How To Avoid Them
The hub is the middle part of your bicycle wheels and is a great bike weight influencing factor. It is placed at both anterior and rear, which joins the wheel's rim through the spokes where the shaft is suited. This makes the wheel roll on the two sets of bearings freely.
Spokes are found in each of the shaft or wire rods joining the middle of a wheel to the outside part of the edge. It also takes part in influencing the weight of the wheel.
Rim is located at the edge of the wheel. The rim's upper part is the braking surface, where the brake blocks squeeze the rim to slow down. The internal part of the rim joins the spokes to the hub.
Check this article I wrote about Is it Worth it to upgrade your bike Stock Wheelset?
Aerobars
Aero bars are the set of bike handlebars or handlebar supplements made to put a rider's body in a lower and aerodynamic position. However, when you get an aero bar to your bike, you are most likely going to be addicted to it. Plus, it is an additional load to your bike. Check this article I wrote about How Much do Bike TT Aero HandleBar Weight and Cost? What matters the most!
Time trial simply means racing against the clock, in bike racing, a form of competition in which individual cyclists are set out at a particular interval to race a specific distance on a course. The rider with the fastest time for the specified length or distance wins. Hence you should consider all possible factors. (Source)
Some external factors are;
Helmets
The helmet is a solid head protective, different types of which are worn by cyclists, sports athletes, and the likes. This doesn't affect the bike's weight directly; however, it influences the bike's weight in motion.
Time-trial clothing
The cloth you put on when you are going for a ride or race is known as Time trial clothing. It indirectly affects your bike's weight as you ride. Time trial clothing is also one of those things that affect your bike's weight, in turn, your speed while racing because the clothing also has its weight, and it could slow you down when racing.
Rider weight
A rider weighs more than a bike and a rider kit. An ideal weight for a triathlete is 0.907 to 1.134 kg per inch of height. It plays a great part in hill climbing.
Other Minor Components:
Bullhorns
Bullhorn is an electronic device for increasing the bike's sound to be heard clearly in a long distance. It can also be called a megaphone. It is added to some bikes for different personal purposes. It can also affect the bike's speed as it also adds significant weight to the bicycle.
Extensions
An extension is a supplement you hold on to when you are riding to maintain regulation and control of the bicycle, especially when you're in the aero position. They have gear levers that are designed on the end so that you won't have to sit up to adjust gear. They vary for different bikes and contribute to the overall weight of the bike.
Armrests
The armrest is the pad to comfortably place your lower arms on the extensions during racing or riding. It has a little bit of similarity with the uses of aero bars but is placed in different places.
Forks
Forks are each of a pair of braces in which a bike or bicycle wheel rotates. They Merge the anterior wheel to the handlebars. The steerer tube at the upper part of the fork goes through the bicycle's head tube and is clamped by the stem, which allows turning at the anterior wheel with handlebars. They slightly affect the weight of a TT bike.
Integrated brake
Integrated brakes are commonly found on tri bicycles; the brakes are combined into the fork at the anterior part of the forefront and then concealed under the bottom bracket at the rear end to boost the aerodynamics of the bicycle.
Aero wheels
Aero wheels that have included carbon parts to boost aerodynamics. It can come in various depths of approximately 45- 110mm sometimes but often comes between about 35-90mm. You can also buy a solid 'disc' wheel at the back
All of these would definitely tell on the weight of the bike.
How to Reduce Weight of Triathlon Bikes?
There are many ways to achieve a lighter riding weight if you still want to grab those few seconds riding uphill. Here are some
BMI of the rider should be in the range of 18.5 to 24.9 kg/m2.
No unnecessary muscles on the upper body part of the rider.
Use of titanium-made bottle cages. Avoid unnecessary accessories in a rider kit.
Use of bladed spokes that can add robustness in a bike without adding weight
If your bike isn't constructed using carbon fiber (graphite) you are more likely to ride a heavier bike in the triathlon.
Use of Tubular Wheelset
Removal of paint
Use of Lightweight saddle and saddle post
If the tire isn't tubeless specific then consider latex bike tube.
Final Thoughts
The aforementioned details will help you draw to a close with the fact that weight has no significant effect on cycling performance.
Though TT bikes result in a better performance as they are purely designed to push riders more forward in a much better aerodynamic position, however, they do weigh 2 Kg than road bikes.
If you are just starting off your triathlon journey, it would be a good idea to check the article I wrote about 50 must-know tips for every beginner triathlete