Racing Triathlons in winter and worried you might screw up for not having the right gear?
In reality, there is no such thing as poor weather, the lapse is always in your choice of gear.
So, how to dress for a rainy triathlon & what to wear in a cold triathlon? We have listed here some gear designed for this purpose, worn by triathletes in rain as well as in cold triathlons for you to pick the ones that best work for you.
Every individual will have different preferences for what to wear, however, this list is designed to give you a general overview of your options.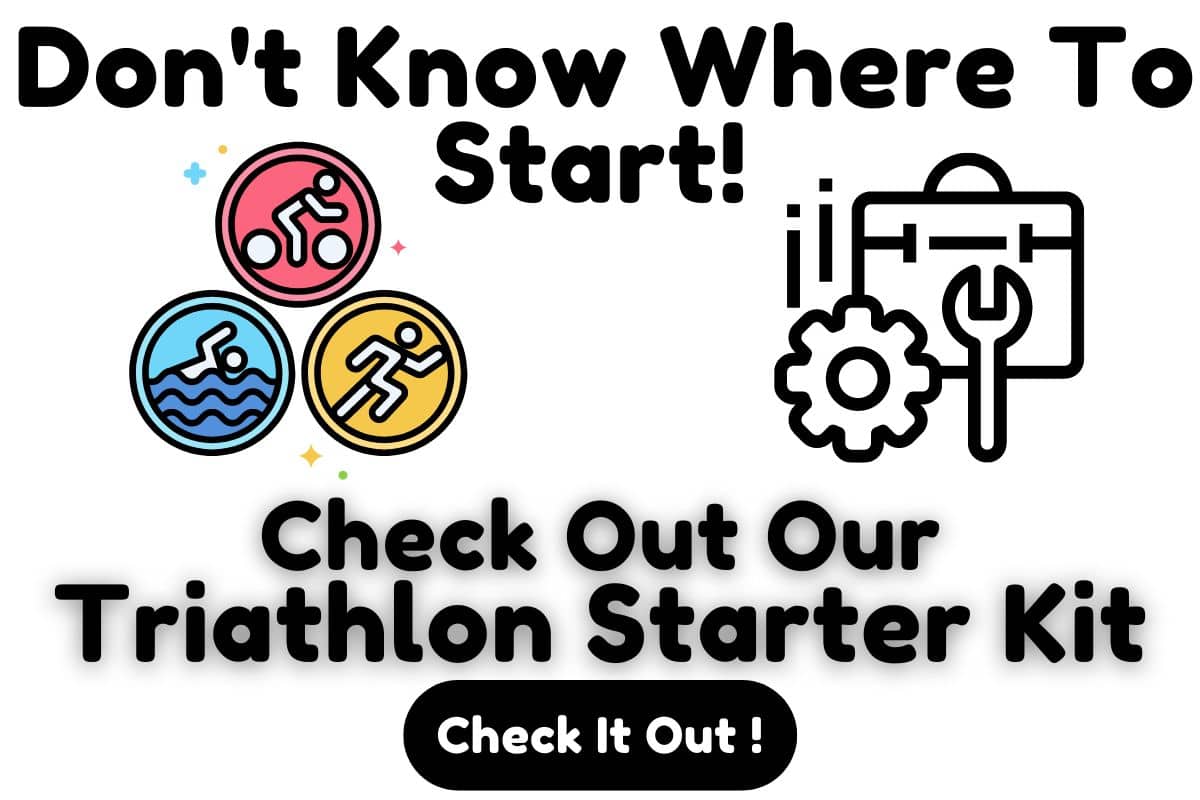 These gears have texture specifically to provide comfort in wet and cold wintery weather. Moreover, they also make your experience more enjoyable.
The right choice of essentials like eyewear, footwear, Bennie, tri suit, helmet, gloves, and clothes for layering up can set you for a good run.
Also, we have spent tons of hours using, researching, and testing the best triathlon gear on the market in my extreme triathlon journey. These items are battle-tested and can be recommended without any equivocation. check out our List of Battle-tested triathlon gear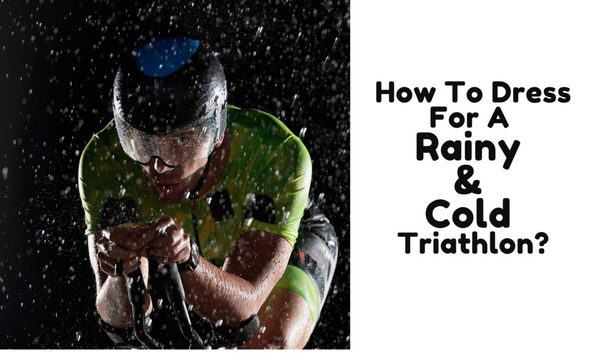 How To Dress For A Rainy Triathlon?
RAIN RAIN DON'T GO AWAY, I AM ENJOYING MY RIDE ANYWAY.
Check out What Weather Conditions Could Cancel A Triathlon Race?
Waterproof Jackets
Cycling and running waterproof jackets should be at the top of your checklist. It will help your inner layering from getting soaked during the run.
The windproof jacket keeps the rain out and its breathable texture allows you to enjoy your ride or a run. Have a look at some amazingly reviewed jackets by bikeradar (source).
But how will it cost to get a proper waterproof jacket for your triathlon? The average price of a waterproof jacket for the purpose of using it in a rainy triathlon is 260 USD while ranging from 135 to 400 USD.
| | |
| --- | --- |
| Waterproof Jackets | Prices |
| Castelli Idro Pro 2 | $400 |
| Santini Vega Multi Jacket | $322 |
| Rapha Pro Team Lightweight Shadow | $270 |
| Rapha Commuter | $135 |
| POC AVIP rain | $300 |
| dhb Aeron Rain Defence Polartec$180 | $180 |
| Castelli Gabba 3 | $179 |
| Sportful Stelvio | $299 |
| Lusso Aqua Pro Extreme | $215 |
Prices of Waterproof Jackets fit for triathlons
Our affordable go-to triathlon jacket is the Gore-Tex Paclite – Check it out (Amazon link)
Triathlon Eyewear
Goggles
If you are looking for what type of goggles you should wear and when here's what you need to know
Experienced triathletes know it's a good idea to have a small quiver of different swim goggles for different situations. We break down what to wear and when. (source).
Check out the goggles we recommend (Amazon link)
Glasses
Rain doesn't come alone, it brings wind, dust(before raining), dirt, and whatnot. Hence, there is no way of going out without eyewear.
Buy yourself clear eyewear that will allow you to get a clear vision of the track. These glasses serve much safety when you are on your cycle because believe me the dark weather and droplets falling just before your eyes will not let you see the rider a few meters away from you.
Waterproof Overshoes
As the name suggests, it is worn by triathletes to cover their shoes. It protects the outer layer as well as prevents it from getting wet and nasty from inside. Check out our favored waterproof overshoes (Amazon link)
Emergency Cape
Well, it's an emergency extra layering when the weather turns out to be much worse than expected. It's better to buy a cape with bright and vibrant colors to make you visible in the dark days of winters. The wondrous this is these can get a real socked but still maintain their insulative properties.WOW!
Ditch The Socks on Small Runs
You don't really need socks in rainy triathlons of a super-sprint run distance of around 2.5 km. There is no purpose in wearing a pair of socks when it can possibly get wet in the transitions or during the run.
I believe once you develop proficiency in running without socks, you are good to go, even in summer triathlons. These drenched socks can only bring you uninvited trouble in such weather.
Give this article a good read where we talk about this List of Triathlon Gear You Do Not Need; & What's Actually Required!
What To Wear In A Cold Triathlon?
When it's about the chilled winds and cold weather, the same gear can be used with some addition of a few essentials, as discussed below.
Swimming isn't really a challenging task for triathletes, whether it's cold or a rainy triathlon. The traditional swim kit which consists of goggles, gloves, and a wetsuit is suitable for both cold and rainy triathlons.
Maybe you would like to know what to wear under a triathlon wetsuit, here is the article we wrote about What To And Not To Wear Under A Triathlon Wetsuit? Compatible Triathlon Suits
Neck Buff
It can also help you keep a lot of warmth around your neck. Triathletes consider wearing them in harsh weather, so they can cover their nose to avoid dust inside their nose.
Ear Warmer
You can wear headbands to keep your ears warm and still allow heat to get out through your head. For more on this check out our post How to Keep Your Ears Warm & Protect It when Cycling? Why It's Crucially Important!
Footwear
Many of us believe the yaktrax or studded footwear is what we really need. Well, it depends upon the weather condition. If it's a packed or soft snow trail run, yaktrax can make your run enjoyable. Check it out (Amazon link)
However, in reality, you might see a track going from packed snow to soft snow to ice. And yaktrax proved to be slippery over ice due to zero grip, so it's better to buy yourself shoes with grittiness underneath to get a grip in all situations.
Bottoms
You can either wear double layering of skin-tight tri tights without chamois or windproof bottoms. Wind briefs are always a choice for many male triathletes to keep the area warmer.
Tri-top and Windproof jackets
A tri t-shirt under a sleeved top can make you bear ordinary cold weather, but if you are out in a bit colder weather you can put on sleeved jackets.
A thick thermal undervest, along with a summer wardrobe over it, is also an option. These jackets are light and keep your body temperature warm by blocking your body to wind it might feel otherwise.
Another thing you need to notice is that by the end of the race your body will heat up due to some obvious biological factors. Here you can pull off these windproof jackets and tie them up on your waist if you're worried about the space it will occupy in your bag.
You can also buy some winter tri suits for these occasions. But I believe you don't really need to buy special clothing for this weather if you have got enough clothing for layering up. You can still look for some winter tri-suit if needed.
Also check our article titled: What to And Not to Wear Under Cycling Jersey? Brief Bike Wearables Guide!
Arm Warmers
If you are not a fan of layering yourself with tons of clothing because you don't want to restrict your body anyway. You can wear thick fiber tri tops or t-shirts along with arm warmers. Some of us feel a real cold on our hands than any other part of our body so yes arm warmers are most suitable in that case. Check out our selected arm warmer (Amazon link)
Also, check out our post on How Long Can You Wear Compression Sleeves? When To Use Them!
Socks
Well, as I mentioned earlier, you don't really need to worry about socks in rain or summer triathlons. But it's as important as gloves to wear socks in a very cold triathlon. Try buying shoes a bit larger than your actual size because you can't opt for anything other than wearing layers of socks in winter.
Bennie
You can consider them wearing if you really need to cover your ears and head. You got enough heat in your head while you are on the run or a cycle, direct wind on your head can make you feel a bit more chilled, so it would be good to cover it with bennie.
Eye wear and hat
When it's wind along with rain, you can wear visors or a hat to get extra protection and clear vision. Eyewear is really a key to shelter your face from getting direct wind pressure over it.
Swimming Gloves
The hands bear the real grunt. Your hands might slip off the handle due to water trapped between your palm and handles.
The neoprene material works best both for cold water swimming.
In the table below, I have gathered some cold water swimming gloves for you to choose that suits you the best.
So, how much do waterproof triathlon swimming gloves cost? The average cost of a waterproof triathlon swimming glove is 20 USD while ranging from 13 to 28 USD.
| | |
| --- | --- |
| Cold Water Swimming Gloves | Prices (USD) |
| LOMO Swimming and Triathlon Gloves | $27.67 |
| TWF Neoprene Gloves | $13.25 |
| Slyzone Neoprene Wetsuit Gloves | $19.06 |
Waterproof triathlon gloves cost
For more on this topic, check out our post Can You Wear Neoprene Gloves In A Triathlon? Pros, Cons & Foot Wear Option!
Or just Check out our favored swimming gloves (Amazon Link)
Cycling Gloves
One trick is using Thicker mitts along with surgical gloves that aren't breathable at all. These surgical gloves block moisture exchange between the surroundings and your hands, and you end up having a gross inside it. Never mind the gross is worth making your hands warmer and thicker or thinner mitts over it is really a plus.
Still Not Sure, then check the video below,
Final Thoughts
The gear kit for cold and rainy triathlons is almost the same as discussed here, the only thing that differs is the efforts.
A Rainy cold triathlon is a bit more challenging than cold triathlon due to obvious reasons of rain and wind pressure over your face. But the correct dress code and training can help you get through it.