There is an endless number of gadgets one can buy for triathlon, but it really comes down to what you really need to get to that finish line.
From my personal experience, I have seen a countless number of people who got caught up in the trap of overspending on unnecessary gadgets thinking that this is what they "need".
So I made this list to help people identify what they really need for their triathlon journey and avoid unnecessary spending. Also, it's a lot of hassle remembering to pack so many items on race day. It would be ridiculous to forget one necessary piece of equipment but have brought all the other stuff.
However, before we go there, I would like to define the following four main categories with which I will associate the gear to,
---
Triathlon Gear You Need
A- Mandatory Gear: This is the gear that absolutely needs to compete in a triathlon
B- Required Gear: If you would want to call yourself a triathlete, there are certain gear with which without you will struggle. Check out the list of Basic Essential Triathlon Gear (A Brief & Complete Guide)
Triathlon Gear You Do Not Need
C- Nice to Have Gear: This is the gear that will make your life as a triathlete marginally better
D- Gear you should not use: The gear people mistakenly buy and use in triathlons
---
---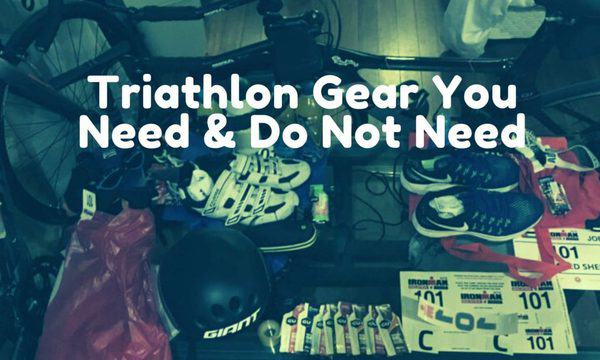 If you're too worried about forgetting a thing or to on race day, then check out my free downloadable Must have Triathlon Transition Checklist
Triathlon Gear You Need
Triathlon Mandatory Gear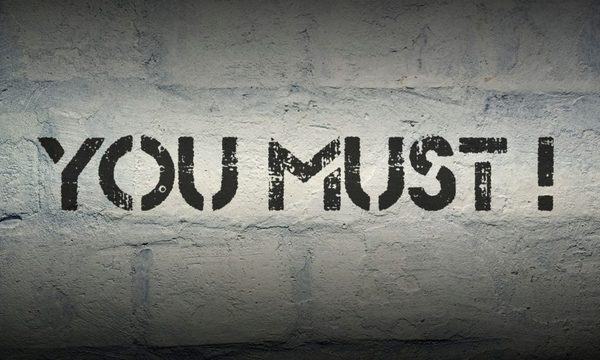 Bike
This is no secret. Triathlon is the sport of swim, bike, and Run, hence, you need a bike. It does not have to be any special bike. A bike with working gears and breaks will do just fine.
We highly recommend that you check out our Best Road Bike for Triathlon Beginners (700 To 2,600 USD Bikes)
Race Belt
It is just one of those items that easily slip. It is funny how many times I forgot to bring with me my race belt and had instead to get one from the race venue. You will have to put your bib on the race belt and face it backward on the bike leg and move it to the front on the run leg.
Check out my article on If You Need A Racing Belt For Triathlon? Their Cost, Substitutes & How To Pick One
Swim Cap
Swim caps are provided by the organizers. They use them to identify participants and all of them are required to wear them. Check out Big Head Swim Caps: Should you Use One? Everything You Need To Know!
Swim Goggles
Good luck trying to finish the swim leg without swim Goggles. Every now and then I find people on the start line scrambling for one. Also, check out my take on How Much Does Prescription Swimming Goggle Cost? & How Much Should A Normal Swim Goggles Cost? – How To Pick The Right One For You !
Running Shoe
Triathletes are generally not allowed to run without their shoe on. In other words, barefoot running is illegal in triathlons. After running thousands of Kilometers or ultra trails and Ironmans, I settled on one amazing shoe that always served me well. If you are interested to know more, check out my list of Best Triathlon Budgeting Gear.
Also, check out if you can borrow your girl's/uy's shoe by checking this article I wrote: Can Men Wear Women Running and Cycling Shoes and Vice Versa? How Are They Different
Bike Helmet
No Helmet, no racing. As simple as that. Triathlon organizers are very strict about this rule. It is understandable because of safety concerns. Check out How Much Do Road, Aero, And TT- Triathlon Helmets Cost And Weight? Which One To Use
Wet Suit (Only in Extreme cold)
In some races where the water temperature is below 20 degrees Celsius, triathletes are required to put on their wetsuits. Otherwise, they are not allowed in the water as they will be subject to hypothermia. Check out Triathlon Vs Surfing Vs Diving Wetsuit; Can They All Be Used in Triathlon? How To Pick One
Triathlon Required Gear
Aerobars Or Tri Bike
If you are going to Tri, then you need to work on your TT bike position. You can either upgrade your bike with aero bars or if you have some spare cash, consider getting a proper triathlon bike. Check out How Much do Bike TT Aero HandleBar Weight and Cost? What matters the most!
Clipless pedals and Bike shoes
Being clipped to the bike helps a lot with integrating yourself with the bike and get the most out of your paddling. Gives an additional feeling of control and I think optimizes efficacy. (Source)
Here is an article we wrote about How Long Do Cycling Shoes & Cleats Last? Here's How You Make Them Last Longer! & another on Clips Shoes and Transitions; What Are Your Options?
Tri Suit
No one has the time to change clothes, that's why a triathlete needs a tri suit. check out What Tri Suit To And Not To Wear Under A Triathlon Wetsuit? Tri Suit Buyer Guide
If you are interested in getting a triathlon suit then you must check the Best Budget Triathlon Suit – I've Used It for 7 Years! (Guide & Options For Men & Women)
Lubricants
Chafing and blisters are your worst enemies as an endurance athlete. Lubricants go a long way in preventing them. Check out our article on How To Avoid Chafing And Blisters In Triathlons? Prevention & Treatment Tips
We also recommend going through our post titled Why Are Your Shoes Suddenly Giving You Blisters? Prevention Methods That Works!
Floor Pump
When it gets to tire pressure, rolling resistance is your worst enemy. Getting your bike tires to optimal pressure is necessary to ensure your getting the most out of your tires. You will have to pump it up every 2-3 days and you will need a floor pump for that.
---
Triathlon Gear You Do Not Need
Triathlon Nice to Have Gear
Triathlon Sports Watch
Probably the most expensive piece of this category. We all like a good fancy sports watch. While I do admit that it is one helpful device, we cannot say it is a needed gear. Triathletes existed before sports watches and one can still swim, bike, and run without it.
As cheaper substitutes, some use stopwatches and time themselves for a defined distance. Check out my research on How Much Does A Triathlon Watch Cost? What Matters The Most!
Running Hat
On a sunny day, a running hat can go a long way, but first, it has to be sunny, and secondly, if it's a sprint distance, I am sure you can survive a 5km run without one.
Flat tire repair kit
While it is highly recommended to have the kit with you along with a spare tube if you are riding in a group, it is not necessarily a good idea when racing. If your race is a sprint, you will not have the time to fix a flat. Besides, it's highly unlikely. Check out my analysis on How Common Are Flat Tires In Triathlons? Causes And How To Avoid Them
Co2 inflator Or mini pump
Just like the flat tire repair kit, you will only need the Co2 inflator if you get a flat, which is not that common during triathlon races
Towel
Nice addon on in T1 transition. Helps you dry out and clean your feet before you put on your shoe, but again, you can survive the race without it.
Heart Rate Monitor
It is nice to track your heart rate, either as a chest strap or via the sports watch, it is not something you need, and certainly not something you want to overly obsess about. I'd rather train myself to list to my body.
Bike Case
A bike case is handy too when traveling on a plane, yet, a bike cardboard box that you can get from any bike store will do just that.
Bike Power meter
I really do not see the point of a Bike power meter if you have a sports watch, but it certainly helps if you haven't got one. It makes sense to keep an eye on hard you are riding and try to find that sweet spot.
Elastic laces
While it is true that it makes the transition to the run leg more convenient, pre-tied lace will do just fine
Car Bike Carrier
It does add some level of convenience when you can just rack your bike to the race venue, but you can live without one if you can fit it in your bike in the car after taking off the front wheel.
Bike bell
None of the triathlon race organizers have a clear say on Bike bell, however, some triathletes find it helpful to mount one on their handle or aero bars. It is certainly not a common practice but it does exist.
Tube bike storage
A tube bike storage is a small case mounted on the bike frame where athletes keep their nutrition, energy gel, or any items there would like to easily access while riding. I personally would rather be taping my gels on my bike, which will do just fine.
Compression Sleeve
There is very little evidence that indicates that compression sleeves actually improve athletic performance (source). While I personally use it sometimes because I like the feel of it, I would not say it's an item that you have to get as a triathlete.
For more on this, check out our post How Long Can You Wear Compression Sleeves? When To Use Them!
Sports Sunglasses
You do not need sunglasses, and more specifically sports glasses which could go to an astronomical price. I do like to use sunglasses myself, but it is not something that will stop me from performing if I do not put one on.
Earplugs
Earplugs is a nice addon but an extra item to remember
Triathlon Gear you should not use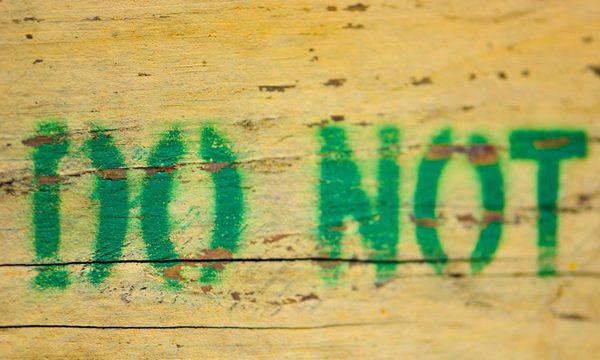 Underwear
Underwear should be avoided in triathlons, especially when wearing a triathlon suit. Sports and triathlon wear are designed to fit well without underwear. Wearing underwear on top of triathlon wear could cause chafings and pressure points.
Socks
Unless it's a long-distance race like an ironman, wearing socks in triathlon is pointless. It consumes valuable minutes in the transition zone. The lost time significance is higher the shorter the triathlon race distance.
Cycling gloves
It takes forever to put on gloves when your hands are wet from the swim leg. Again here, if the race distance is short, putting on cycling gloves won't make sense. For more on this, check out our post on Why Do Cyclists Wear Gloves? Should You Wear Them!
Smart Bike Trainer
Smart Bike trainers are 3 to 5 times more expensive than nonsmart Bike trainers. I do not think one should buy a smart trainer if they are on a budget and instead buy a fluid trainer and if too keen to link it with an app, then add to it a 50 USD cadence and speed sensor.
High Visibility Reflective Vest
It is one of those things that is required when cycling on the road at night, yet, triathlon races rarely if never hold a race where the bike leg happens at night.
---
Finally, it's not only about the gear. Check out my article on What Do You Really Need To Do For Your First Triathlon? Avoid My Pitfalls to know more