Do not underestimate the importance of being organized when setting up your transition area on race day. Figuring this part early on will help you at the heart of the race to be focused and efficient.
However, Triathlon checklists found online are general and do not address the subject of segregating your belongings with relation to the transition area. This could leave the unprepared triathletes in limbo on race day.
So I made this list to cover the triathlete must-have items in the transitions on and also as well the Nice-to-have- optional items.
Must-Have: As the name suggests, there is no way around these. Not taking with you the Must have will give you some hard time.
Nice-to-Have: This list will help you make the most out of the experience and potentially improve your performance, but you will be able to cross the finish line without having them.
Also, check out the list of Basic Essential Triathlon Gear (A Brief & Complete Guide)
Here is a simplified checklist for the triathlon transition area.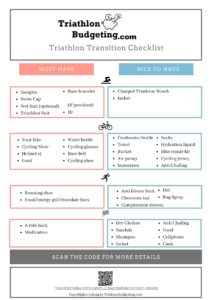 Triathlon Transition Checklist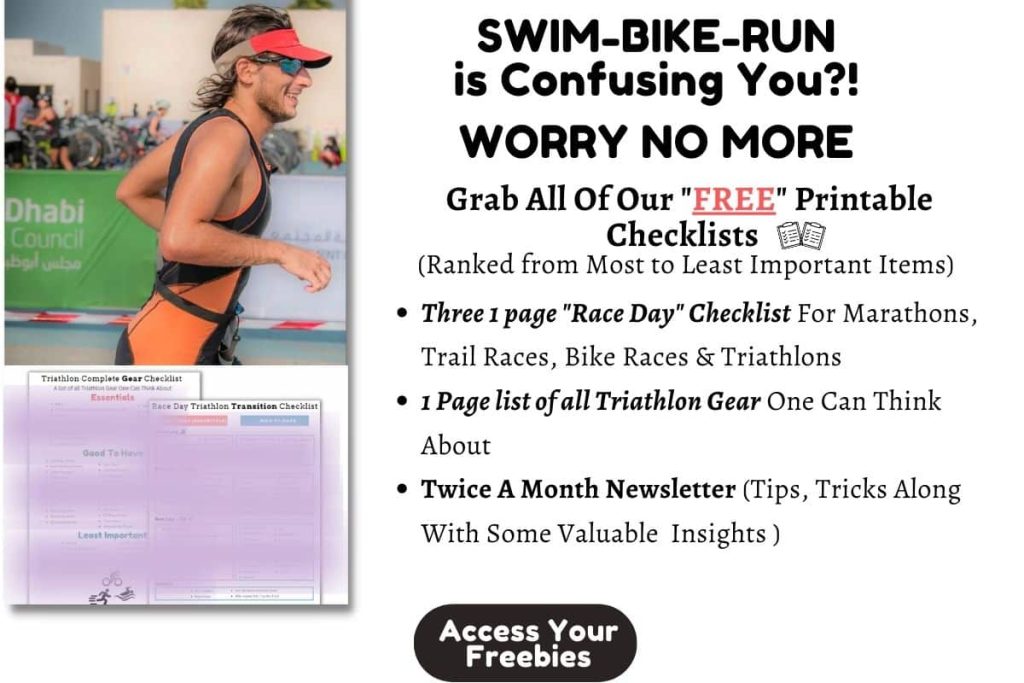 For more on triathlon transition check out our post What Is Transition in Triathlon? Everything You Need To Know!
I would also suggest that you put the items of every transition area in a separate bag before even going to the venue. Many organizers including ironman will be handing you separate bags with tags for the transition area.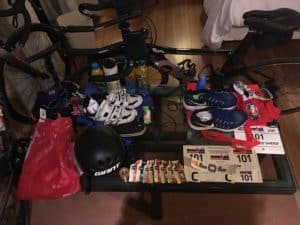 The following sections will provide you with details of the use of every item listed in the checklist. But before going any further, consider checking out our post What Is a Good Triathlon Transition Time? Factors, Tips, And The Do's & Dont's!
Swim Leg
Before even thinking about what you need to keep in the transition zone, you must always remember to bring with you what you need for the swim leg. After all, you could still consider the start line a transition.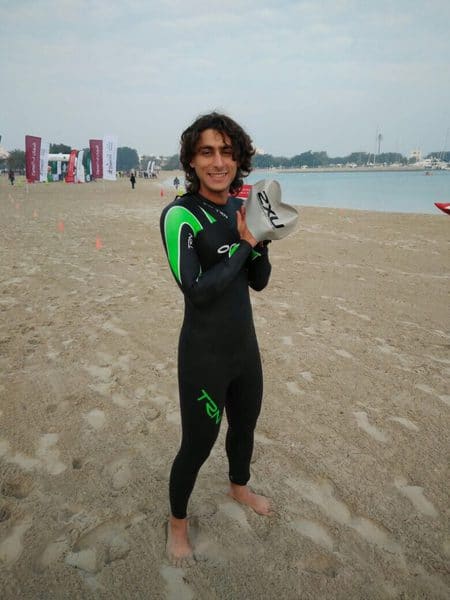 Must-Have:
Goggles: This is a no-brainer, but I have always seen people scrambling around on the Triathlon day, asking people to lend them one of the spare goggles. Make sure that this is the first item you put in your bag. Also, consider prescription swimming goggles if you need one.
Swim cap: This is provided usually by the organizer. Just remember to put it in the bag as well.
Wet suit (Optional In warm weather) : In very cold water you will definitely need a wet suit, however in warmer weather it's not a straightforward call. In some warm weather races, they will tell you if the wet suit is allowed or not right before the race. Make sure to check the race guide for information If It is a wet suit league a place or not and what are the conditions.
Triathlon Clothing/Suit: While you can do a triathlon without a triathlon suit, you will still have to put something on. at least your swimming shorts.
ID : At the check-in, you may be asked by some organizers to show your ID
Race tracking bracelet ( If provided) : Some events will hand you the tracking bracelet a few days before. Do not forget to bring it with you or you will be fined heavily for a replacement.
Nice to have:
This is the list of the items that are optional for you to have but will make your race experience better,
Charged Triathlon watch: You don't need a watch to do a triathlon, but it certainly helps to know the distance that you've just covered.
Jacket: Staying warm right before a cold swim will help a lot.
Bike transition zone.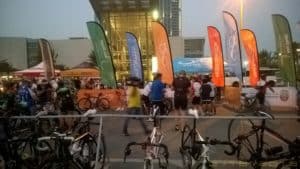 Must-Have:
This is the list of the stuff that you must have in the bike transition zone.
Your bike
Cycling Shoe
Helmet (Complying with the race organizer safety standards)

Food/Nutrition/Energy Gel

Water bottle (on the bike)

Cycling glasses ( Protects you against flying objects)

Race number belt – Check out Do You Need A Racing Belt For Triathlon? Their Cost, Substitutes & How To Pick One
Cycling shoe (You may opt to use a normal show, but still, you will need a shoe)

Nice to have:
This is the list of the items that are optional for you to have but will make your race experience better,
Freshwater bottle (other than the one on the bike): After you exit the swim leg one thing you will crave is a sip of fresh water. But this is not everything you want out of the water bottle. What do you wanna do is wash away the saltwater from the areas that rubs together quite often. This will help you avoid chafing.
A towel: This usually comes in handy in the cold weather race.
A Bucket: Take the bucket with you fill it with fresh water and put it next to your cycling shop. This will help you wash away any sound on that from your leg before wearing your shoe coming out of the water
Air pump: If you've ever been to an Ironman event, then you must have seen triathletes scrambling before the race pumping the wheels. What do you want to do is check the guidance on the wheel for the psi and pump your bike just before the race accordingly. This will help you reduce the rolling resistance and make your bike leg a bit easier.
Sunscreen: If you're in for a long day in the tropical weather, or somewhere sunny, it would be helpful to make sure you are protected from the Sun.
Socks: This is one item I would recommend skipping on socks if your race a short distance. This is because wearing a sock is time-consuming and you will lose a lot of your putting them on.
A bottle with hydration liquid: Everyone has something that works for him or her. Cola works for me like magic.
Bike repair kit with a spare tube and Co2: This may save your race if you run into some trouble on the bike leg because a flat tire is more frequent than you think. Also do not forget to attach them to the bike.
Cycling jersey: This could be very helpful for cold races. The extra warmth you will get will be worth the seconds of putting it on.
Anti Chafing/ Body lotion: This applies to the long-distance race. Having avoided chafing you can bike and run forever. The extra second of applying it might be very much worth it.
Run transition zone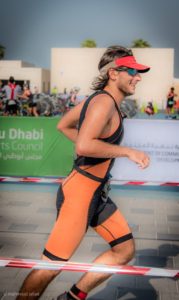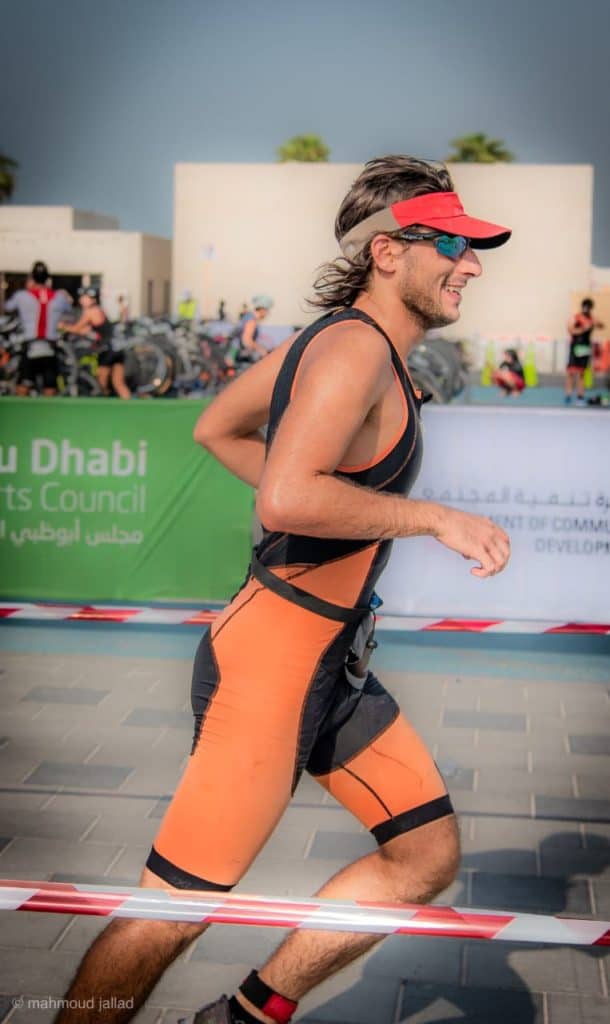 Must-Have:
This is the list of the stuff that you must have in the Runtransition zone.
Your Running shoe
Food/energy gel/chocolate bars
Nice to have:
This is the list of the items that are optional for you to have but will make your race experience better,
Hat: If you're in for a warm run, with a soaring sun, a hat will do you a nice favor. No top cap works best for me.
Anti blister Sock: You may lose some time wearing them, but for long-distance racing, they may be worth it.
Chocolate bar: After a long bike ride your body with craving something solid. A chocolate bar will be just good enough to do the trick. Sometimes people like to have a banana.
Bug Spray: Bugs are usually not an issue on the bike leg, but on the run, they do catch up with you. This will depend on the environment of the racing.
Compression sleeves: It comes with many benefits. It will help with the swelling for long races.
Finish line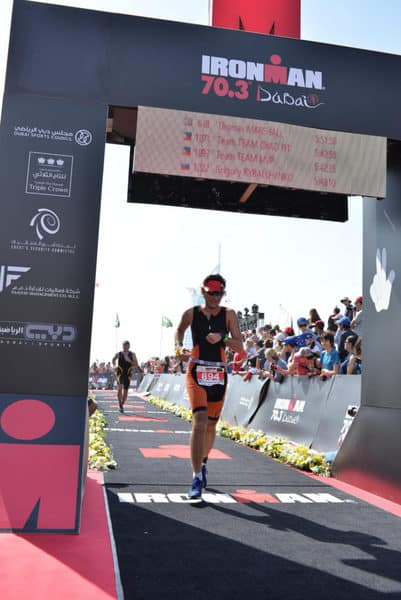 The finish is also a transition. There are certain things you will have to know and have when you cross that line.
Must-Have:
A ride back: You must have an idea how will you get back to your accommodation. Whether you will drive back or someone will pick you up, you should have it planed. Some people cycle back to their place.
Medication: If you take any medication, make sure you have them kept at the finish.
Nice to have:
Dry Clothes: Feels heavenly awesome to change, especially on a wet day.
Sandals: A nice treat to your feet after a long day.
Shampoo: In some races, you will have access to the shower.
Jacket: You could lose heat fairly easily when you are cooling down and may start shivering.
Anti Chafing/ Body lotion: I found that body lotion works like magic in recovering from chafing. I would apply some after the race and the next day it would be healed.
Food: Check this article for some tips ==> How Long After A Triathlon Should I Eat?
Cellphone: For a good old finisher's selfie photo.
Cash: There is a good chance you will have to buy something to eat as you exit the race venue.
---
Here is an article to help you figure out what happens after you're done: How long triathlon venues stay open on race day? & also to ease down your stress on race day, it would be helpful to go over a steps guide of how to transition.