It is normal for someone to look up the cost of something before diving deep into it, but usually, the hidden costs are the trickiest. If you are just getting into triathlon and would like to know how much for real triathlon will cost you, then this article will help you manage your budget and avoid, or at least be aware of triathlon hidden costs.
It took me six years of racing dozens of triathlons to squeeze out the unanticipated costs, or what is known as the hidden costs of doing triathlons.
They could easily sum up to a small fortune of around 12,000 USD
Here is the list of hidden expenses of doing triathlons that I wish someone told me about when I first started my triathlon journey, and most importantly, how to avoid them.
---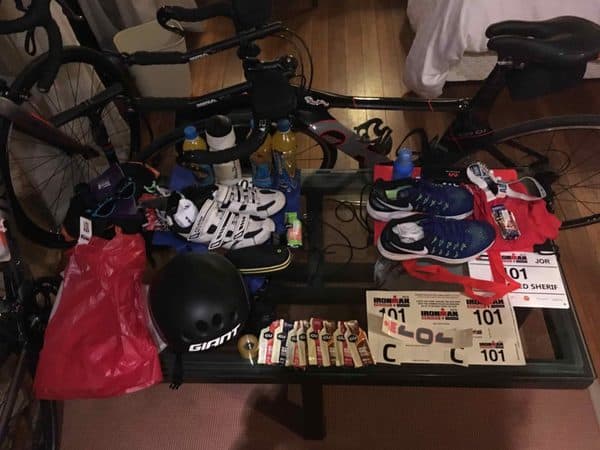 On a side note, you may also want to go through the list I compiled titled Top 47 Tips For A Triathlete on a Budget: How to afford triathlons?
Summary Table
Here is a table summarizing all the below and how much you could be saving if you are careful with your spending on the sport,
| Item | Cost (USD) | Potential saving (USD) |
| --- | --- | --- |
| 1- Energy Gels | 1,040 | 520 |
| 2- New Bike | 2,000 | 2,000 |
| 3- Bike Maintenance | 100 | 30 |
| 4- Participation Cost | 700 | 600 |
| 5- Insurance | 250 | 250 |
| 6- Transportation | 1,040 | 260 |
| 7- Massages | 1,200 | 1,200 |
| 8- Bike Trainer | 480 | 380 |
| 9- Swimming Pool Beach Access | 312 | 156 |
| 10-Traveling with the bike | 430 | 430 |
| 11- Coaching | 1,920 | 1,920 |
| 12- Triathlon Watch | 500 | 350 |
| 13- Bike Fit | 200 | 200 |
| 14- Cycling Glasses | 150 | 150 |
| 15- Helmet | 50 | 20 |
| 16- Calories Food | 600 | 200 |
| 17 -Wheelset upgrade | 300 | 200 |
| 18- Swim Goggles | 60 | 40 |
| 19 – Wet Suit | 350 | 200 |
| 20- Strava | 60 | 60 |
| 21- Chest Heart rate monitor | 50 | 50 |
| 22- Replacing running shoes | 150 | 50 |
| Total | 11,942 | 9,266 |
Summary table of triathlon hidden expenses and savings potential
1- Energy Gel (Food) – 1,040 USD /Year
Usually underestimated, but this could be far the highest price tag for doing triathlons. It is quite similar to measuring how much one would spend if one bought a cup of coffee from a coffee shop on a frequent basis.
In general, an athlete uses one energy gel every 45min of workouts. On average, each pack cost 2$ USD. Here is an article that details these findings => How much to spend on triathlon energy gel?.
Consider training 10 hours a week for 52 weeks. That would be around 2$ USD X 10 X 52, summing up to 1,040$ USD a year.
How to avoid it?
Use Home Made Energy Gels
Use Cheap substitutes. For example, I like to use Cola and chocolate bars for my pre and post-training fuel
Only use the real deal on race day. But I have to say here that you need to try it few times before the race to make sure your body is adapted to it. Just a few times.
with those tips, you can easily trim the cost to half.
2- Do not buy a new Bike! – 2,000+ USD – Once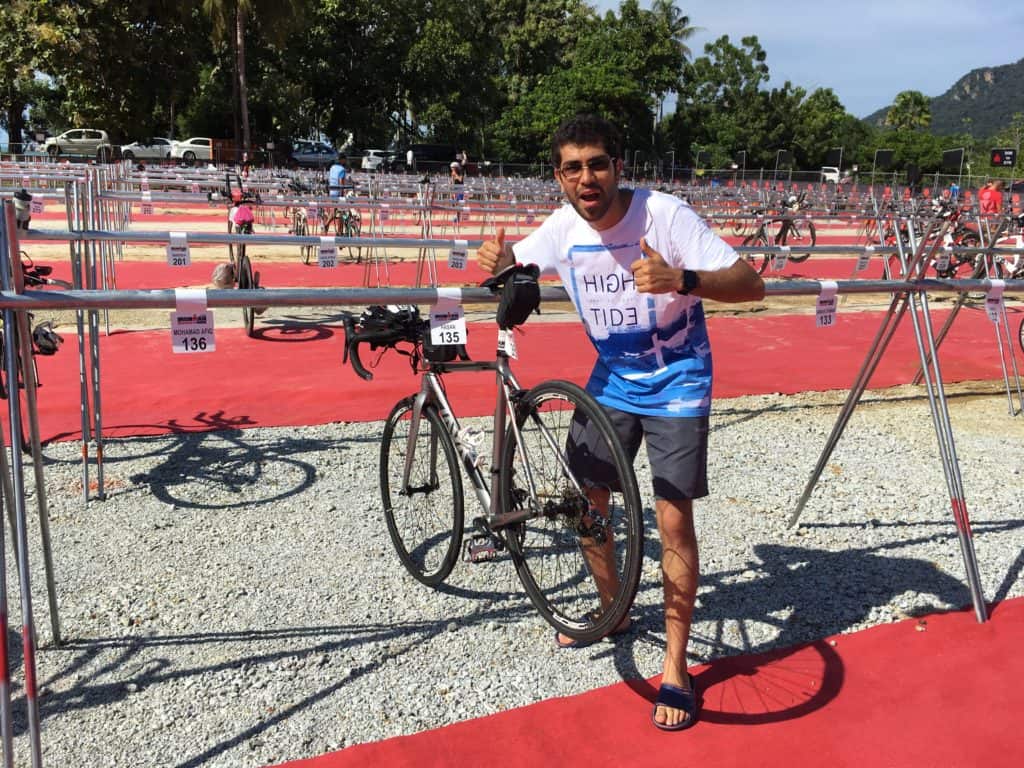 Unless you are racing for the Podium, buying a new bike is kinda pointless. At the end of the day, you are competing against yourself.
A new tri-bike that will do you well will range from 2,000 USD to any number you can think of !
How to avoid it?
But here is the thing, you can buy a used one and trim the cost by more than half. Or you can use the road bike that you already own. With some upgrades, the difference versus a triathlon bike will be minimal.
One more interesting idea is to use your folding or mountain bike if you are just starting off with triathlons, given that you already own them. Check out : Can You Use Folding Bikes In Triathlons? Pros & Cons: What Are Your Options!
On race days you can either rent a proper bike if you like ( as in your mountain or folding bike will still get you to the finish line) or borrow one from your friends. Later on, you can upgrade to a second-hand road or Triathlon-bike.
3- Bike maintenance – 100 USD/Year
This may not sound like much, but it's a lot. The following is the list of bike maintenance you will have to do every now and then,
Tire Replacement
Tube replacements
Gear degreasing and lubing
Replace chain
Install a complete set of cables & housing
Clean frame & components
True & tension wheels
Replace brake Pads
This list alone will cost you at least 100 USD a year.
How to avoid it?
Honestly, you have to do all of this, if not more. After all, you can not compromise on safety.
The only way where you can reduce this cost is by doing most of the job yourself rather than sending your bike to the bike shop. However, for beginners, I would not recommend taking the risk of doing it yourself at the beginning
4- Participation Cost – 700 USD/year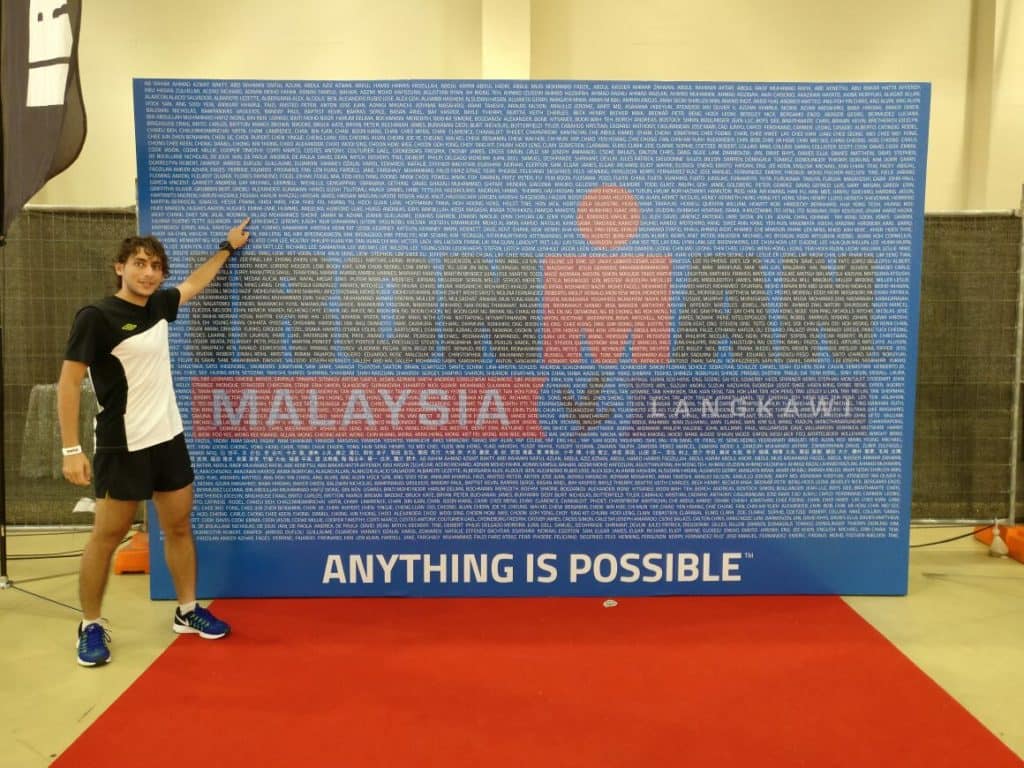 This will highly vary from one race to another. In general, the most famous brands will charge some good bucks.
An Ironman 70.3 will charge anywhere between 350 to 500 USD. For the full Ironman Distance, this is stretched to 700 to 900 USD.
How to avoid it?
Simply look for a cheaper local substitute. Usually, you could find locally organized races for a fraction of the cost.
Basically, you'll have to look around yourself because it will highly depend on your location. Personally, I have participated in local Olympic and 70.3 triathlon distances for no more than 50 USD.
Check out IRONMAN Business Bureaucracy: Examples Of How They Can Screw You Over & What Can You Do About It!
5- Insurance – 250 USD/year
While this is not a mandatory item, but it would make sense if you have bought some pricey gadgets, especially the bike. In general, Bike insurance could cost up to 300 USD a year. Some companies may also cover your travel insurance as well as part of the package.
I have a personal experience where my locked-in bike was stolen in the Netherlands after my Ironman race, so do not dismiss this item if you bought a pricey bike.
There are companies like BIKMO that offer complete solutions for triathlon insurance.
How to avoid it?
Do not buy a pricey bike to avoid the whole expense.
You do not need to ensure the bike when it's taking a break. It would be pointless to ensure any bike if it's just lying at home. This will easily trim the annual insurance cost by 30%

Check out How Much Does Triathlon Insurance Cost? What Is Covered & Should You Get One!
6- Transportation – 1,040 USD/year
People usually overlook this part but man it's a drainer.
Am not talking about the trip to the race venue only which is some is a cost that will be addressed. I am talking about the trips you will have to take to the Swimming pool, beach, cycling track and maybe running route.
so let's say you will have to drive to the pool twice a week and to the cycling/running track another 2 days a week. That's a two-way 4 trips a week. Let's say you spend 5 USD a trip, this will sum up to 1,040 USD a year (5X4X52)
How to avoid it?
Try to look for places within the perimeter of your residence to exercise, and if you a had to go far, try squeezing your workouts into fewer days a week. So let's say rather than going for 4 days where you would spend 2 hours of workout each time, maybe you can shrink them down to 3 days with 3 hours workouts. This will save you around 260 USD a year.
Another thing you can do is cycling to the workout spot. You can think of it as a good warmup.
7- Massages – 1,200 USD/year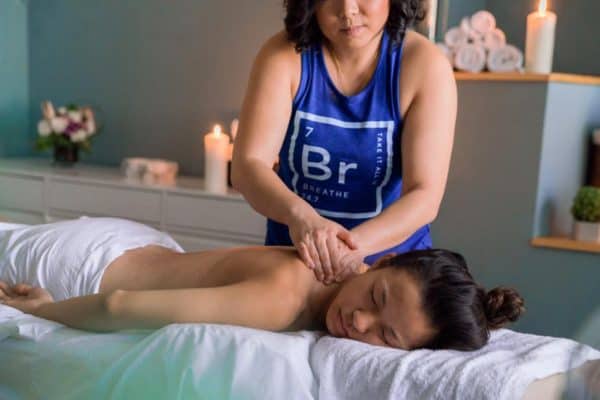 While massages have numerous benefits to triathletes, it's not free. In general, a proper 50 min massage would cost more than 50 USD. If you decided to go for it twice a week, that's 24 X 50 USD = 1,200 USD/ Year
How to avoid it?
Use a simple massage roller instead. It might cost you around 70 USD, but it will last you forever and will more or less do the job.
8- Bike trainer and Zwift – 480 USD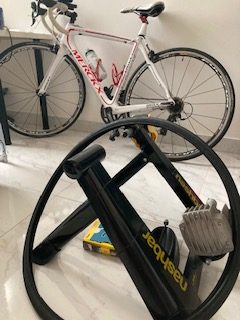 In most parts of the world, there is this annual season of extreme cold or warmth. These are the months where you will likely have to take your workouts indoors.
This is the exact reason why the vast majority of triathletes have their bike trainers.
Bike trainers are the sort of devices where you can install your bike on for a stationary workout. There are several types with prices varying for Smart trainers from 300 to 1,500 USD. And this is not all. You will very likely be tempted to signup in the virtual cycling world called Zwift.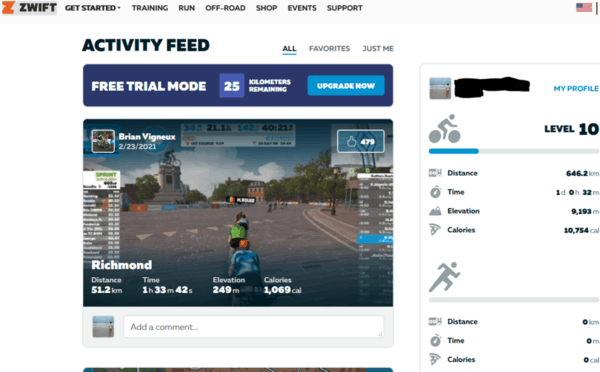 While Zwift is cool and is the best you can get on a trainer, it's honestly nowhere near the real thing. Also, it costs 15 USD a month. That's 180 USD a year!
How to avoid it?
1- You do not need a "Smart trainer". Instead, you can get a normal trainer which will trim down the cost to by 70 percent to a range of 100 to 300 USD.
2- As for tracking your performance, the cheapest way of doing it is by timing your workout. You wouldn't have to spend a penny on this. But if you are determined to track your mileage, you can buy a sensor for 100 USD and transform it into a Smarter trainer. For the tracking apps, consider free Zwift substitutes like RGT.
9- Swimming pool/ beach access – 312 USD/year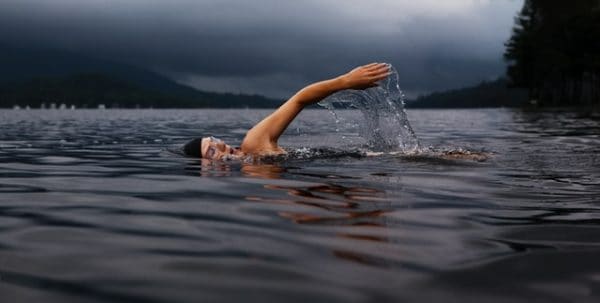 While some are privileged to have easy access to a pool or a public beach, the majority aren't. I am estimating a pool membership or paying for beach access to be around 3 USD per visit. That is 312 USD a year for twice-a-week visits.
One thing I have to say, while some would suggest dry land swimming to cut down cost, I would argue that it sucks, does not work and I would rather not do a triathlon if this would have been my workout routine.
How to avoid it?
Similar to transportation, try squeezing your workouts into fewer days a week. So let's say rather than going for 2 days where you would spend 2 hours of workout each time, maybe you can shrink them down to 1 day with 3 hours of workouts. This will save you around 156 USD a year.
Also, look around for hidden places where you can go for a swim in rivers or public beaches. I have seen Triathletes having their fair share of swim in Zurich public canals. The best way to find these spots is by joining and asking your local swimming clubs
10- Traveling with your bike – 430 USD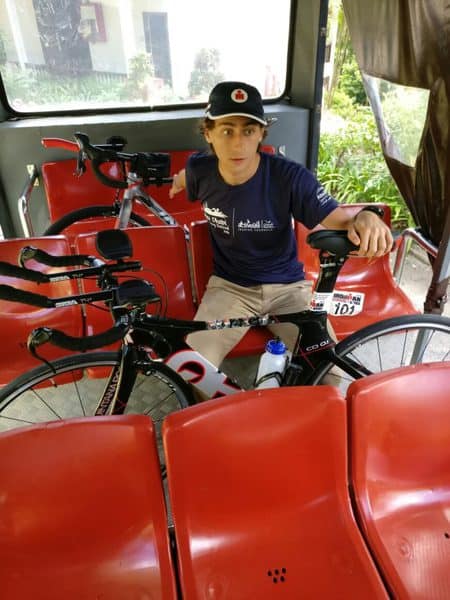 Sooner or later, you will get to the point where you will have to travel for a race. Traveling in a car domestically for a triathlon will not be any different from your typical trip, given that you have space in your car for the bike, however, if you are going on a plane, then things trends to be very different.
It is mainly your bike to be blamed for the inconvenience and the hefty cost. Wrapping it, the extra luggage airfare, and moving it around with you.
A bike travel case will cost you anything from 350 to 700 USD. The airfare extra luggage is around 80 to 300 USD (two way), and carrying it with you wherever you go is just an added inconvenience
How to avoid it?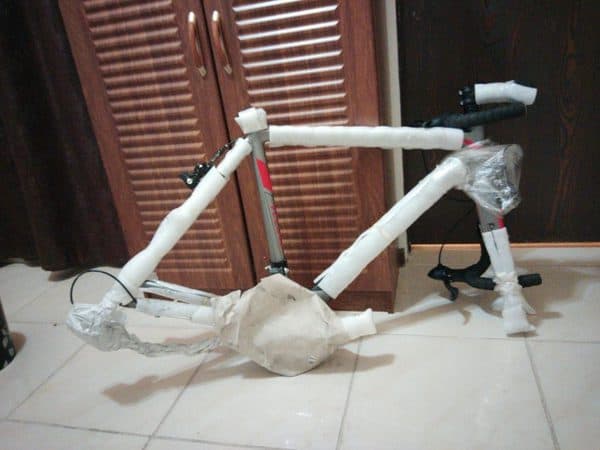 1- Wrap the bike in a card box. If you ask around the local bike shops, you would usually find one that would give you a bike-size card box for free.
Here is a video to help you out,
2- Find an airline that will take it for free. This will take to homework from your side, but there is a good likely hood that you would find one.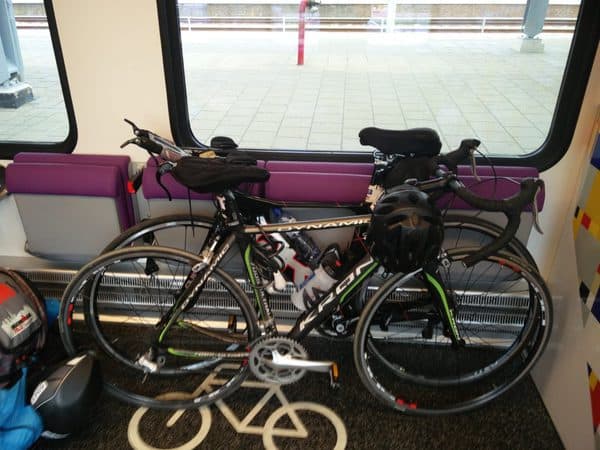 3- Pack light and use the bike as your transportation median to move around the city. This tip has worked its magic for me. It does not only save you money but also gives you the pleasure of experiencing more of the cities you're visiting. Just be sure to get a very very good lock. Also, make sure if you are taking trains between cities to check if they would allow the bikes in.
4- Consider bike rentals. Leaving your bike at home and renting one instead at your destination will not only save you money but the hassle of carrying it. However, this option is not always available. You will need to do some research and find a good bike shop with some quality bikes that will let you lease.
11- Coaching – 1,920 USD/year
On average, a coach will cost you around 160 USD a month. That's 1,920 USD a Year. You can have a physical one-on-one coach or an online one, but both will cost you some good bucks.
While I can not say they are not worth it, but I can say that you do not need one to finish a triathlon.
How to avoid it?
Personally, I never had one, and had to learn as go, which I have to say was a fun part for me.
What you can do is have only one session with a coach that will address any special needs, if you have any. However, I do believe a simple training plan like the one I followed will do just fine.
Also, try to join a local triathlon/swimming/cycling/running club and train with them. This is much much more worth it than paying a coach. You will have people help you, push you and share with you very valuable experiences you will get nowhere else.
If you still feel like hiring a coach, I wrote a whole article about the topic How Much Does a Triathlon Coach Cost? Do you really need one! where I highlight that there are some budget options for as little as 29 USD a month.
12 – Triathlon Watch – 500 USD – Once
If you are going to do triathlons in this era, then you will have to get a sports to watch. This is the best way for you to make sure you are on track in your training.
Check my personal preference listed in my Best Triathlon Battle-Tested Budgeting Gear
A triathlon watch is a bit different from most watches because it has to support these functions.
Open water swim
Multi-sports activity.
On average, if you are going for the widely used latest Garmin Fenix triathlon watch, then you're in for around 500 USD.
How to avoid it?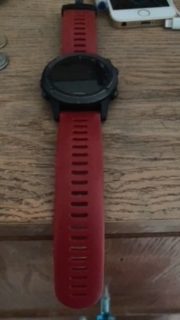 You do not need the latest version of the watch. A used older version of the Garmin Fenix, which will do just fine will cost around 100 to 150 USD.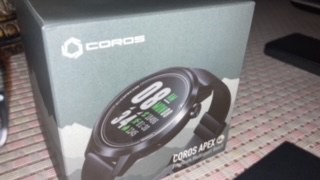 Also, consider other brands. I have recently started using the Coros Apex, and I love it. It cost half what I would have paid for the Garmin. Around 300 USD.
13 – Bike Fit – 200 USD – Once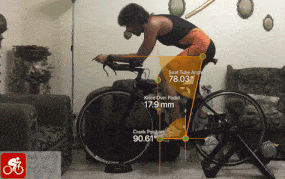 If you are getting serious about triathlons, a professional bike fit is a must.
Even at an early stage, bike fit is something you should take seriously, however, this comes at a price take of around 200 USD.
How to avoid it?
The simple answer is, do it yourself. There are many resources online that you could use as your guideline, but the bottom line is, it's a trial and error process. Eventually, you want to end up with a setting that is comfortable for you.
You may also want to use some mobile apps to help you with the fitting such as Bike Fast Fit (Apple store App)
14 – Cycling Glasses – 150 USD – Once
Will you need cycling glasses for a triathlon? The short answer is yes. Simply because it will protect you and your eyes from flying bugs, the sun, and weather elements like snow, rain, and wind.
Cycling glasses from top brands like Oakley will cost anything above 150 USD.
How to avoid it?
While the top-notch brands will give some extra fancy features, but you don't really need those to cross the finish line. All you want is any comfy glasses that you can wear on the bike.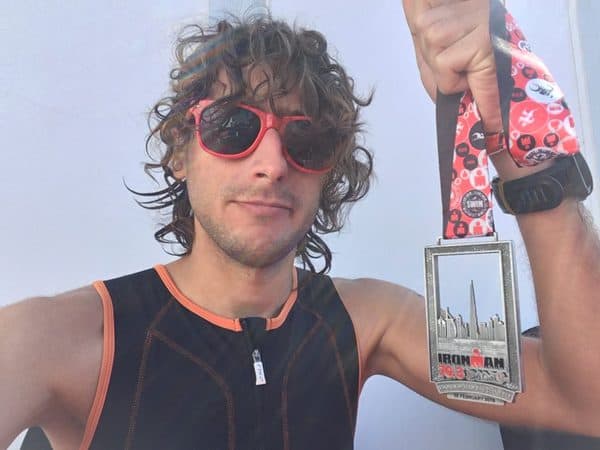 I personally like to use the one I got for free from one of the events
15- Helmet – 50 USD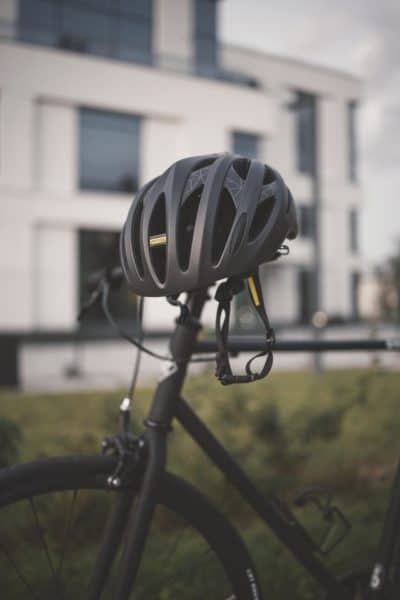 The one thing you can not compromise on is safety. So for sure, you will need a helmet.
A good aerodynamic helmet could start from 50 USD +
How to avoid it?
You should not try to save a lot on this one, however, you can find an affordable option that doesn't look so fancy.
You do not need an aerodynamic helmet to cross the finish line, but you need it to comply with the minimum safety regulation. You can find a good one for 30 USD that will do the job. Check out my take on How Much Do Road, Aero, And TT- Triathlon Helmets Cost And Weight? Which One To Use
16 – Yum Yum Food! 600 USD/year
As a triathlete, you will most certainly eat A lot! probably this is the one expense most triathletes cannot complain about!
While it is had to put a number on this one, but let's just say you will pay 1 USD per 400 Calories, and you will burn at least an extra 5,000 calories a week, summing up to an estimate of 50 USD/Month on extra food. That's 600 USD a year.
Check out How Many Calories Are Consumed In Triathlons; Why Is It Important? All Distances
How to avoid it?
Eat at home more frequently. Restaurant dining with a triathlete apatite is a financial disaster. Overall you may be able to cut this cost by around one-third saving you 200 USD a year.
17- Wheels Upgrade – 300 USD – Once
The first thing you do once you get your bike weighs the wheel. Usually, the ones that come with it are what is called the "Stock wheel". If the wheelset is more than 2KG then will likely be thinking of upgrading them.
Check out my post here for my complete take on Should You Upgrade Your Road and Triathlon Bike Stock Wheelset? When Is The Right Time for New Wheels!
You can easily trim the weight by 500 grams, which will have a significant impact on your performance. A new set of Aluminum wheels will land between 200 – 300 USD. Check my preferred option as part of my list of Best Triathlon Battle-Tested Budgeting Gear
How to avoid it?
Buy used ones Just make sure they're in healthy condition and set to the TRUE wheel.
Sell the stock wheel. You can easily make 150 USD on these
You can save 150 USD out of the 300USD by looking for someone to sell you his old bike wheels. Using the money you made from selling your stock wheels, this massive upgrade will probably cost you less than 100 USD.
18- Swim Goggles – 60 USD/Year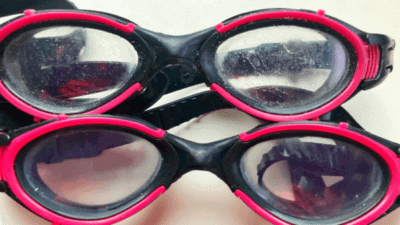 While this looks like a small cost, it could easily pile up for two reasons.
One, finding the right pair is no easy job– I found myself trying countless googles for years until I landed the one that works just fine for me.
Two, it wears down fairly easily. After a while, salt water, fog, and scratches will deem them unusable. I found myself buying around three of them a year. The image above shows the difference between a new and old google lense.
Considering the above, Googles may cost you around 60 USD a year at the price of 20 USD each.
How to avoid it?
The following may trim your spending on swimming goggles to just 20 USD a year,
Ask around and test them before buying. Personally, after roaming around for ages, I landed with the Arena, nemesis x-fit.
Wash your goggles with fresh water after each use. This will easily triple its life.
Use a case/cover to avoid scratches.
19 – Wet Suit – 350 USD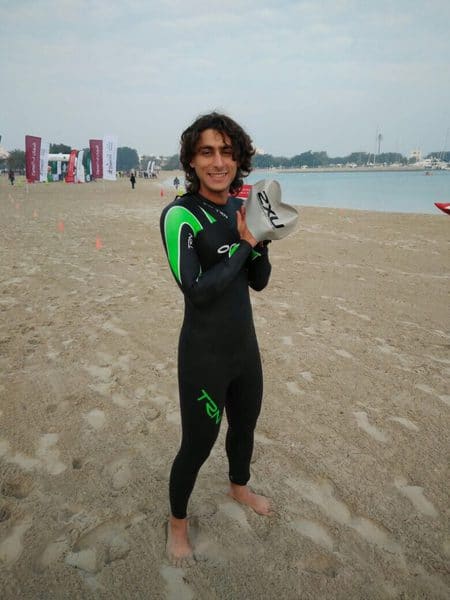 Chances are you will need a wet suit for your race is quite high, considering that a good number of races are wet suit legal, in other words, you can wear wan because it's chilly in there.
Note that a triathlon/swimming wet suit is not the same as the one used by divers and surfers. A triathlon wet suit is designed for speed and comfort. A diving wet suit is for warmth and buoyancy. A diving/surfing wet suit is not permitted in triathlons (Source).
Check out What To Wear For Triathlons? Trisuit VS Wetsuit Choices; Options & When To Wear What
As for the cost, a common triathlon wet suit will cost anything from 350 USD to 850 USD.
How to avoid it?
Here are possible ways you can save on the wet suit,
Get a low budget triathlon wet suit. It will cost anything from 120 USD to 250 USD.
Rent one (50 USD). especially if you will need to use it just for for the race. Make sure to rent it for few days before the big day's to make sure you try it before the real thing.
20 – Strava – 60 USD/Year
It does not matter if you are into social media or not, as a triathlete, you will eventually stumble over Strava. I like to describe it as " It's like Facebook for athletes". Strava is like the one place where your workouts go to, posted on your wall for others to see.
The nice thing about Strava is that it allows you to compare your performance against your previous ones and others, thus, giving you some competition.
At the moment, you can get a Strava subscription for 60 USD a year.
How to avoid it?
The free version of Strava will do just fine. Unless you want to get dead serious about triathlons, you will unlikely not need the upgrade.
21 – Chest Heart Rate Monitor -50 USD – Once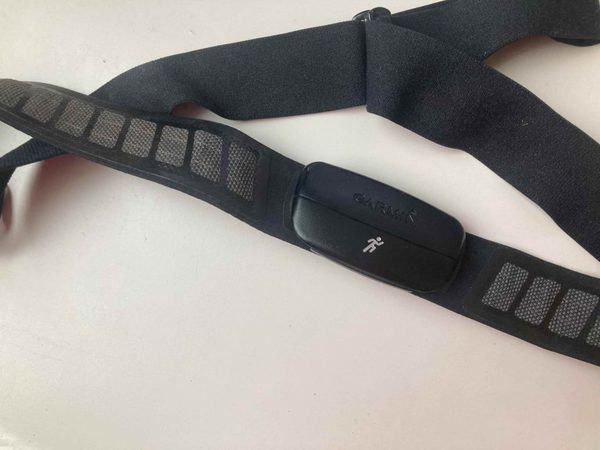 This is one of those triathlon luxury items. Since the heart rate that comes on the sports watch is not highly accurate, athletes may opt for higher accuracy using the Chest strap.
Chest strap heart rate monitor costs start from 50 to 150 USD
How to avoid it?
Heart rate monitors can be surprisingly expensive, so if you're trying to exercise on a budget, the one on your sports watch should do you just fine. I personally do not like the feeling of the strap around my chest anyways.
Only consider this upgrade you feel that your watch is not giving you the accuracy you are looking for
22 – Replacing your Running shoe – 150 USD/year
Even a running shoe will not run forever. You will have to replace your running shoe more often than you think. Normally every 300-400 miles of use. This is important to avoid injuries.
A new release good running show will usually land between 150 to 200 USD
How to avoid it?
Rather than buying the latest release, I found that I could save a lot at the clearance sale of the older versions at the outlet stores. It is very unlikely for the changes to be of major or any impact on performance.
For example, Nike zoom Pegasus is my favorite road running shoe. The latest version sells around 180 USD while the previous version would sell for 100 USD.
Also, check out our post on "Why Wear Cycling Shoes? Does It Make A Noticeable Difference ! "
Still not sure if you should get into the sport? then at least give it a chance without spending a penny. Check this article I wrote about How to race a triathlon for free with no budget and no money! (equipment, registration, and training)