Buying a triathlon bike is a serious commitment. With entry-level bikes starting from $2,499, all the way up to over $16,000 for a top-of-the-range bike, you want to be sure that you are investing in the best that you can afford. In this article we will lay out all the considerations when buying an entry-level bike, and how to get the most bang for your buck.
When buying a triathlon bike the main considerations are the 3 C's of comfort, components, and cost. Your bike needs to fit properly in order to get the maximum performance from it, you need to understand the benefits of the various component offerings, and it needs to fall within your budget. All of these areas will be covered in-depth in this article.
---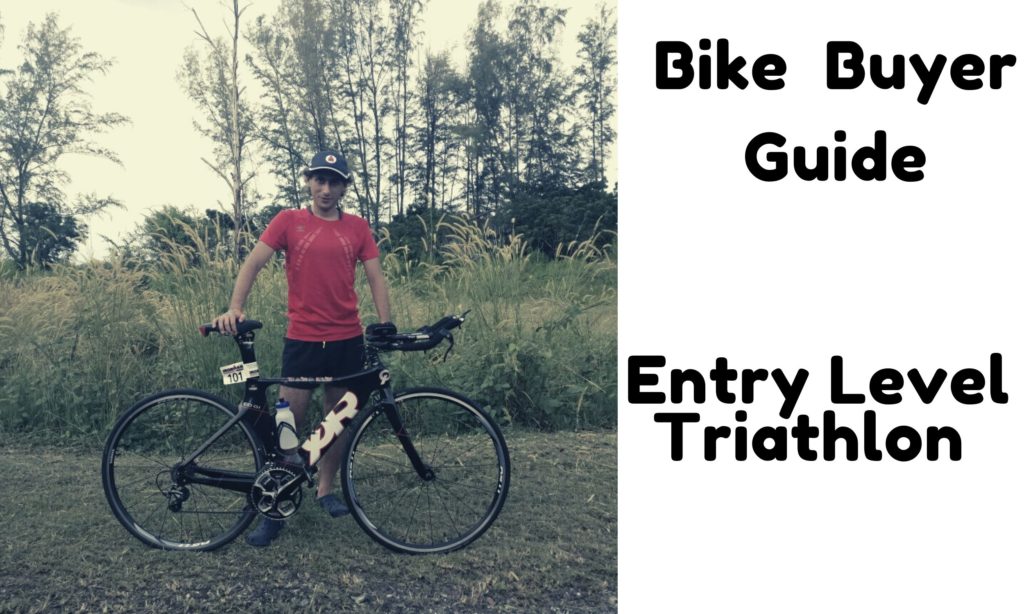 How To Buy Your First Triathlon Bike
There is something special about walking into a bike store with the knowledge that you are going to be buying a triathlon bike. It is probably the single largest investment that you will make as a triathlete, and it is the machine that is going to aid you in realizing your goals.
Along with the excitement, the process can also be quite daunting. How do you know that you have the right tool for the job, especially with so many permutations of offerings on the market?
The first major consideration when buying your first triathlon bike is comfort.
Riding a triathlon bike is not the same as riding a standard road bike. They are specifically designed to put the rider into a more aerodynamic position, with the seat tube angle on a triathlon bike sitting at 76-78 degrees compared to the 72 degrees of a standard road bike.
This will feel very strange to those of us who have clocked up thousands of kilometers on a road bike, so it is important to ensure that the bike fits you properly. A poor bike fit will not only be uncomfortable but will mean that you cannot put down your power effectively and could even lead to injuries.
Triathlon Bike Sizes And How To Get Yours Right
The very first decision to make with regards to comfort is ensuring that your bike is the right size. Take a look at this table to see which size bike you should be looking at.
| | | |
| --- | --- | --- |
| Height | Inside Leg | Suggested Frame Size |
| 5'3" – 5'6" | 27" – 30" | 51 – 52 cm |
| 5'6" – 5'9" | 29" – 31" | 53 – 54 cm |
| 5'9" – 6'0" | 30" – 33" | 55 – 56 cm |
| 6'0" – 6'3" | 32" – 34" | 57 – 58 cm |
| 6'3" – 6'6" | 34"+ | 60 – 61 cm |
Triathlon Bike Sizes Guide
Data amalgamated from: Livestrong.co.uk and wheelies.co.uk
As you can see, this is not a simple case of how tall you are. You need to take into account your inside leg measurement too, because we all have slightly different physiologies.
How To Take Your Inside Leg Measurement
Here is a very quick and accurate way to take your inside leg measurement if you are either on your own or feel uncomfortable with someone else taking it for you.
Remove your shoes and stand with your back against the wall. (It is best to do this in your bike shorts to get the best measurement)
Stand up tall but keep your spine straight, do not arch your back.
Take a book with a relatively wide spine and hold it between your legs at crouch height.
Option one here is to take a pencil and mark the wall behind you using the top of the book as a reference point, you can then use a tape measure to find your inside leg measurement.
Option two is to directly measure the distance from the floor to the top of the book, but this can be a bit fiddly.
Whichever method you choose, you should repeat the process three times and then take the average. This will allow for the most accurate measurement.
What Options Are There For Fitting My Bike?
The important thing to note is that bike sizing and bike fitting are not the same thing. Bike sizing will determine the recommended frame size for your body. A bike fitting will then make all of the minor adjustments that will ensure the best levels of comfort and the most efficient body position for you.
People would spend thousands of dollars on a bike and skip the bike fit which is not any less important than the choice of the bike (Source).
Professional bike fitting – Normally a bike fitting will address areas such as seat height and angle, seat fore and aft, positioning of cleats, and the handlebar height and reach. It is possible to do all of this on your own, especially if you have experience in the past of bike fittings. However, nothing will come close in terms of accuracy and efficiency than getting fitted by a professional bike fitter.
A professional bike fit will cost about $200 and will take around 2 hours to complete. When you consider the amount of money that a triathlon bike costs, this is considered a small percentage to include in your budget. Not only will it save you a lot of time, but it will give you the confidence that your bike is optimally set up.
Fitting your bike yourself – If you have the time, and the interest in fitting your bike yourself, then this is still an option. There is a wealth of information on the internet on how to properly fit your bike, from articles to videos and even Apps. Bikefit.com offers an app for $19.99 which they claim will enable you to complete a professional bike fit with just your iPad or iPhone.
Check out the video below to give you a professional fitter's outlook on what to look for when fitting a bike, and why it is so important:
Components – What To Look For
Brakes
One of the initial decisions to make is whether to go for rim brakes or disk brakes. Rim brakes tend to be slightly lighter than disk brakes, but disk brakes are more aerodynamic.
As we will see later, weight is not a major concern unless the course you are riding is particularly hilly. This may explain why some of the major players in triathlon bikes are moving across to disk brakes.
Another advantage over rim brakes is that disk brakes have much better braking power, especially in very wet conditions where the rim brakes can take an extra 7 meters to go from 40kph to zero. So from a safety aspect, disks win out.
Wheels
This can be a huge area of gain in terms of speed and efficiency. High-end aero wheels can increase average speeds by up to 3kph versus entry-level triathlon wheels, and even the move to a mid-range wheelset can increase average speeds by around 2kph.
As such, if you are torn between two models then choosing the bike with the better wheelset would be a very wise choice.
Electronic Shifting
While most entry-level triathlon bikes come with standard mechanical shifters, there are options out there that come with electronic shifting such as the Avow Advanced Pro 1 for $5,800. This is more of a mid-range bike, but if you can stretch to this budget then is it worth it?
Electronic shifting is certainly easier and more intuitive than mechanical shifting and has the advantage that there can be multiple locations for the shifters. Also, the fact that there are no cables or housings to degrade means that your only real maintenance will be remembering to charge your gears.
Best Entry-Level Triathlon Bikes
The final consideration is cost, and the range can be massive. While a top-of-the-range triathlon bike, such as the BMC Time Machine TM01 will set you back $12,999, an entry-level triathlon bike such as the Felt B Performance will cost significantly less, at $2,299.
A fantastic option is the Canyon Speedmax CF 7 Disc, for $3,800. The wheelset alone would cost $1,830. which is why it is best to look at the entire package that is being offered.
Take a look at our top 5 choices for entry-level triathlon bikes:
| | | | | |
| --- | --- | --- | --- | --- |
| Bike | Cost | Groupset | Brakes | Wheels |
| Canyon Speedmax CF 7 Disc | $3,800 | Shimano 105 | Disk | Reynolds AR58 DB |
| Cervelo P-Series | $3,200 | Shimano 105 | Disk | Vision Team 30 |
| Felt B Performance | $2,299 | Ultegra | Rim | Devox 30A |
| BMC Timemachine Two | $2,500 | Shimano 105 | Rim | Shimano RS-010 |
| Specialized Shiv Elite | $3,000 | Shimano 105 | Rim | DT R460 wheels |
List of top Entry-level Triathlon Bikes
Check out the one that we recommend on our page: Best Triathlon Battle-Tested Budget Gear
Whatever your budget is, it would be prudent to include the cost of a professional bike fit in order to get the most out of your new purchase.
A word of warning about internet purchases. While you may be able to find deals online that are cheaper than your local bike shop, the ability to sit on the bike and get a feel for the riding position is a very important consideration. The potential of saving a couple of hundred dollars but then having a bike that never truly fits you is a big risk to take.

Cost Vs. Performance Evaluation
While we have spoken about cost in general, now let us look at where you are most rewarded in spending your hard-earned money.
Just because a component costs significantly more does not make it significantly better, or faster, as we shall see in the below analysis.
| | | | | | | |
| --- | --- | --- | --- | --- | --- | --- |
| Component | Entry Level | Cost | Average | Cost | Top of the range | Cost |
| Frameset | CERVELO P2 | $846 | Frameset: P-Series Disc | $2,500 | CERVELO PX DISC TT/TRIATHLON FRAMESET 2022 | $7128 |
| Wheelset | Mavic Ksryium R-Sys SLR | $2,150 | ENVE Smart 4.5 | $2,550 | HED GT3 FRONT and Lightweight Autobahn Disc | $3600 |
| Tires | Continental Ultra Sport | $19 | Dugast Speed Silk | $81 | Vittoria Pista EVO CS II Track Tubular | $134 |
Comparing triathlon Bike components cost
Frameset – As you can see, the cost of a top-end frame is over eight times that of an entry-level frame. With this difference in price one would expect to see an equally eye-watering difference in average speed.
While there has been no direct testing between these models, the general consensus among riders is that this is more of a marketing machine at work.
The differences in speed will be negligible and, as Cycling Weekly put it 'It is worth budgeting for fast wheels as many experts suggest they offer more of an aerodynamic advantage than the frame' (source).
Wheelset – By far this is the area where you should invest in over the frameset if you want to see a significant difference in your average times. Cycling Weekly tested the three different wheelsets listed above and here are the results of that test:
| | | | |
| --- | --- | --- | --- |
| Wheelset | Cost | 10 minutes at 200W | 10 minutes at 300W |
| Mavic Ksryium R-Sys SLR | $2,150 | 5120m at 30.7 kph | 6070m at 36.4 kph |
| ENVE Smart 4.5 | $2,550 | 5460m at 32.7 kph | 6442m at 38.6 kph |
| HED GT3 FRONT and Lightweight Autobahn Disc | $3600 | 5520m at 33.1 kph | 6600m at 39.6 kph |
Comparing Bike Wheelset Performance
Data taken from: cyclingweekly.com
The really interesting thing about this test is that it shows the upgrading from a standard wheelset to aero wheels can give you an extra 2kph on average. If we put the Mavic's and the Enve's on the same bike, with the same rider the Enve's would be over 11 minutes faster for a half Ironman and more than 22 minutes faster for a full Ironman.
The gains from moving to the top-spec wheelset are not as significant, but if you had the choice of a more expensive frame or more expensive wheelset then the wheelset is a clear winner.
Tires – For those on more of a budget probably the most economical way to increase speed, other than losing body weight, would be to look into what tires you are riding.
Bike Tech Review member Al Morrison conducted testing on over 100 different tires to see the performances. Each tire was run at a speed of 51kph at a cadence of 100 rpm in order to find the number of watts per wheel, or power used, at that speed.
| | | |
| --- | --- | --- |
| Tire | Cost | Watts used |
| Continental Ultra Sport | $19 | 21.0 |
| Dugast Speed Silk | $81 | 14.2 |
| Vittoria Pista EVO CS II Track Tubular | $134 | 10.8 |
Comparing Bike Tires Performance
Data taken from: biketechreview.com
The Dugast Speed Silk is 4 times as expensive as the standard Continental Ultra Sports, but in terms of outright cost compared to an upgrade in wheels this is a relatively cost-effective method of getting the most out of your triathlon bike.
The beginner triathlete may balk at the cost of the Vittoria Pista, but it is still interesting to see the power saving that can be achieved with better quality rubber on your wheels.
Is A Triathlon Bike Faster Than A Road Bike And What Makes It Different?
Triathlon bikes are built specifically to go very fast in a straight line, on flat roads. In these conditions, a triathlon bike will be faster than a road bike. The reason for this is the focus on the aerodynamics of a triathlon bike.
The geometry of the frames is different in that the triathlon bike has a steeper seat tube angle of 76-78 degrees compared to the 72 degrees of a standard road bike. This places the rider in a much more aerodynamic position, and one that positions the elbows directly on the pads of the aerobars. Given that the majority of drag created on any bike comes from the rider, this positioning gives the triathlon bike the edge.
The caveat comes when we look at performance over technical courses and climbs. Road bikes handle much better when cornering than triathlon bikes. They are more responsive to rider input when cornering, allowing for faster times around technical courses.
The other factor is when we come to hill climbs. The aerodynamic gains are lower at slower speeds. Coupled with that is the fact that triathlon bikes are normally heavier than road bikes which means that there will be little if any benefit of a triathlon bike over a road bike.
Proof of this is that Gustav Iden won the 2019 Ironman 70.3 World Championship in Nice, France, riding a road bike. In fact, many of the other athletes opted to ride road bikes because the course consisted of a large number of climbs and technical sections which better suited the road bike set up.
As a rule of thumb, if the course is straight and flat, then a triathlon bike will be faster. If the course is technical and hilly, then a road bike would be a faster solution. For more on this, check out our post Are Triathlon Bikes Good for Long Distances? When Not to Use Them!
How Much Does Weight Affect Performance?
We have a dedicated article on how much a road bike and triathlon bike should weigh, and does it really matter. From that article, we can see that the average weight of a road bike is 8kg, and the average weight of a triathlon bike is 9.1kg. This makes sense given that triathlon bikes are designed to be raced on flatter courses, where weight is less of an issue.
In the study that the article is based on (source), the experiment was made when comparing total rider and bike weights of 80kg and 85kg. Over the entire course, the differences were negligible.
As an overview, lighter road bikes performed better on climbs (5% better) while the heavier triathlon bikes were speedier (3% faster) coming down the hills. Overall the weight differences had a marginal impact on performance and would not be a consideration for amateur athletes.
If we look at the top 5 suggested entry-level bikes their weights are as follows:
| | |
| --- | --- |
| Bike | Weight |
| Canyon Speedmax CF 7 Disc | 9.35 kg |
| Cervelo P-Series | 9.92kg |
| Felt B Performance | 8.79kg |
| BMC Timemachine Two | 9.6kg |
| Specialized Shiv Elite | 8.67kg |
Suggested Entry Level Bikes Weight
The difference between the heaviest (Cervelo P Series) and the lightest (Specialized Shiv Elite) is just 1.25kg.
Check out the one that we recommend on our page: Best Triathlon Battle-Tested Budget Gear
Given that the aforementioned experiment found that a difference of 5kg made a negligible difference, then we can expect very little difference in performance on any of the bikes above, based on weight alone.
When Is It Worth Buying A Triathlon Bike?
In an ideal world, we would all have enough money to have a road bike and a shiny new triathlon bike, but the truth is that most of us do not have that luxury. So should you invest in a triathlon bike over a road bike?
The answer to this depends on the training that you are doing. If you mainly race shorter distances (up to Olympic distance triathlons), especially those that are technical in nature or have a lot of climbs then a road bike is the way to go. As we have seen, this is where road bikes outperform triathlon bikes.
Before making a choice, we highly recommend that you check out our Best Road Bike for Triathlon Beginners (700 To 2,600 USD Bikes)
Another consideration is if you enjoy training with others. Many cycling clubs will simply not allow you to ride your triathlon bike on their group rides. There are valid safety reasons for this. When riding in close proximity to others in a peloton, you need to be able to react quickly on your brakes.
The fact that the position on a triathlon bike is on the aerobars means that you cannot react as quickly, posing a possible danger to others. So, if you enjoy the social side of cycling then a triathlon bike is probably a bad idea.
If you are seriously committed to half or full-distance Ironman competitions, you enjoy the solitude of individual training, and you will be riding flat to rolling courses then a triathlon bike would be a wise investment that may give you the edge over the competition.
Final Thoughts
Buying a new bike, either a road bike or a triathlon bike, is a huge investment that you want to get right. In order to do that, try not to get distracted by how incredibly cool some of these new bikes look. Instead focus on the reason that you are buying it, which should be to go faster. In order to achieve that goal it is important to look at the type of riding you want to do.
Once you have decided that a triathlon bike is the best option for you, keep in mind the three C's of comfort, components, and cost; in that order. There is no point in saving a few hundred dollars if what you end up with is uncomfortable. You will be spending many hours in the saddle, so make sure you prioritize this.
Also, you need to consistently make sure that everything is in the right place. For more on this, check out our post How Often Does Your Bike Need Servicing? What To Service & Why! .
Furthermore, to save money, some athletes go as far as using a folding bike. For more on this, check out our post Are Bikes Provided In Triathlon Races? What Are Your Options !