Let's begin this article by saying, "if adults can do it, kids can do it too." The triathlon sport is something positive kids can participate in, which will help them in a long run during their formative years.
The triathlon sport offers lots of advantages to kids. These advantages include strength building, endurance, self–confidence, and a sense of independence.
When it comes to triathlon for kids, the focus should be; ensuring that the kids have fun and they should be given free will to decide on their participation.
If any child feels forced to partake in an activity as strenuous as triathlon, the fun aspect will be taken away and that will elude the major highlight of the sport.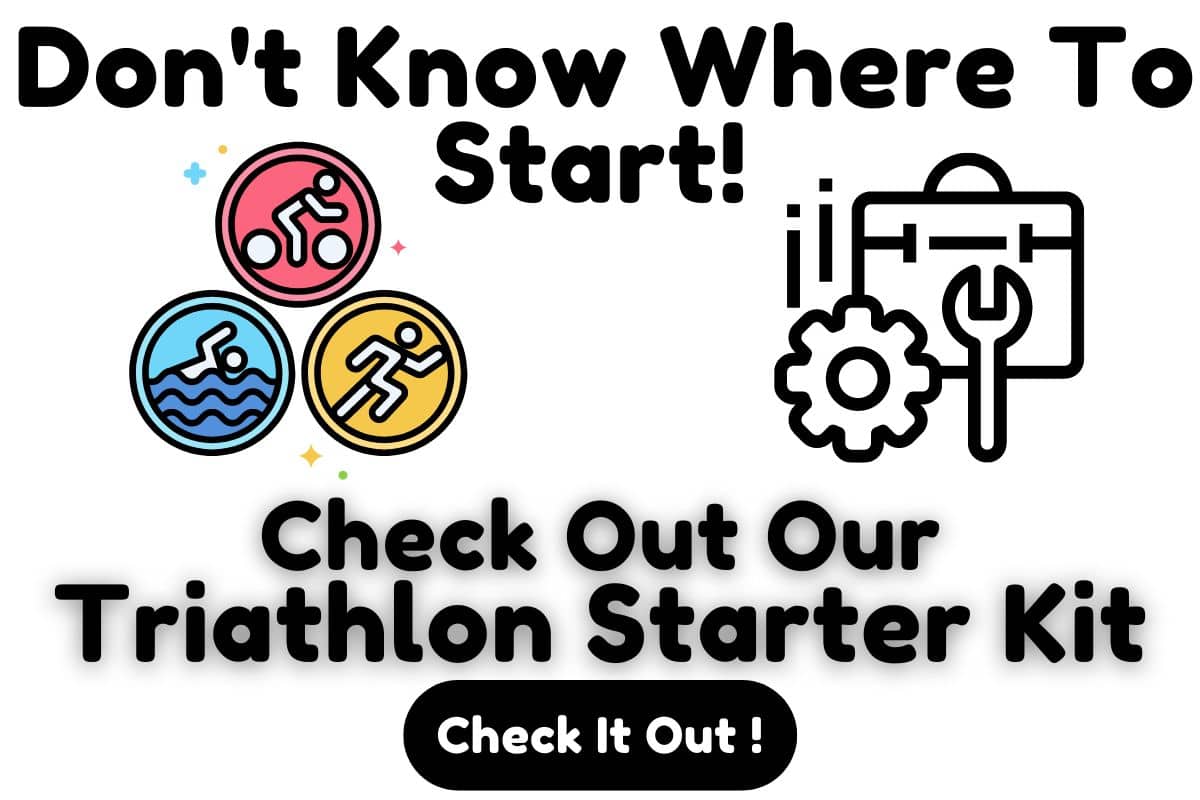 Although the triathlon sport is termed an individual sport, the kids could view it more like a team or family when they feel accepted and supported by their parents or mentors. The kids feel supported when their parents show a positive and healthy attitude towards the triathlon sport, encouraging them at each point to become the stars of the show.
If your kid shows so much enthusiasm about the triathlon sport and wishes to participate in one, you should give your kid an opportunity. But, you have to be well informed about the triathlon sport for kids, especially if you are a novice at it.
This article will give you a breakdown of everything you need to know about triathlon for kids; the age requirement, the distances covered, the gears used, the training involved, and so much more.
---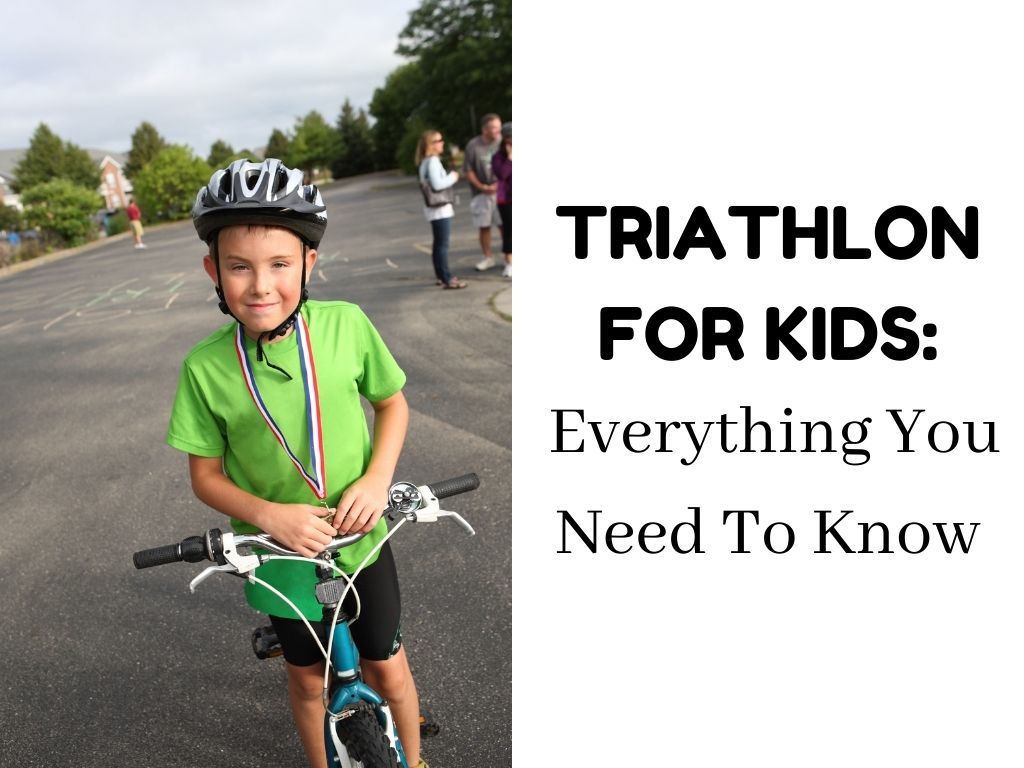 Age
What Is A Good Age To Start A Triathlon?
If you have a child who wishes to participate in the triathlon sport, you might be wondering the right age to start triathlon. A good age to begin the triathlon sport is 8 years old. Most triathletes start their journey at this age and tri clubs take on children at this age.
Although age 8 is a good age for kids to begin their triathlon journey, the best results are achieved from participants of age 25-30 due to the endurance and strenuous nature of the triathlon sport.
Nevertheless, starting at age 8 is still very much acceptable as the international triathlon union considers age 8 as the first age in the age group list for the race. Starting at any age younger than 8 is highly discouraged as the child might be subjected to injuries and run a risk of passing out during the race. (Source)
What Are The Triathlon Age Groups For Juniors?
The age groups for kids to participate in triathlon range from 8 – 19 years. The kids are provided the opportunity to compete against each other of similar age (source). For each age group, there are specified distances which we will discuss later in this article.
| Age Group | Age |
| --- | --- |
| TriStars Start | 8 |
| TriStars 1 | 9 – 10 |
| Tristars 2 | 11 – 12 |
| Tristars 3 | 13 – 14 |
| Youth | 15 – 16 |
| Junior | 17- 19 |
Kids Triathlon Age Groups as provided by britishtriathlon

What Is The Difference Between An Adult Triathlon And A Youth/Junior Triathlon ?
Although the youth/junior triathlon occurs in the same order as the adult triathlon, there is a major difference in the triathlon distances. The distances for the youth/junior triathlon are shorter than the adult triathlon.
Apart from the difference in the triathlon distances, the gears used in the youth/junior triathlon are not as advanced as those used in adult triathlon. The kids also do not undergo strenuous training as the adults do, and you can attribute that to the fact their bodies are not developed enough to be subjected to such stress.
Distance
What Are The Distances For Different Junior Triathlon Age Groups?
Here is a table showing the maximum distances for the different triathlon age groups (source)
| | | | | | |
| --- | --- | --- | --- | --- | --- |
| Age Group | Swim (pool) | Swim (open water) | Bike (grass) | Bike (tarmac) | Run |
| TriStars Start | 50m | 100m | 1km | 1.5km | 600m |
| TriStars 1 | 150m | 200m | 2km | 4km | 1.2km |
| Tristars 2 | 200m | 300m | 4km | 6km | 1.8km |
| Tristars 3 | 300m | 500m | 6km | 8km | 2.4km |
| Youth and junior | 400m | – | – | 15km | 5km |
A table showing the distances for Kids age groups (source)
What Is The Average Time It Takes For Kids To Finish A Triathlon?
In general youth triathletes take around 30% more than adult triathletes. This average time depends on the age group category, the intensity of training, the stamina, and energy storage your child
We have written an extensive article you can read on how long it takes a child to finish a triathlon, plus tips for you and your kids.
Selecting The Right Triathlon Distance/Category For Your Kid
In selecting the right triathlon category, you have to consider your child's experience in triathlon, your child's age, skills/talents, and preferences.
The triathlon categories are grouped according to age with their appropriate distances. For a child who has no experience in triathlon but has a genuine interest, you should select a category in line with his or her age group. This is such that your child could race with other kids in the Tristars 1 category at age 10.
Now it might be tricky selecting the right triathlon category if your child is skilled either naturally or by experience. This is because the child's age category may offer little challenge to your child. At this point, you should seek advice from the organizers of the event before deciding to move your child to a higher triathlon category.
On the other hand, if your child shows signs of low energy or disinterest in one of the 3 races in the triathlon, you can either select a shorter distance for that particular leg or you could consider a duathlon or an aquathlon.
Read one of our articles about the duathlon sport, the distances, the gears used, and how to train for it.
Gear
---
What Should Kids Wear In A Triathlon?
We will discuss this according to the different races your child will partake in.
The swim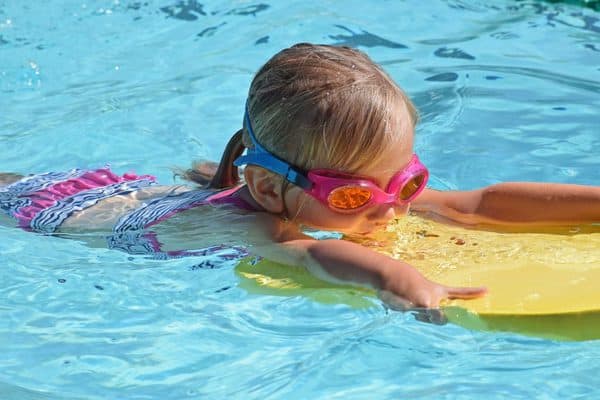 What you decide for your kids to wear depends on if swim leg will be performed in a swimming pool or open water. If your child is to swim in a pool, a simple swimsuit will be good. A tri suit would be a good upgrade so that they will not have to change in the transition. You should ensure that the swimsuit is skin-tight and well-fitting.
But, if the race is to be performed in open water, which is not always the case, a wet suit on top of the tri suit is recommended because of the low temperature. Check out the very affordable 20-50$ USD "Hyperflex Access Unisex" Children Shorty Wetsuit
Along with a swimsuit/a wetsuit, your child should also wear a well-fitted swim cap and swim goggles.
The swim cap helps prevent your kid's hair from getting damaged from chlorine while the swim goggles help protect your kid's eyes from the pool glare.
Find out in this article how much swim goggles cost and how to pick the right one. Also, here is What to Wear to Swim Lessons? The Essentials & Helpful Accessories Listed!
The Bike
For a kid's triathlon, a simple well-functioning bike is just enough and you don't need to add any special features to the bike. Ensure the bike for the race day is being used during the training sessions to help your child compete comfortably.
Asides from a bike, your child will need a helmet as it is compulsory for safety purposes. You should also get a shirt for your kid to throw on during the transition area after the swim leg. This shirt should be of a good sweat-wicking and quick-drying material.
Also maybe cycling shorts would be a good addon, however, this will not be required if they wear a tri-suit.
The Run
A simple shirt, shorts, (not required if they wear a trisuit) socks, and running shoes will be enough for this leg. Ensure that all of these clothing pieces are comfortable, well-fitting, and of good quality. For the shoes, ensure you allow enough room/space between the front of your shoes and your child's toes.
If your child happens to have a flat foot, you should get stability shoes. But if not, you should stick to the normal running shoes. For kids with an interest in participating long-term in the triathlon sport, you could invest in getting the tri-specific gear which will save the transition time as they would not have to change their clothing.
These tri-specific gears can be worn throughout the triathlon race without changing into or out of an outfit. You should forget about getting tri-specific gear if your child is only interested in getting a triathlon experience for the fun of it.
Be aware of any allergy in your child to be careful on what material type the gears are made of. For instance, if your kid is sensitive or allergic to latex, you should avoid getting latex caps but choose a silicone cap instead.
Find out more from this complete guide on what to wear to any triathlon.
Kids Bike For Triathlon, How To Pick One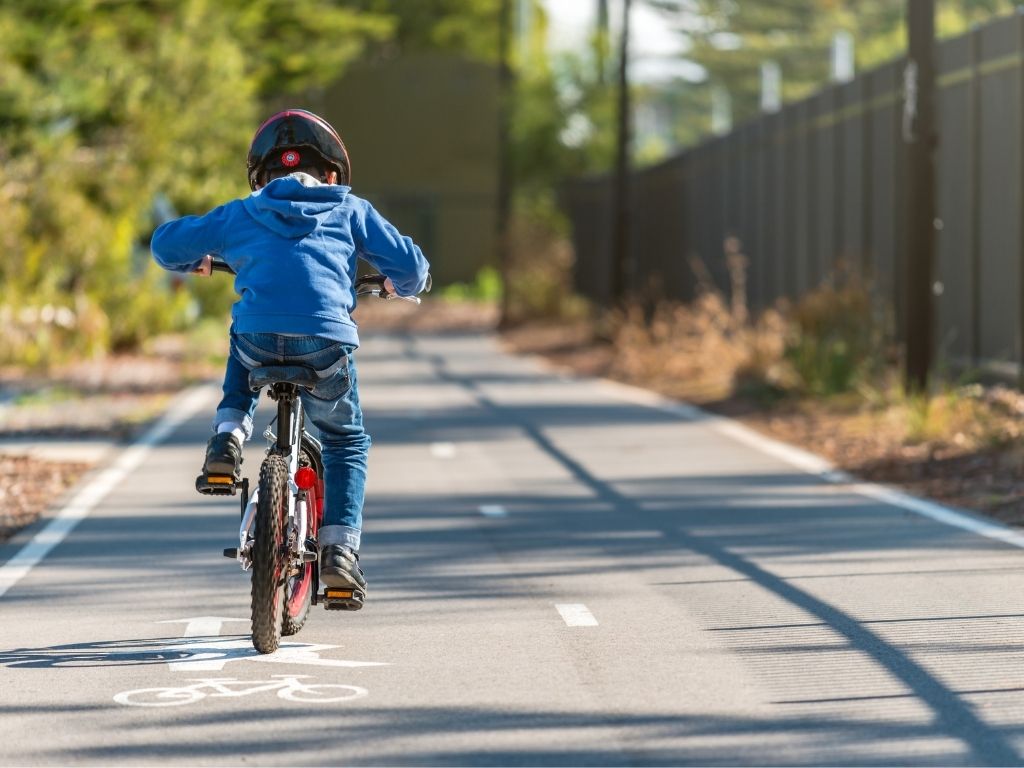 Considering the countless number of bikes available in the market, you might be confused about which is best for your child. So, here is a guide for you on how to choose the right bike for your child.
Access your child's goals for the triathlon sport:
Get to know your child and why he or she has an interest in participating in the triathlon. If it's just for the experience and fun of it, any bike they have such as a mountain bike will be sufficient.
But if your child wants to go into triathlon for competitive purposes, you should consider getting a road bike that will provide more advantage when racing among other competitors.
Determine your budget
Access how much you are willing to spend on a bike. It is recommended that you purchase a high-quality bike that you can afford to save you some coins on a future upgrade. A high-quality bike feels lighter and provides higher performance than a low-quality one. A bike with a combination of both aluminum and carbon materials is usually recommended. (Source)
Make a shortlist
After you have accessed your child's goals and determined your budget, make a shortlist of bikes that support these goals and are within your budget. Look out for viable brands and use the reviews of customers to fine-tune your decision.
Ask the sport's supervisor
There is this statement that says, "When in doubt, ask!" So if you are confused about which bike is appropriate for your child's age group, please ask the sport's supervisor to provide guidance.
Ask your child
Don't force a bike you think is okay on your child, but confirm with your child if he or she is comfortable and confident about the bike before purchasing.
Buy the bike
Now it's time to buy the bike, do it without hesitation!
Get a bike fit
A bike fit will help adjust the bike to suit your child's comfort, efficiency, and performance. This is an important factor to consider when getting a bike for your child. Basic Bike fit is usually provided for free if you buy it from the bike store.
Note that when bikes are designed, they are made to accommodate as many riders as possible, but there are cases where some cyclists may have a special cycling position or other cycling needs that need attention. If this applies to your kid, a bike fitting is necessary.
Training
How To Train Kids For Triathlon
The intensity of the triathlon sport could make training so difficult considering it involves the combination of three of the toughest sports – swimming, cycling, and running combined with their respective transitions.
When most kids at the age of 7-10 train, they devote at most 3 days a week which focuses on just swimming and biking since both are considered the most strenuous. Running is later introduced in the course of training a little at a time. (Source)
Check out our post on Can You Forget How to Swim? What To Do & Are Kids Natural Swimmers!
Regardless of how strenuous this sport might be, it is possible to effectively train your kids well enough that they can compete in the Olympics if they have the desire to. As a parent, you have to devote your time to training your kids because training for the triathlon sport requires countless hours of preparing the mind, body, and soul for triathlon.
Check out our article on how to introduce your kid to triathlon to get a detailed explanation on how to train your kids for each race in triathlon. Regardless, here are some basic tips you should implement when training your kid for triathlon:
Tell them the truth
Be honest with them about the difficulty of the sport and the intensity of training required to get ahead in the sport. Make them understand the effort and time commitment required of the sport. (Source)
Plan a training schedule with your kid
Sit with your kids to plan out how often they would train, where they would train, and when to rest. Incorporate their strengths and weaknesses to know which race to give more attention to and which to give less attention. Ensure they are fully invested in planning so they don't feel left out or sidelined.
Also, don't overtrain your kid. This is a very important point to help the body recover easily. You could make some training days easier and some days harder with at least a day of rest. Before each training, incorporate stretches to warm up the body and cool-down exercises to calm the body after each training.
Train with gear to be used on the main event
Training with the gear you already purchased for the main event is a plus to your kid's comfort and confidence on the main day, as they would get accustomed to using this gear.
---
Ensure good nutrition
Good nutrition is required for good training, so your kid will require good carbohydrates, adequate protein, fresh fruits, and vegetables. These will provide energy, vitamins, and minerals needed to keep your child's body strong and healthy.
Ensure your kid drinks plenty of water to keep the body hydrated and avoid foods high in fat or sugar because they have no quality nutrients. (Source)
Before deciding to give your kid nutritional supplements like energy gels or drinks, check out the article we wrote on Nutritional supplements, their risks, and substitutes.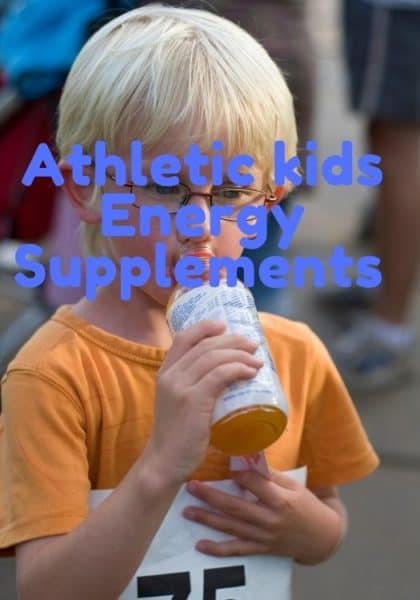 Ensure quality sleep
This will help keep your kid alert and awake during training hours. Children between ages 6 – 13 will require 9 – 11 hours of sleep every night, and children 14 years and older need 8-10 hours of sleep. (Source)
Reassure them frequently
You have to show them support and encouragement at this time to keep them motivated, boost their self-confidence and make the sport more exciting and less challenging.
Olympics

At What Age Do Olympic Triathletes Start Training?
The Olympics Committee official rule 42 states no age requirements, but the international regulatory body of each sport is responsible for setting age eligibility. (Source)
For the triathlon sport, there are no age restrictions but and no minimum age, kids are recommended to begin their journey at age 8 which is the TriStar Start category according to the world triathlon age groups list.
Considering the triathlon sport is an endurance sport, it is not advised for kids to start younger than the recommended age because their bodies are not mature enough to accommodate such stress and this will subject them to injuries. (Source)
There is an advantage to starting at a young age of 8 because kids are said to learn how to swim faster than adults.
Is 17 Years Old Too late To Start Training For The Olympics?
It is never too late to begin anything especially if you have the passion. This also applies to training for the triathlon sport.
A 17-year-old kid can begin their training for any triathlon event provided such a teen is ready to stay focused, work 10 times harder, and avoid all distractions.
Hard work can put your child ahead and make him or her as good as the kids who started training at age 8.
What Age Is Too Late To Train For The Olympics?
Although it is advised to begin training your kid from as little as 8 to gain full understanding and mastery of the sport, there is no official maximum age limit for Olympic training. With that being said, even a 100-year-old committed to training well enough can become an Olympian. (Source)
Who Is The Youngest Triathlon Olympic Star?
The youngest triathlon Olympic star in the US is Taylor Knibb, the youngest member of the USA triathlon national team. The 23 years old finished her swim leg at 19:35, her bike leg at 58:21, and her run leg at 35:09. That sums up her total finish time to 1:54:27. (Source)
Conclusion
Just like adults, kids can also do well in the triathlon sport. But when it comes to kids, the central focus is on having fun and gaining experience except if your kid has an intention of participating in the Olympics and making the triathlon sport a long-term pursuit.
Whatever the reason might be for your child participating in the sport, you have to be aware of the right age group category to place your child in. You also have to be aware of the right gears to use, the various triathlon distances for each age group, and how to train your child for the triathlon sport.
This article has been able to provide clarity on the appropriate age to introduce your kid into the triathlon sport and the age requirement for participating in the Olympics.