With thousands of triathlons held every year, It seems sensible that more individuals are eager to start triathlons given the sport's rising popularity.
But where do you even begin?
It's crucial to have the appropriate equipment and stick to a training plan if you want to finish a triathlon.
It includes,
Simplified 12 OR 14 Weeks printable (landscape) Beginner "Sprint" Triathlon Training Plan (4 to 5 pages each)
Simplified 16 Weeks printable (landscape) Beginner "Olympic" Triathlon Training Plan ( 5 Pages ).
29 Pages Printable Triathlon Training Planner
5 Triathlon Merchandise Designs Printable on Tshirts, Mugs, Sheets, and other Merchants
Triathlon Transition Checklist
Reference to our list of Battle Tested Triathlon Gear
*Bonus
Printable DIY Triathlon Swim Bike Run Coloring Cards/ Pages / Book (4 Pages)
In this article, we cover some of the things you need as you start your triathlon journey. The same is also included in our Triathlon Starter Kit
Training Plan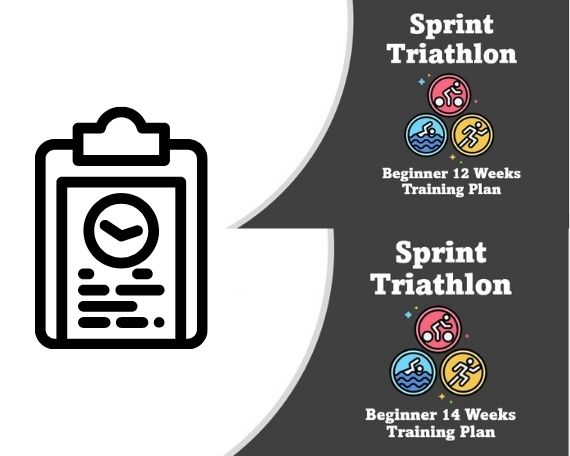 Note: 12,14 and 16 weeks of Triathlon training plans for sprint and Olympics distances are included in our Triathlon Starter Kit.
Your strategy should include your level of fitness right now, the race's length, and the amount of time you have to prepare. You can get all the guidance in simplified format in our Triathlon Starter Kit
Here are some pointers for making your workout schedule:
If you're new to triathlon, it's crucial to build up your fitness gradually. Start with a basic level of fitness. By concentrating on one subject at a time, begin with a basic level of fitness (e.g. swimming, cycling, running).
Realistic objectives should be set depending on your present level of fitness and the amount of time you have available for training. Avoid attempting to take on too much too soon because this might result in injury or fatigue.
Incorporate strength training: strength training is a wonderful way to change up your routine and target new muscle groups, so incorporate it into your workouts. Also think about including group fitness classes, yoga, and strength training in your training regimen.
Listen to your body: It's critical to pay attention to your body's signals and modify your workout program as necessary. Take a day off from exercising or lessen the intensity of your workouts if you're feeling worn out or worried.
Training Planner
Note : 29 Page Triathlon Training Planner is also included in our Triathlon Starter Kit.
You may use a planner to schedule your workouts, monitor your development, and spot potential areas for improvement.
Factors to consider in a Training planner:
Features: Finding a planner with features like a calendar, a spot to log your exercises, and room for notes and goals is important. Additionally, some planners include other materials like diet regimens or exercise schedules.
Personalization: Decide on a planner that you may modify to suit your requirements and preferences. This can entail doing things like creating your own layout or adding custom stickers.
Monitoring: Any training program should include a monitoring component. A log is a helpful tool for keeping track of your workouts, charting your development, and pinpointing areas that may need additional attention. When constructing a log, keep the following in mind:
Frequency: Determine how frequently you want to log your exercise. Depending on your objectives and requirements, this might be done daily, weekly, or monthly.
Checklist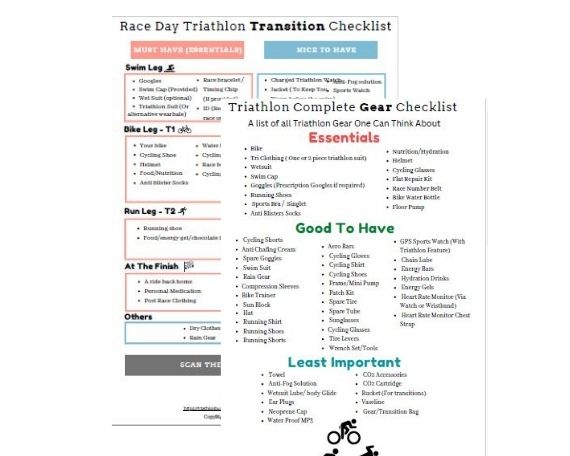 4-Page Triathlon, Marathons, Trail Running & Cyclings Printable Gear checklist was designed to help new athletes understand which gear is Essential / Good/ Least important and avoided forgetting any of the gear by being organized on race day.
These Checklists were developed by Triathlonbudgeting.com
You can either choose to print it on A4 papers or you can use it in PDF editor software.
WHAT'S INCLUDED
Three 1 page "Race Day" Checklist For Marathons, Trail Races, Bike Races & Triathlons (Transition Gear List – Swim/Bike/Run- T1 & T2)
1 Page list of all Triathlon Gear One Can Think About
Get our triathlon checklist for free ⇒ Click here
Merchants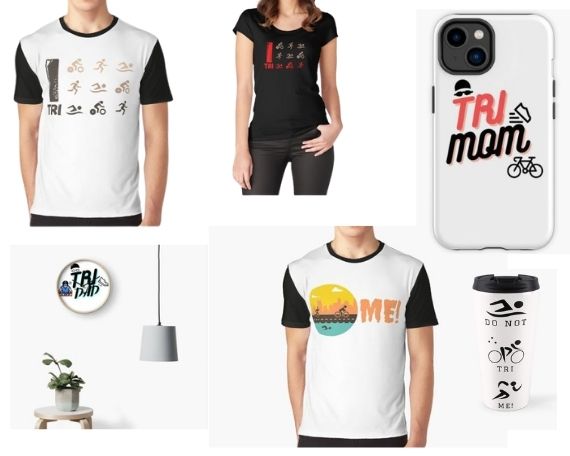 Many triathlon races have merchants on site offering a range of products and services, such as nutrition, gear, and massages.
A merchant could be a money pit hole, so, In our Triathlon starter kit, we have included 5 designs to choose from and print on the merchant of your own choice.
You can also order the designs to be printed and delivered to you by checking our Merchant Page
Gear
Here are some essential items you'll need for your first triathlon:
Swimsuit / Tri Suit
Goggles: Choose a pair of goggles that fit well and provide a clear, unobstructed view of the water.
Bike: You have several options to choose from, but ideally you should get either  a road bike or a triathlon-specific bike
Running shoes: Look for a pair of running shoes that are comfortable, well-cushioned, and provide good support.
Helmet
Triathlon Swim Bike Run Coloring Book (4 Pages)
For fun, or maybe your kids, a 4-page PDF containing Triathlon coloring pages.
The files are designed to be Printed on A4 Papers
To Summarize
Preparing for a triathlon requires a combination of the right gear, a well-designed training plan, and careful planning and monitoring of your progress with a bit of motivation.
That's what our Triathlon Starter Kit is all about.
Get Your copy of our triathlon Starter Kit
Contact us at [email protected] if you have any questions