Triathlon is more than just a race. It is a demanding athletic event that many college-aged runners participate in. College triathlons are just as rigorous as any other type of organized sport. Although this is not a team sport, having the stamina to push through can be difficult. The college triathlon distance has the same standard as the Olympics.
In colleges, the triathlon seasons usually depend on the region and the college students compete all through the year. Within a year there are three triathlon seasons the college students can participate in. In USA these are the triathlon seasons in colleges (Source):
The indoor season which starts in January and ends sometime in February
The outdoor season which runs through March to May
The cross-country season that takes place in August through October.
Let's find out more about what a college triathlon is, the colleges with triathlon teams, how the college students train for a triathlon, and much more. But first, check out Triathlon University Teams; Scholarships And What Are your Options Worldwide!
Which colleges and schools have a triathlon team?
There are over thirty schools and colleges that have a varsity triathlon team (source). This sport has slowly emerged and is continuing to grow across universities and colleges around the country. triathletes can also receive full scholarships because of this sport.
Some of these colleges include the Arizona State University, and the Colorado Mesa University in the southwest, the Wisconsin's Milwaukee School of Engineering in the midwest, the Queens University of Charlotte, St. Thomas Aquinas College, Wagner College, Daemen College, Hampton University, Concordia University, and Northern Vermont University in the east coast. (Source)
The Arizona State University and Colorado Mesa University provide athletic scholarships. Colorado Mesa University is known for its facilities including Maverick Field and Stocker Stadium. Arizona State University has a wide swimming pool and tracks for the sport.
Also, the Wisconsin's Milwaukee School of Engineering has a triathlon team as well as Concordia University.
Currently, there are very few colleges in California that have Triathlon teams. The University of San Francisco offers a women's team and the utilities necessary to compete. This university is known for its athletic department.
You can check out our article on university teams and the scholarship options available, to find out more schools with triathlon teams.
How do college students train for triathlon events?
In the United States, training is usually structured to build strength multiple times a week. Since many colleges and universities provide weight rooms, swimming pools, and athletic stadiums, this can cut down on travel time.
Basic training equipment can include both weights and benches. While agility and speed are certainly a part of the race, muscle strength plays an important role in both the cardio portion and swimming. Even without extensive college resources, training can be done on a routine basis.
For colleges located in the warmer states such as Florida or California, athletes may be able to practice swimming throughout the entire course of the year regardless of a school's resources.
Strength training is typically done in 30-minute sets. Pull-ups can be done wherever there is a sturdy bar. Gripping the bar with extended arms is an efficient way to get the maximum benefit of a workout. Many triathletes will want to make the most out of their practice sets to stay fit throughout the year.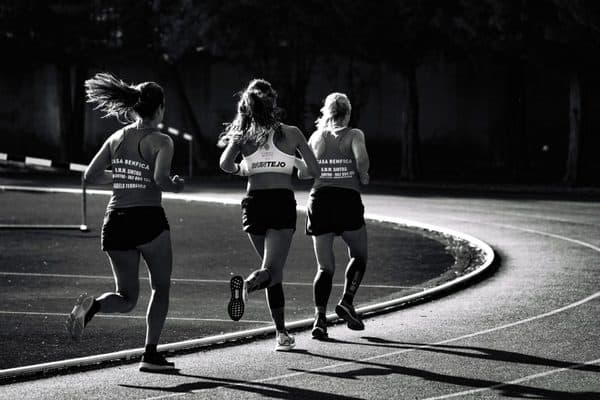 Triathletes usually train with the Track and Field team so that practices can be consistent. The national triathlon championships typically take place during the spring and allow athletes maximum training time. By spacing out the training sessions to meet the race deadlines, an athlete's body is at peak strength.
What does NCAA mean?
The National Collegiate Athletic Association is an official organization specifically for college athletics. Employees that work for this national office have a number of responsibilities including managing championships and programs that help student-athletes.
The basic function of the NCAA is to handle general legislature and act as an authority for college athletics.
For a student to participate in a college athletics program, they must meet the criteria of the NCAA. (source)
What is the NCAA criteria?
To become a full-fledged NCAA championship sport, there must be more than just interest.
This criterion includes having students with a specific grade point average. Students must have also graduated from high school. Completing a minimum of 16 college core courses is also required from the students, but the number may vary depending on the college or university. (Source)
The school must also have a varsity team that is sponsored by the college/school. Varsity teams should have access to a coach in addition to uniforms and training utilities. Teams that are not provided this level of support are not considered varsity even if they are affiliated with the school.