Triathlon is not a cheap sport. This is especially true when you start to consider participating in an Ironman event. Over the years, the cost of registration for an Ironman Triathlon has increased quite a bit. Today, it runs upwards of $750 USD for a single person's general entry.
This doesn't take into account the money that will need to be invested in all the equipment or the costs of training (gym/pool fees, massage, trainers, nutritionists, and more).
There are many reasons for these sky-high prices. Event insurance policies are more expensive than ever. Then there are the costs of traffic control, road closures, permits, security, and entertainment. Someone has to pay for all that infrastructure, so it gets passed along to the athletes.
A long time ago, race directors recognized that athletes were more willing to accept these increased fees if they got something in return. Even a simple trinket like a finisher's ribbon can go a long way to appease the crowds. Many race organizers go even further and offer participants items like hats, t-shirts, or towels branded with the race logo.
So what do you get for finishing an Ironman? As you might expect, quite a few goodies go to the athletes who pay the price for participating in an Ironman Triathlon. According to their website (ironman.com), Ironman registration includes:
Bragging Rights!
Finisher Medal 
Finisher Hat
Finisher Shirt
Backpack
Timed Race Results
Age Group Awards
On-Course Nutrition
Finisher Certificate
Post-Race Food
While none of these items are of a lot of monetary value, they are certainly nice to have as mementos of your big day.
Clothing items like the hat and shirt can be worn with pride for years long after the race is over. People still stop me today when they see my hat from 2014 and ask me about my Ironman experience. If you like, the medal and certificate can also be displayed in your home as a reminder of your accomplishment.
There are also lots of intangible things that come from training for and completing an Ironman Triathlon.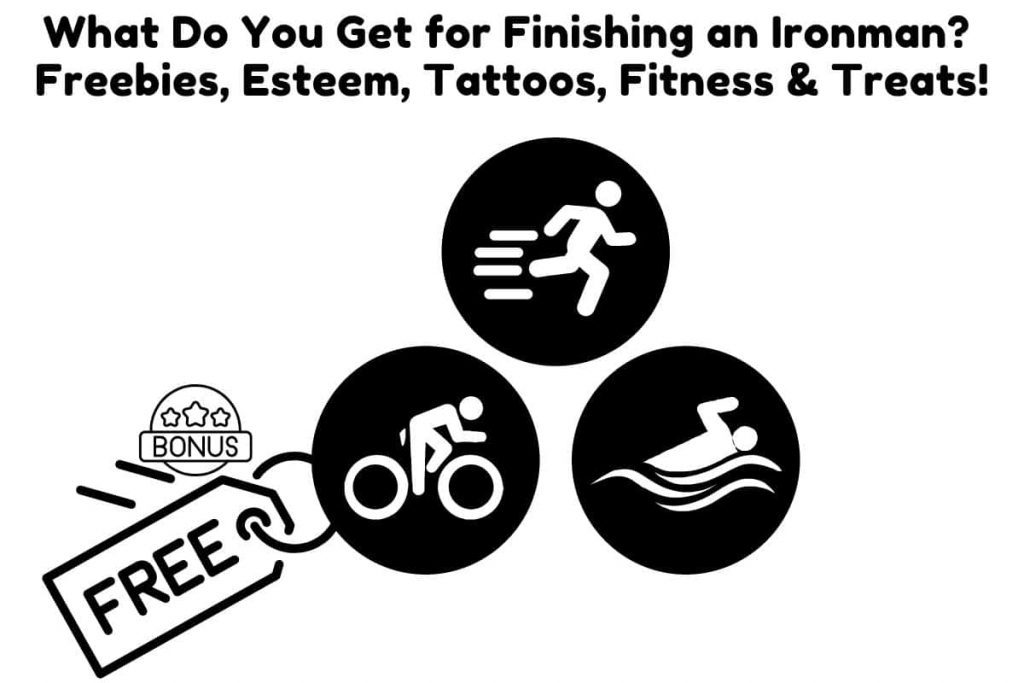 Ironman Training Gives You a Great Base Level of Fitness
The months (and sometimes years) of training that go into preparing for an Ironman don't go away immediately after the race is over. That fitness sticks around for quite some time, which means you would be in great shape to take on more endurance events in the months following your Ironman.
Of course, this is only if you want to take on other challenges. Some people become so hooked on the atmosphere and excitement surrounding an IM race that they immediately start planning their next one. On the other hand, some folks might want or need a break from all that physical exertion and decide to take several months off from competition.
This was the case for me after my last Ironman. I had been training seemingly nonstop for months on end, and was ready to take a long break after the event was over. For many months, I barely worked out more than going for a short run a couple of times a week.
When I did finally decide to ramp things back up and start training again, I was surprised at how easy it was. While I was far from being in Ironman shape, there was still enough strength and stamina left in my system to be able to perform some decent workouts.
Completing an Ironman Gives You Self-Respect, Pride, and The Admiration of Others
Setting and reaching a huge goal like completing an Ironman Triathlon is definitely something to be proud of. That sense of pride can last for the rest of your life, as from that day on you will always be considered an "Ironman".
When we commit to and follow through with a goal, we also gain a healthy level of self-esteem. So many of us only think negatively about ourselves and our abilities. This is especially true when it comes to finishing an Ironman.
Knowing that we were able to complete such a difficult physical task can help us to see ourselves in a more positive light. One of the proudest moments of my life was hearing my name and then those four powerful words coming over the speaker at the finish line, "BRAD BIRKY… YOU… ARE… AN IRONMAN!"
Another effect of finishing an Ironman is the admiration that you will get from other people when they hear about your accomplishment. Many people can't imagine themselves doing something so difficult. To them, the thought of swimming, biking, and running 140.6 miles in a single day is nearly incomprehensible.
You Might Develop the Desire to Get an Ironman (m-Dot) Tattoo!
One of the first things that many people do when they complete an Ironman Triathlon is head to their local tattoo shop. They want to join the ranks of thousands who celebrate their finish by creating a permanent reminder on their skin.
This unofficial tradition of getting an Ironman tattoo (who's logo is affectionally known as the M-dot) has been going on for decades. The variations of ink designs that incorporate the M-dot logo are endless.
After completing my first Ironman event, I struggled with this decision myself. I already had a tattoo, so it wouldn't have been a huge deal for me to get another. I was super proud of my accomplishment and was tempted to commemorate it in ink.
But here's the question I kept asking myself. Did I really want to pay money to be a walking advertisement for a huge multinational corporation? Even though I decided not to go through with getting one, when I see someone out in public with an M-dot tattoo I feel an immediate sense of connection with them.
Ironman Competitions Lead to Sore and Tired Muscles
Many triathletes choose to treat themselves to a massage or other therapeutic bodywork in the days following an Ironman event. Not only does this practice feel good, it also helps speed up their recovery.
After swimming, biking and running 140.6 consecutive miles in a row, our bodies are sure to have some sore spots. Besides being sore, the efforts of competing for hours on end will have depleted our energy stores. Why not pamper those muscles a bit with a post-race massage?
Often times race directors will have arranged to have massage tables at the finish line so athletes can get work done immediately.
It's advisable to take advantage of those perks when they are available. A little massage can go a long way to keep the muscles from cramping after a long day of exercise.
In the days following the event, it can be helpful to schedule your own session with a massage therapist. Before they start, be sure to let them know that you just finished a long-distance triathlon so they don't get too aggressive.
---
Now that you know some of the things that you get for finishing an Ironman Triathlon, are you ready to take one on yourself? The best motivation is to take the plunge and sign up. Why not find and register for a race that is several months away? Then you have no choice but to dedicate yourself to a training plan and get ready to reap all the benefits that come from completing an Ironman!