A sprint triathlon is the most common starting point for people who are just getting into the sport because of its reasonably short distance, which makes it ideal for someone with limited experience in triathlon.
Competitive professional athletes also race the same distance, but as the name suggests, it is considered a quick and sprint race.
A triathlon race consists of three disciplines: swimming, cycling, and running raced back to back without a break. It is an endurance sport, with a wide range of distance options. But what is a sprint triathlon?
A Sprint Triathlon is the second shortest triathlon distance after a super sprint. A sprint triathlon consists of a 750-meter (0.46-mile) swim, a 20 Km (12.4-mile) bike, and a 5 Km (3.1-mile) run raced back-to-back without a break. The cut-off time of the sprint triathlon is 2 hours and 15 minutes, and the world record is 51 minutes and 15 seconds.
For more on triathlon distance options and typical finish time, we highly recommend that you check out our post : Triathlon Distances & Average Timings Analysis (Infographic); Pick Your Right Fight !
---
Also consider checking out What is A Mini-Triathlon? Distances, Nutrition, and Preparation required & if you would be interested in doing a Duathlon instead if swimming is your greatest hurdle. check out our post on What Is A Duathlon? Distances, Order, Gear, How To Train & Beginner Tips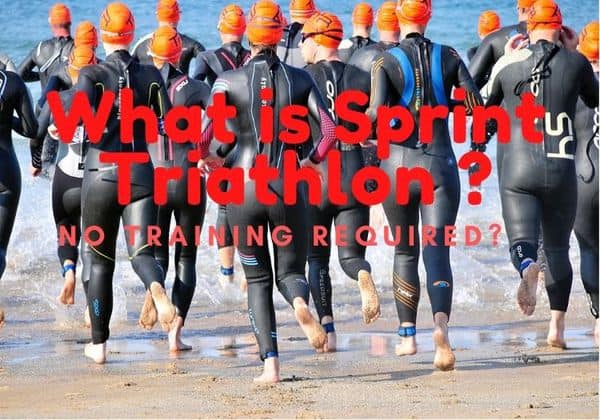 How Long Does Is It Take to Finish a Sprint Triathlon?
Summing up the sprint triathlon's time at each discipline including the transitions, an elite triathlete may finish a sprint triathlon in just about 1 hour, while other mature triathletes may take around 1 hour and 30 minutes. Men are faster than women, whereas younger competitors are faster than masters.
A good sprint triathlon finish time for a first-time racer is to finish the race before the cut-off time, that is, 2 hours and 15 minutes.
The Swim
For swimming, more competitive athletes usually take approximately 9 to 10 minutes to cover the distance. The time can also be affected if the race is in a pool or if a wetsuit is used.
The Cycle
During the bike ride, usually elite male racers take 29 to 31 minutes, whereas elite female racers take 32 to 37 minutes. The time can be affected by a hilly and windy course, which takes more time between 36 to 45 minutes.
The Run
At last, running after you have already swum is not the same as going out fresh. A hilly and windy run is going to make you slow down too.
Elite athletes can have a better effort of anything faster than 8 minutes, so usually, the run takes between 22 to 26 minutes.
Transitions
Furthermore, the transition phase is when the athlete gets out of the swim into the cycling leg at T1 ( Transition 1) and then moving from cycling to run clothes at T2 ( Transition 2).
The transition time depends on skill and practice as well as choice in gear too (Source). Wearing a tri suit; a special suit that combines a swimsuit, a padded cycling kit, and a running outfit, cuts down some transition time.
Therefore, planning can lead to a transition time of around 1 minute 30 seconds to more than 3 minutes. The size of the transition area and the distance of the whole course also affect the time it takes in the race.
What To Wear For A Sprint Triathlon?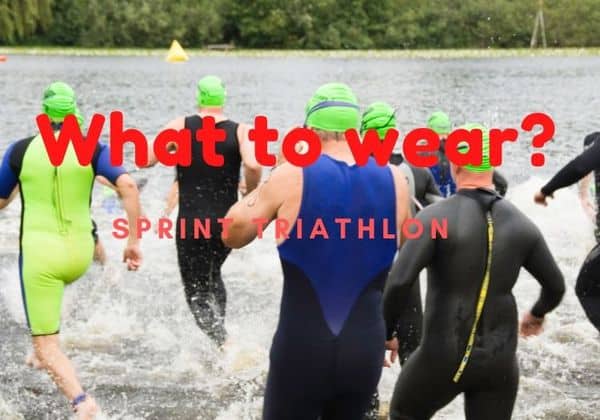 Although training is required to ace a Sprint Triathlon, what a triathlete wears also affects his/her performance.
As a beginner performance is not as important as getting to the finish line. It does not make so much sense for beginners to get advanced triathlon gear.
One can literally finish a triathlon without spending a dime on gear. Check the article I wrote about How to race a triathlon for free with no budget and no money! (equipment, registration, and training) to help newcomers access the sport without the financial burden.
Here is a simple guide about the essential equipment you need for a Sprint Triathlon
Triathlon Suit
For a sport where you swim, bike, and run, you can wear a swimming suit or swimming shorts during the swim while changing to cycling shorts during the transition.
But you can also save your time by wearing a triathlon suit; specifically designed to wear in all these disciplines. They are also quick-drying, and the fabric is much thinner compared to the cycling shorts, which are more suitable for the run.
Triathlon Wetsuit
Wetsuits come in a variety of styles, such as full sleeves, sleeveless, short, full-body. It protects the athlete against the cold water and improves swimming performance; as it increases buoyancy and can make legs float more.
If the swim is in open water, a tri-specific wetsuit is recommendable to keep you warm. Entry-level tri-specific wetsuits are made from thicker neoprene and are more buoyant, whereas advanced swimmers use thinner neoprene wetsuits for more flexibility.
For a warm climate, you can wear a performance swimsuit for the entire race. Usually, skin-fit trunks for men and a one-piece suit for women are considered appropriate.
If you would like to know more about Tri suits and how to choose one, check the article I wrote about What to wear for triathlons? Everything you need to know – Trisuit and Wetsuit choices.
What Triathlon Gear you will need for a super sprint?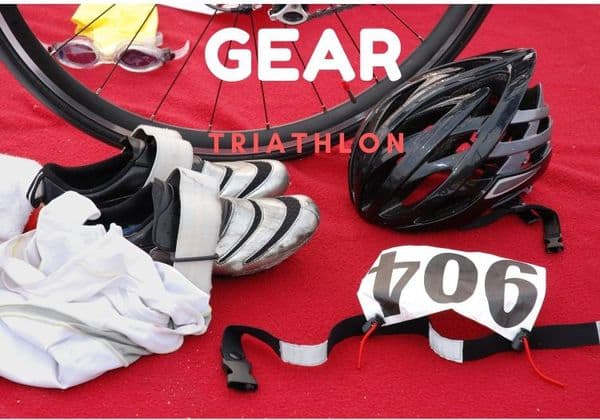 Save yourself some hassle and check my Best Triathlon Battle-Tested Budgeting Gear
Bike
Any bike for an entry-level triathlete will do. While a road bike is recommended, Mountain, hybrid, or even a folding bike will get you to the finish line.
Competitive athletes opt to use a time-trial bike which provides a more aerodynamic position. Another option for riding a road bike is to use clip-on aero bars (Source).
Helmet
A cycling helmet is a requirement as it is not permissible to go on a bike ride without wearing a helmet during the transition.
Triathlon Cycling to Running Shoes
Even for a Sprint Triathlon, while it is not required, clip-less pedals and bike shoes are recommended for better performance by advanced athletes.
These shoes are designed to easily get your feet in and out of the shoes while riding.
Beginners should never attempt using clip-less pedals for the first time on the race day as it takes a lot of practice to get used to it.
Swimming Goggles
A good pair of goggles is essential. For great peripheral vision, you can use open water goggles as they have wider lenses. Clear lenses are best for overcast days, but mirrored lenses will protect your eyes and vision on a sunny day.
You can also opt for polarized lenses on sunny days specifically. For the washing machine effect of lots of arms movement, soft lenses with rubber around them are a better option.
However, goggle preferences vary according to face shape, so just get the one that works for you.
Swim Cap
Most triathlon events provide swim caps but come prepared with a good quality cap to keep your head warm if it's a cold swim. You can also wear a swim cap on your head, put goggles on over it, and then use a second swim cap to keep it all in place in an open water swim.
GPS Watch
While this is not a piece of mandatory equipment, if you want to track your performance throughout the race, you may also want to use a triathlon watch. Check this article I wrote about How much does a triathlon watch cost? what matters the most!
Running Vest / T-shirt
If you do not have a tri-suit, you can wear a bike jersey or a running vest for the run, but you are not allowed to go topless. For more insights, check out our post What to And Not to Wear Under Cycling Jersey ? Brief Bike Wearables Guide!
Can You Do A Sprint Triathlon Without Training?
If you know how to swim, bike, and run, then yes, however, finishing an official sprint triathlon race within the time limit will have to do with your fitness level and capacity to endure racing the three sports back to back.
It would be smart to at least test your timing at each discipline separately and do the math if you can actually make it with some buffer. Check out How Many Hours Do Triathletes Typically Train? Factors & Must-Know Tips
Here is an example in the video below,
For someone who doesn't know any of the above or is lagging behind in fitness, it can take several weeks or months of training depending on physical fitness level as well as prior experience.
The training also varies according to the target distance and each athlete's strengths and weaknesses.
Also, keep in mind that you are allowed to walk in triathlons. For more on this, check out the post titled "Can You Walk In a Triathlon? Should You Do It ?! "
If you are just getting into the sport, I think you will find these two articles that I wrote very helpful 50 must-know tips for every beginner triathlete & Top 47 Tips For A Triathlete on a Budget: How to afford triathlons?