Apparently, female triathletes don't spend much of their time picking the right bra that fits well. But let me tell you, a bra that fits well, can meetly support your breast tissues.
You should know some triathletes prefer wearing just the triathlon singlet, while others wear a sports bra under a tri suit.
So what do you think, why do they prefer so? Let's talk about the most overlooked subject in this article.
Also check out What To Wear For Triathlons? Trisuit VS Wetsuit Choices; Options & When To Wear What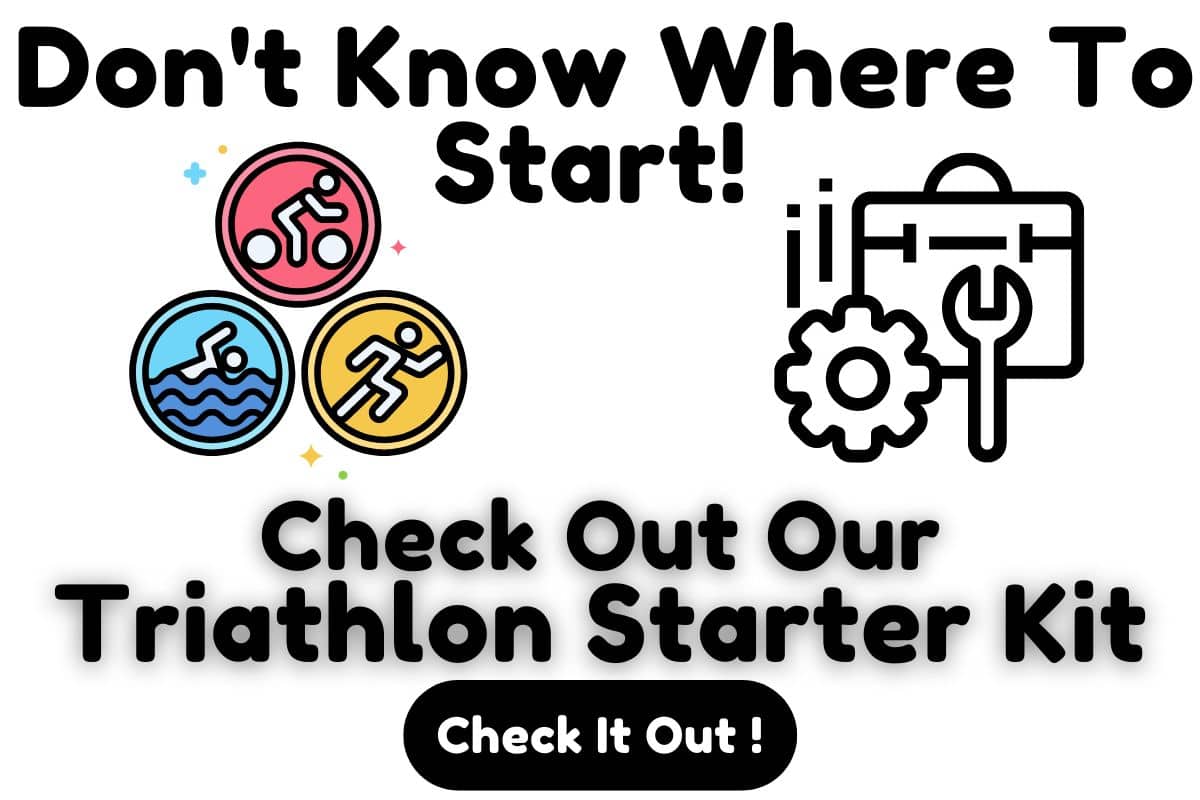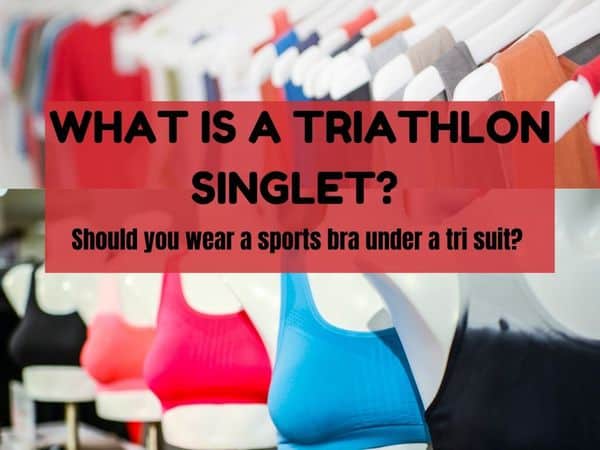 What Is A Triathlon Singlet?
Tri singlets are gender-specific tri tops with different purposes and fittings for male and female triathletes. A female triathlete singlet is a tri top that gives a special fit to the chest. Females who prefer wearing a two-piece tri-suit usually wear tri singlets with shorts.
Tri singlets work best for females with small cup sizes, in another case, you can try wearing a firmly fitted sports bra under a standard tri top.
Triathlon singlets can be worn throughout the race and even during training, as they are constructed from quick-drying and non-chaffing material.
What You Should Be Looking For In A Triathlon Singlet?
Moisture-wicking property
Have a good body grip to avoid double up
The right amount of padding to offer chest support and hold shape.
Long-term comfort
Offer a great range of motion and flexibility
Leg grippers are complementary
Compression support for safety purpose
You can find these features in the tri singlets I have listed below
| | |
| --- | --- |
| Tri Singlet | Prices |
| 2XU Women's Active Tri Singlet – Black/Sunset Ombre | $58.63 |
| 2XU Women's Compression Tri Singlet – Black/Chroma | $92.62 |
| 2XU Women Perform Tri Singlet | $40.95 |
Triathlon Singlet Options
Do Triathletes Wear A Sports Bra?
It chiefly depends upon your breast size. Females with average or small cup sizes can skip wearing sports bras. However, then you need a crop top with good elasticity and fitting, such as tri singlets. Females with larger cup sizes should wear a sports bra under their tri suit to keep their busts lifted in their position.
You can buy unpadded bras with separate cups to provide a unique fit while running. These bras are made from moisture-wicking fabric to avoid chafing. However, encapsulation sports bras feature fabric layering to reduce the area of breast movement. Due to layering, it takes more time to dry than a standard tri suit.
If you are looking to find a decent affordable trusty bra for your next sports adventure, then we recommend that you check out the Reebok Women's Tri-Back Sports Bra, Light Support (Amazon Link) Designed specifically for sports and Training with a Speedwick fabric wicks sweat to allow you to stay cool and dry
What You Need To Know Before Buying A Sports Bra For Triathlon
Unfortunately, we don't feel the need for the right kind of fittings and this brings not just the saggy breast tissues but invites health issues as well. The three tips regarding size, material, and comfort can get you the right sports bra for a triathlon.
Breast tissue has no muscle- once it sags, it won't go back. It's worth taking the time to choose and care for this vital part of your triathlon kit!

source
Size
Get yourself the right measurements of your cup size. The bra size chart may differ for different brands. But it's worth knowing the right cup size before purchasing it, or otherwise, you'll end up wearing the wrong one.
If you got the deep strap marks by the end of the race or your breasts are slopping out from the cup, you are probably wearing the wrong size. This video will help you know the right way of measuring bra size.
Material
Nothing less than a non-chaffing, moisture whisking, elastic, and quick-drying material is acceptable to be worn in triathlon.
Comfort
Support is essential here, but it shouldn't compromise the comfort you need till the end of the race. We have a sports bra with cups sizes to offer full coverage to those who prefer covering cleavage. This will help them get confidence and focus on their race without compromising their comfort level.
Females with bigger busts worry about the breast movement they experience while running. This can cause sagging if not given the right support. Well, if you are one of them, you need to get your hands on full-figure plus-size underwire sports bras, as they are purposely designed to keep your breast lifted in the correct position while running.
Padding
The non-padded bra provides more support and acts as a shock absorber. Padded bras can alter the shape of your breast and can restrict the movement of your body during high-impact activities. It also limits the support your breast tissues need while running. This will help you to avoid sagging.
Strap size
The broader the strap, the better it will support your breast tissues and, in turn, can reduce shoulder pain you might experience wearing a small size strap. As it offers support, thus helps in maintaining the breast shape.
Can You Wear A Sports Bra As A Shirt/Top In Triathlons?
Yes, sports and crop top bras are worn as tri tops in triathlon especially in summers. Whereas, triathlon singlet can be worn in windy seasons and winters. However, a sports bra is suitable for a swim and not for a cycle, as your skin will make you less aerodynamic. You can put on a shirt over a sports bra during the first transition to get the aerodynamic feel.
Keeping in mind the type of weather, the right choice of bra material is also important. Especially the hot days when the sports bra is your only tri top had to face the scorching heat.
Cotton Front-Closure Bra is pretty good for summer days. Go and check out the amazing reviews about it. (source)

Does Swim Bras Exist?
Yes, some sports bras for triathletes offer support while swimming. Ideally, thin fabric with quick-drying foam is used in such bras. It helps in removing the moisture, sweat, and wetness that might cause chafing when transitioned to running with the same bra on.
These bras have hooks and clasp coated with anti-rusting material. Swim sports bra with cross straps at the back provides greater support, especially to females with D-cup size. However, the racerback strap style works well for females with small cup sizes.
On a side note, check out Why Do Female Swimmers Have No Breasts ?! Facts, Myths, and Treatments!
Unfortunately, these sports bras have a shorter life span due to the high chemical content in water. And this might affect the elasticity of the swim bra, and hence the support.
If you still have some trouble finding what to and not to wear under tri suit, you can check out the article we wrote about
What Tri Suit To And Not To Wear Under A Triathlon Wetsuit? Tri Suit Buyer Guide
Here are some suggestions for triathlon-approved swim bras
| | |
| --- | --- |
| Swim Bras | Prices |
| Medley Swim Bra | $45 |
| UV Skinz Swim Bra | $25.95 |
| Speedo Guard Swim Bra | $21.27 – $27.20 |
| Hapari Swim Bra Support | $59 |
Triathlon Swim Bra
---
Should You Wear A Sports Bra Every Day?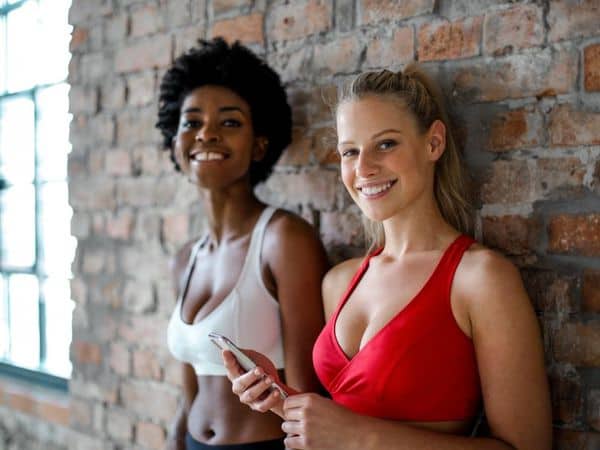 We have known for quite a long that sports bras offer a firm fit feature to maintain shape and restrict the bouncing effect while doing sports and exercises.
Hypothetically, it's proven that wearing a sports bra all day can give your busts a good shape at the cost of fungal infections and back pain. We need sports bras with the right fittings and size so that they do not jiggle while performing vigorous activities.
Yes, it's harmful to restrict blood circulation by putting on a tight sports bra all day long. Restricted blood circulation and pressure exerted over breast tissues can increase the chance of breast cancer. Whether it's a sports bra or an ordinary one, anything tighter is not recommendable and can cause skin issues. (Source)
It's better to switch to the soft fabric and wireless bra after coming from a long run. Your boobs need to breathe as well.
Do Sports Bras Flatten Your Chest?
Yes, Sports Bras flatten your chest. Anything much smaller than your actual size can not just bring skin issues but can disfigure your chest. Your breast tissues are delicate, and they need the exact encapsulation according to their actual size.
Take a couple of deep breaths when trying on your sports bra and make sure it doesn't restrict your breathing. Or better, you can try them during training.
Conclusion
Around 80% of females don't wear the right size bra. Many females triathletes, even with their best experience on this track, has less knowledge about how to pick the right bra/tri top suitable for them.
I hope by now you can consider yourself not one of them. And you'll understand the importance of the right size of sports bra in triathlon.