Are you all set to dive into the pool and smoothly make your way out through the last stop(running)? Well, many beginner triathletes thought they were until they got blisters and sunburned. The reason could be the miserable choice of costume they wore at the event, and that could have been their first time wearing such a costume.

It's really important to get your hands on the correct gear you need for the triathlon. This article will shed some light on the most asked question by beginner triathletes.
What to wear and not wear under a triathlon wetsuit? Triathletes wear a tri suit under a wetsuit to save their precious seconds in transition. You can wear a single-piece or tri-specific two-piece costume. We have got a variety of tri suits, each giving you a different level of comfort and feel. It depends on the weather, comfort, and what fits you best.
You need to be mindful of what not to wear for your first triathlon. The choice for different gears in different weather is one thing. But do not wear anything under your wetsuit that you just bought a day before an event. Not even a tri suit!
Also, be careful of the chafings a wetsuit can cause. For more on this check out our post How To Treat Wetsuit Chafing Effectively? Prevention and Helpful Tips!
Instead, put on the same gear you used in training sessions, and you are good to go.
For more on your wearable options, check out our post Do You Change Clothes During a Triathlon? Your Options of What To Wear!
New clothes have sharp edges. It's better to wear the gear you plan to wear on the event day during your training sessions.
It will save you from unwanted stress and eventually makes your performance better. It's the best way to test your wetsuit and tri suit and getting cozy performing in it.
---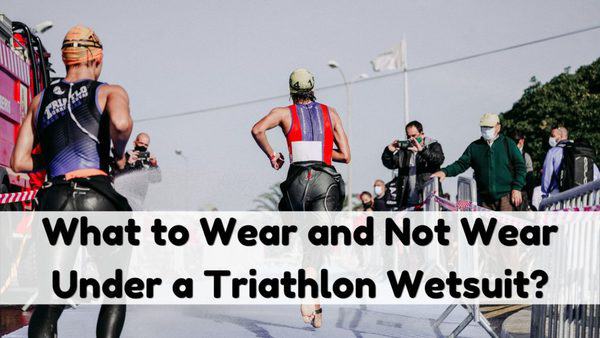 Also, check Triathlon Vs Surfing Vs Diving Wetsuit; Can They All Be Used in Triathlon? How To Pick One
As a start, this video can help you with what you should wear under your wetsuit.
What Is A Tri Suit?
A triathlon suit is a major part of a triathlon kit. It helps to reduce resistance and makes your performance much better. Furthermore, it makes you feel lighter and comfortable. Thus, this helps you focus on navigating yourself towards the front line without any pressure.
Some tri suits are best for the bike leg and run, and such suits are aerodynamic. Triathletes wear such tri suits under a wetsuit, which can be removed easily after a swim.
If you are interested in getting a triathlon suit then you must check the Best Budget Triathlon Suit – I've Used It for 7 Years! (Guide & Options For Men & Women)
Whereas, some tri suits are best for all three legs. Such tri-suits are both aerodynamic and hydrodynamic to make your strokes faster.
Hydrodynamic tri suits and swim-specific-wetsuits have somewhat the same qualities.
It reduces drag and makes you less resistant to water by reducing surface area. However, wetsuits are more recommendable as the experiment shows a difference of three seconds.
The added buoyancy is due to the neoprene that makes you swim smoothly. And it's not just about the numbers, but the feel of being much less resistive while wearing a wet suit.
You can get your hands on some best-reviewed tri suit from here(source).
Factors You Should Consider Before Buying A Tri-suit
It's important to come fully prepared on the event day. There are some factors you should keep in view before investing in tri suits.
When you are training or racing, having the right fit will impact your performance as well as your comfort. When it comes to a bike, fit can make the difference between comfortably cranking at 20 mph or laboriously moving at 18 mph.

source
If you are interested in getting a triathlon suit then you must check the Best Budget Triathlon Suit – I've Used It for 7 Years! (Guide & Options For Men & Women)
Weather
Sleeved tri suits are highly recommendable in all types of weather. You can wear a thick or thin fabric tri-suit according to the weather. Sleeved tri suits protect your skin from cold, getting sunburned, and make you more aerodynamic. It's a bit more versatile.
Sleeveless tri suits are still the choice of triathletes to avoid chafing. They wear arm covers to protect their hands from getting tanned.
Do not wear a sleeveless top, though it keeps you cool in hot weather, you might get sunburnt.
Female triathletes should wear a sports bra to avoid chafing and sweating caused by other typical bras.
Both bra and braless tri-suit have their advantage, but the popular opinion is that a separate bra swimsuit is more comfortable and versatile, especially when taking a loo break.
Check out our post on What Is A Triathlon Singlet & How To Pick A Triathlon Specific Sports Bra!
Quality
Another thing you need to look for is the quality of the fabric. It should be a quick-drying fabric and comforts you in all conditions. It shouldn't cause any kind of chafing that might turn into blisters. Avoid loose and baggy clothing.
Do not wear tri suits that get loose or baggy by the time. These are poor-quality tri suits, and this might give you unwanted chafing.
If you want to treat your chafed skin and blisters. Give this article a good read.
How To Avoid Chafing And Blisters In Triathlons? Prevention & Treatment Tips
Comfort
You need to make sure your tri suit fits you perfectly. It shouldn't overfit you to restrict your motion. The more it fits you properly, the more aerodynamic you will be. Hence, you'll have to put less effort to increase your speed.
Do not wear tri suits that don't fit you perfectly or restrict your range of motion. Do not risk wearing a tri suit that isn't comfortable till the last stop of your race. Go get another one, test it several times before going for the event day. For more on this, check out How Thick Should A Tri-Suit Be? How Should It Fit!
Triathlon distances
One-piece tri suits usually work best in sprint-type triathlon. However, it's kind of difficult to find a tri suit that fits perfectly to your entire body. It somewhat gives a feel of a skin-tight costume. It's a bit tricky to put on but makes you feel much lighter.
Here are some one-piece tri suits with their prices.
| One-piece Trisuit Brand | Prices |
| --- | --- |
| Louise Garneau Men's vent suit | $169 |
| DeSoto Forza flitsuit sleeved tri suit | $289 |
| Decathlon tri suit | $75 |
| Zoot sport Ulta Aero | $275 |
| Orca Core Race suit | $130 |
| Coeur Kenna Zele | $400 |
| DeSoto Women's Femme Mobius Tri suit | $148 |
| Huub Anemoi | $475 |
| Zone3 Women's Aquaflo short-sleeved tri top | $109 |
| Average | $230 |
List of one-piece tri suit and their price
Have a look at the article we wrote about
How Much Does a Triathlon Suit Cost? Options, alternatives, and what to look for?
It's more comfortable to wear a two-piece tri suit for long-distance triathlon such as Iron Man. You can easily find them more readily as we have got a variety of tri-specific tops and shorts.
A cycling top with a good fit is a nice option for training and triathlon. Whereas, tri shorts are more comfortable than cycling shorts. Don't go for tri shorts with big chamois that lead to a sore butt by the end of cycling. Tri shorts have chamois right enough for padding, and this doesn't leave your inner thighs with chaffing.
Nobody wants to look awkward wearing a one-piece tri suit in a public place. Thus, a two-piece tri suit can work equally for both training and on the event day.
You can know a lot more differences between one-piece and two-piece tri suit in a blog we wrote about
What To Wear For Triathlons? Everything You Need To know – Trisuit and Wetsuit Choices
For more on this, check out our post "What To Wear For Any Triathlon? A Brief & Complete Guide"
Why Should You Wear Tri Suit ?
You might be thinking of wearing only a tri suit to your event. And some of you might be thinking of wearing only a wetsuit or a swim skin. So why do triathletes wear tri-suit necessarily?
Well, as I mentioned earlier, a tri suit has to be there inside your wetsuit. It is designed to be worn for the whole event. A wetsuit and a swim skin have a remarkable capability to keep you up on the water. You can float and enjoy your swim much better in a wetsuit or swim skin than in any tri suit.
These costumes are more buoyant than tri suits to make your swim safe and enjoyable.
All the costumes that are designed for triathletes have a particular purpose.
Wetsuits are allowed for the water temperature below 21 degrees Celsius. It eliminates shudder and keeps your body warm.
Swim Skin is allowed for warm water temperature. The fabric is thin for the obvious reason of keeping your body cool. It is less buoyant than a wetsuit.
Tri suit is worn for the whole event. However, it is mainly preferred for the bike leg and run leg. Tri suit is not buoyant at all. We have got some swim-tri suit, but again it doesn't match the level of benefits delivered by swim skin/wetsuit.
Wearing tri suit under a wetsuit can save your precious seconds from transition T1.
If you are still confused about whether you should go for a wetsuit or a tri suit or both. This might help you(source).
Also check our post on Why Are Swimming Tech Suits Expensive? Is It Faster Than A Tri-Suit!
Conclusion
Whatever you wear inside your wetsuit, should correctly fit your body. It's your choice to go for a one-piece or a two-piece tri suit. But you cannot underestimate the need of wearing a tri suit under your wetsuit. In this way, you will not have to change a lot when going for a bike leg.
You can surely look for factors as mentioned above to get just the right tri suit according to your interests. A breathable and correctly fitting costume is better than a newly brought costume with sharp edges. So, whether you buy a wetsuit or a tri suit, test it several times while training before going for the event.