Finding the perfect cycling kit is no small feat. You'll want to consider comfort, aerodynamics, weather, and how much you need to carry with you on your ride. So let's start with the top.
What should you wear under your cycling jersey? One can either wear a sweat-wicking base layer or ride with just the jersey, however, it comes to wearing what is comfortable for the rider. While there are general guidelines one can follow when it comes to finding the perfect cycling kit, it ultimately comes down to personal preference. You can experiment with different base layers until you find the combination that works best for you. You may find that you prefer a base layer year-round or that you do best with nothing beneath your jersey.
Let's dive into how to navigate different base layers and some general guidelines on dressing for the weather.
On a side note, if you are having trouble finding yourself a cycling jersey, then we highly recommend that you check out our post titled " How Much Do Cycling Jerseys Cost? Why It Matters! (Buyer Guide)"
---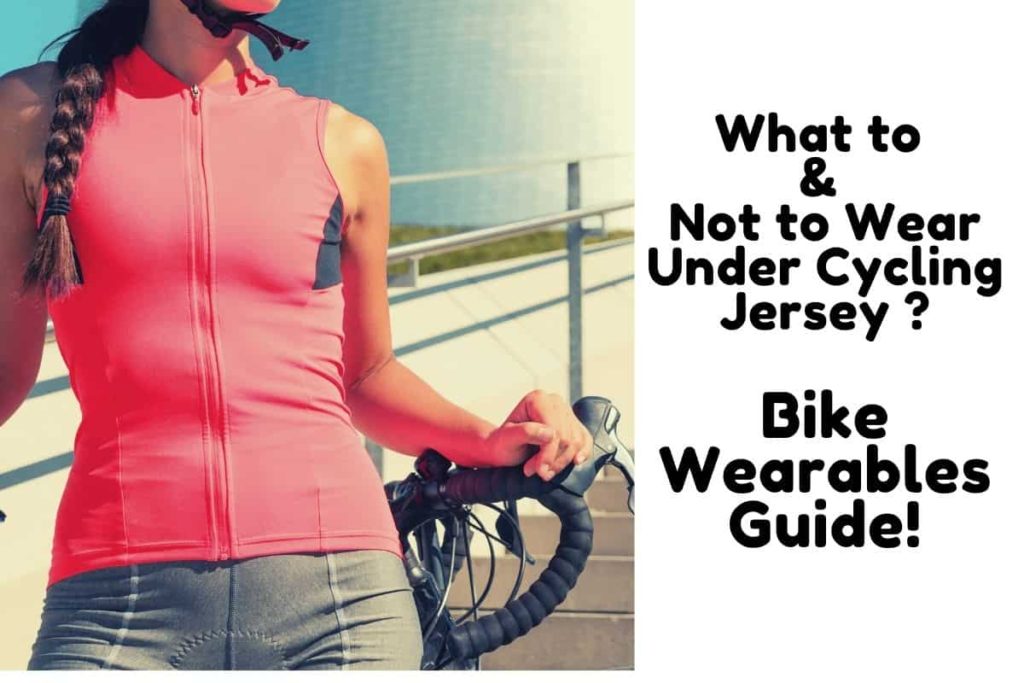 Do You Need an Undershirt for Cycling?
While undershirts aren't necessary for cycling, one may find that they add comfort to the ride. If you do decide to wear an undershirt, you'll want to make sure it's one that has sweat-wicking properties (typically referred to as a base layer). This would generally be worn under your cycling jersey (or "kit") as a way to help regulate your body temperature.
Generally speaking, you'll want to avoid wearing cotton, regardless of how long you're biking for or what the temperature is. This is because cotton will pool all of your sweat against your body which can throw off your temperature regulation and lead to unpleasant chafing. A standard polyester exercise top can be used for a casual riding session, but a cycling jersey will usually be your best option. They exist for a reason, after all.
What Do You Put in Your Cycling Jersey?
Carrying nutrition on any long ride is essential, and that's where the cycling jersey really shines. The standard cycling jersey is form-fitting with a zipper down the front and big, saggy pockets in the back. The zipper is for comfort as one can lower it during the ride to let in the fresh air and cool off. The pockets are usually found on the back of the jersey, often in a group of three. They may look strange when just walking around, but they are perfect for the on-the-bike position. The elastic surrounding the top of each pocket allows for easy access while the loose structure means items sink into the pocket and don't fall out.
A lot of cyclists will use these pockets to store energy gels, granola bars, and other portable snacks. You may even be able to fit your phone in those pockets, though there is the risk of it bouncing out. Keys should be stored somewhere more securely, ideally in a zipper pocket (some jerseys also have those).
Anything else will need to be stored in a small bike bag (like multi-tools or spare tubes). Do your best not to add too much weight, as that can significantly slow you down.
Do You Wear a Jersey Under a Cycling Jacket?
One can wear either a base layer or jersey under a cycling jacket (or both). If the cycling jacket has all the pockets you need and you can stay warm enough with just the base layer beneath, that might be all you need. But if you think you'll be taking your cycling jacket off at some point, you're better off wearing a jersey underneath just in case.
Keep in mind, though, that you'll need a safe space to stow your cycling jacket if you do need to take it off mid-ride. Do not wrap it around any components on your bike. The risk of a sleeve coming loose and getting caught in your wheel or chain can lead to a serious injury. It's best to dress for the weather you'll be riding in rather than the weather you feel when you first step outside and haven't warmed up yet.
What Should You Not Wear when Cycling?
You'll want to avoid wearing any loose clothing and accessories when you're cycling. Not only will you lose aerodynamics, you also risk causing an accident if something loose gets caught on your bike. Here are a few other things you'll want to avoid wearing.
The Wrong Helmet
You really don't want to skimp out when purchasing your helmet. This is one of the most valuable items you'll wear because it's the only piece of protective equipment you'll have on. You don't need to go full-on aero helmet. Instead, invest in a high-quality road helmet early on and upgrade later if you want. Do not use your full-face mountain bike helmet. It will get too hot, is difficult to remove, and just generally won't work for road cycling.
Jeans or Cotton
These materials are a nightmare to ride in. They will hold onto sweat, becoming heavy and uncomfortable, not to mention hot. Instead, opt for polyester or other cycling-specific materials.
Underwear
This might be a bit controversial, but wearing underwear under your cycling shorts is generally a no-no. They can bunch up and cause chafing and other discomforts. If you simply can't bike without them, get cycling-specific styles that have sweat-wicking properties.
Also, we think it is important for you to check our post on "Do Cyclists Wear Underwear? What Not To Wear!"
On a side note, check out our take on Why Do Cyclists Wear Gloves? Should You Wear Them!
Also, check our post on How Tigh Should Compression Shorts Be? Can They Be Used for Swimming and Cycling ?
For some other ideas of what not to wear, check out the below video Some tips are practical (like not wearing a full-face helmet), while others are a bit less obvious (no superhero costumes).
What Is a Base Layer for Cycling is For?
Cyclist UK got deep into the science, finding that base layers can actually help regulate your body's heat by managing the moisture produced during exercise. This is often referred to as "wicking" meaning the moisture is being wicked away from your body to prevent sweat accumulation. Removing sweat efficiently will help keep you cool and dry, balancing your body's thermoregulation. (Source)
Different seasons may require different base layers, though. While the principle is the same (sweat wicking material), the type of base layer will vary in the summer versus the winter months. Summer base layers need to keep you cool, despite the added layer. In theory, a base layer with a jersey could ultimately keep you cooler than the jersey alone by pulling sweat off your body. However, some cyclists find that wearing a jersey is simpler and adaptable enough for most scenarios.
In addition to a base layer, you'll want to consider other items to wear depending on the weather. Here's a breakdown inspired by Coach David Ertl who gave a general round-up to the Road Bike Rider network.
| Weather Temperature | Top | Bottom |
| --- | --- | --- |
| 70℉ (21℃) | Short sleeve jersey | Bike shorts |
| 60℉ (15.5℃) | Long sleeve jersey | Bike shorts |
| 50℉ (10℃) | Heavy long-sleeve jersey with wicking undershirt or -Lightweight long-sleeve jersey with long-sleeve undershirt. | Bike shorts with leg warmers or tghts |
| 40℉ (4℃) | Long-sleeve heavy mock turtleneck -Lined cycling jacket -Medium-weight gloves -Headband covering ears | Bike shorts with leg warmers or tights -Winter cycling shoes -Shoe covers -Wool socks |
| 30℉ (-1℃) | Long-sleeve heavy wicking turtleneck undershirt -Heavy cycling jacket -Heavy-weight gloves -Lined skullcap | -Heavyweight tights -Winter cycling shoes -Shoe covers -Wool socks -Charcoal toe warmers |
| 20℉ (-4℃) and below | Long-sleeve heavy wicking full turtleneck undershirt -Long-sleeve jersey -Lined cycling jacket -Mittens or lobster claw gloves -Balaclava | Winter bib tights -Winter cycling shoes -Wool socks -Plastic bag -Charcoal toe warmers |
Cycling Wearables Based on Weather Temperature (Source)
Also check out Why Wear a Cycling Cap? Purpose, Alternatives & How To Wear One!
Like all things, this is simply a guideline. You can use it as a jumping-off point to create your own go-to kit for all kinds of weather. Putting together a list can help make picking out an outfit easier, especially on those cold days. It's one less barrier between you and your training.