Triathlon is a challenging, stress-inducing, and incredibly rewarding sport. The first step is figuring out what distance to tackle. From super sprints to full Ironmans, it can be hard to know what the right choice is. We'll cover what to expect for your first triathlon, how to choose a distance, and when to know you're ready to compete.
What Triathlon Should I Do First?
A sprint or super sprint triathlon ar the best option for entry-level triathletes. These distances are a great way to dip your toes into the sport. This is true even if you are fairly fit. Races can be intimidating, so picking a distance that isn't overwhelming can be a wise strategy.
Not only will you have to be strong enough to complete each portion of the race, you will also need to make sure you are mentally ready for the event. This means being able to manage pre-race jitters, have a solid nutrition plan in place, and know exactly what you need to do at each transition.
If you don't feel quite ready for a sprint distance triathlon, you can try a super sprint. These are a bit less common than the sprint distance, but you should be able to find one nearby.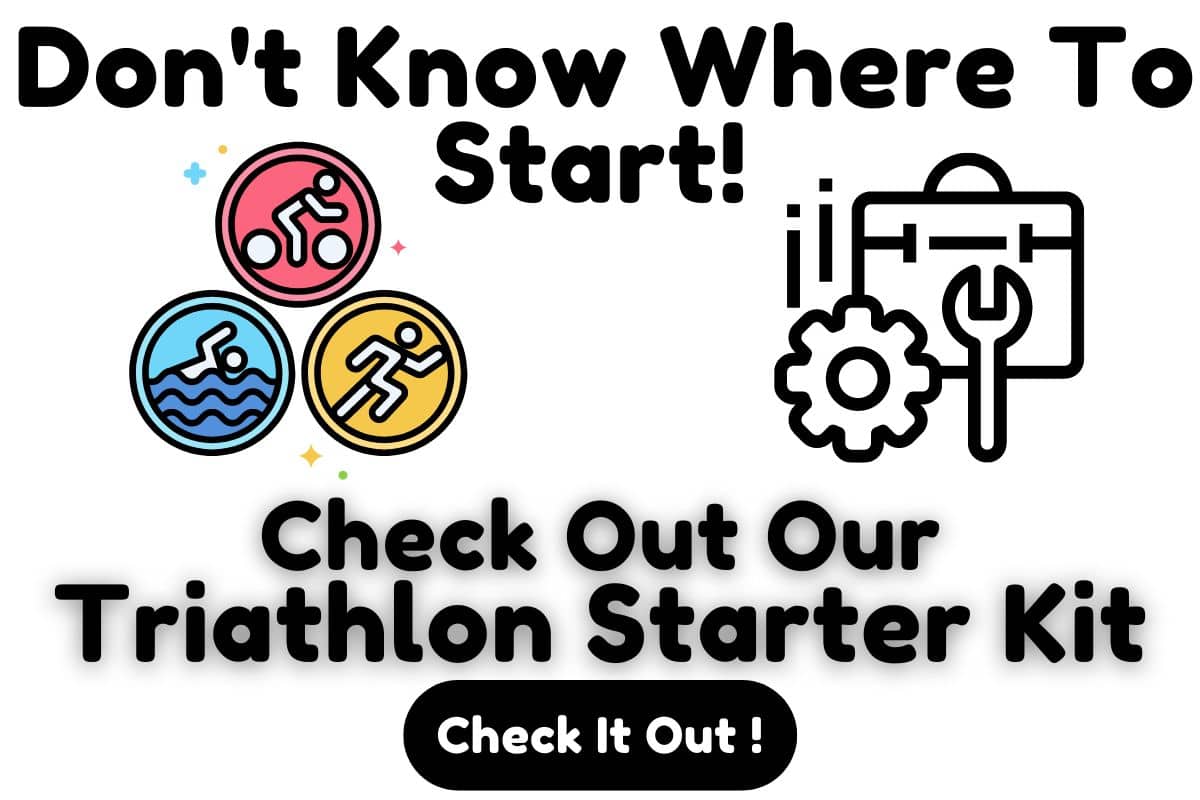 Also, you will have to take in consideration how much time you can dedicate to training. Here's how the distances compare, and roughly how long you'll spend each week training:
| Race | Swim | Bike | Run | Weekly Training Hours |
| --- | --- | --- | --- | --- |
| Super Sprint | 500m (.3mi) | 10k (6.2mi) | 2.5k (1.6mi) | 3-4 hours |
| Sprint | 750m (.46mi) | 20k (12.4mi) | 5k (3.1mi) | 3-5 hours |
| Olympic | 1.5k (.93mi) | 40k (24.8mi) | 10k (6.2mi) | 5-7 hours |
| Half Ironman | 1.93k (1.2mi) | 90k (56mi) | 21k (13.1mi) | 8-13 hours |
| Ironman | 3.9k (2.4mi) | 180k (112mi) | 42.2k (26.2mi) | 13-15 hours |
Triathlon Distances and Required Weekly Traning Hours
Find out more on triathlon distances by checking out our Triathlon Distances & Average Timings Analysis (Infographic); Pick Your Right Fight !
While some beginners will jump right into the Olympic distance triathlon, it's generally best to choose an easier option. This is especially true if you've never done a race or other competition before.
It can be nerve-wracking to be around so many people – and especially to be around people who are significantly faster. It's important to have a strong mental game and not get distracted or down on yourself.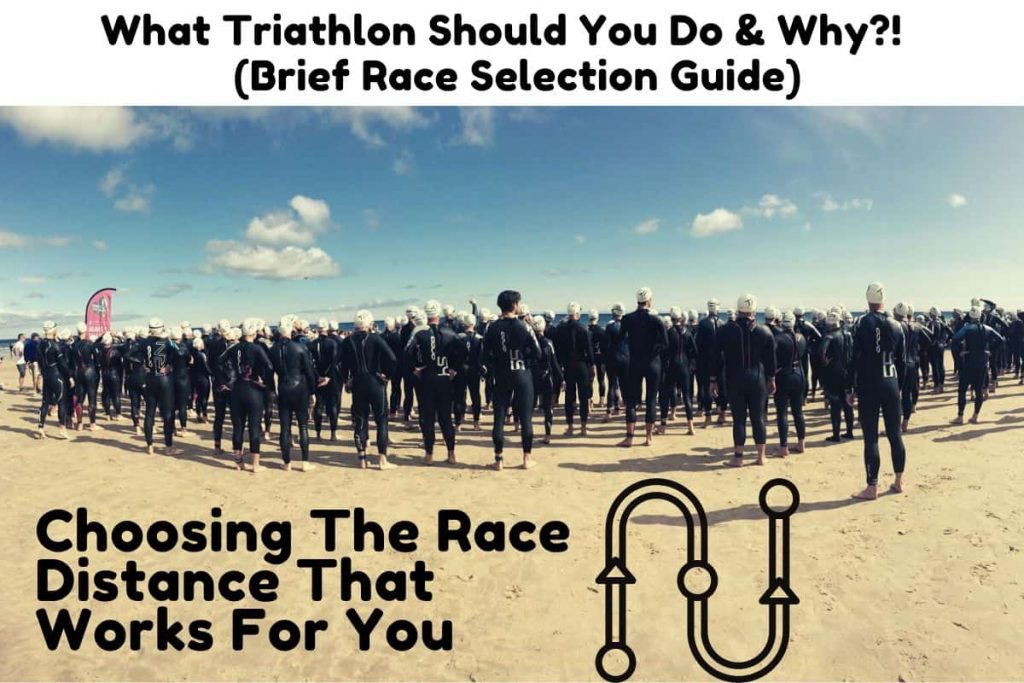 Can an Average Person Do a Triathlon?
An average person, with some training, should be able to complete an entry-level triathlon. Most people would be able to get to a point where they can complete at least a super-sprint distance, and many can do the sprint distance. It simply takes time and some training to be ready to complete a triathlon.
A lot of people will find the swim and run portions to be the hardest parts (Source).
As long as the training adequately prepares for that, a short-distance triathlon is well within reach of most people. The biggest thing is just committing to the training and trusting the process.
That being said, an average person is unlikely to be able to complete a Half Ironman, and especially not a full Ironman distance.
How Do You Know if You Can Do a Triathlon?
If you can safely swim in open water, comfortably handle a bike, and run without injury, you can do a triathlon. The distance will vary, of course, but as long as you can complete each of the disciplines individually, you can combine them together.
Generally speaking, you should be comfortable doing at least 75% of the distance for each leg of the race (Source).
So if you're looking at a sprint distance, you should be able to swim about 550 meters, bike 15km, and run 3.75km. This doesn't have to be right off the bat, though – you can train up to these distances. If you go into a race being able to do these distances comfortably, you'll be able to crank out the full distance when it comes to race day. Just be sure you fuel properly before and during.
Can a Beginner Do a Triathlon?
Yes, a beginner can do a triathlon. You have to start somewhere, after all! While a lot of people come to triathlon with a background in at least one of the disciplines (swimming, cycling, or running), some people have no experience at all and just want to challenge themselves.
The most important part is to find a solid training plan. Most beginners will be fine with a pre-made, free training plan they can find online.
This will outline how much time to spend on each part of the race throughout the week and give a general timeline to complete the training.
There is a 12 week plan created by Triathlete magazine that is very easy to follow and includes a taper before the race ( Find out more about "When Should You Taper for A Triathlon? How To Taper Properly!")(Source).
We do highly recommend that you check out our post "What Exercises To Do for A Triathlon? A Brief and Quick Training Guide!"
It can take time for the body to adapt to a new training plan, so it's a good idea to take it easy as a beginner. You don't want to burn out right away or risk getting injured.
Can I Do a Triathlon without Training?
It's generally not a good idea to do a triathlon without training. The swim portion can be especially dangerous if you aren't familiar with swimming in open water surrounded by others. While some people may be able to do a super-sprint triathlon with minimal training, they likely have a background in one of the disciplines and have a base level of comfort in the others.
For example, someone who regularly cycles 100km a week and does swimming as cross-training would probably be fine doing a super sprint triathlon. However, the run may be a shock to the system if their joints aren't used to that level of impact.
In fact, it's probably in your best interest to keep your training under 5 hours a week to give your body adequate time to recover. Find a training plan that can fit in your life, not one that will require too much sacrifice.
Also, check out our post on What Should You Do the Day After a Triathlon? Recovery & Nutrition Tips
Can Anyone Train for A Triathlon?
Yes! Anyone can train for a triathlon. If it's something that has always piqued your interest, give it a shot. It can be an incredibly challenging and rewarding experience. A lot of people enjoy the process of setting a goal and completing all of the steps along the way.
If you've never done any physical activity before, you should start by building a base of fitness before jumping right into a training plan. This can look like doing a Couch to 5k program or simply adding a long walk to your daily routine.
Once you feel ready to take on more, you can add it then. Everyone has a different background and ability level, so listen to your body and don't push yourself beyond your limits. While a little bit of discomfort is expected (and usually a sign of growth), you don't want to get to the point of being in pain or not being able to recover properly after a hard effort.
Final Thoughts
If completing a triathlon has always been on your bucket list, consider this your sign to go for it. Start with a distance that feels manageable but challenging (usually a super sprint or sprint is a good bet) and find a training plan that fits your needs. Sometimes just signing up for a race and putting it on your calendar is all the motivation you need to make it happen.