It's every triathlete's worst nightmare. You have trained for months, cut out all your favorite snacks, and even had to forgo family time in order to be in perfect physical and mental shape for your upcoming triathlon event only for it to be canceled due to adverse weather conditions.
So when can a Triathlon race get canceled due to weather? A triathlon race is likely to get canceled as a result of harsh crosswinds of more than 55 kph, heavy rain, thunderstorms, and extreme heat of more than 31 degrees celsius.
We all read the small print, or we should do, and note that adverse weather conditions could lead to the event being canceled. A triathlon event may be canceled due to storm, rain, inclement weather, winds, or any other "Act of God". The standard weather disclaimer for Ironman events reads as:
In the event of inclement weather, the Organisers reserve the right to delay the start of the race, shorten the race or modify the course.
Should inclement weather persist after the delay, the Organisers reserve the right to cancel the race without any refund of registration fees.
In the event of dangerous sea conditions only, the Organisers reserve the right to replace the swim with a run.
(Source)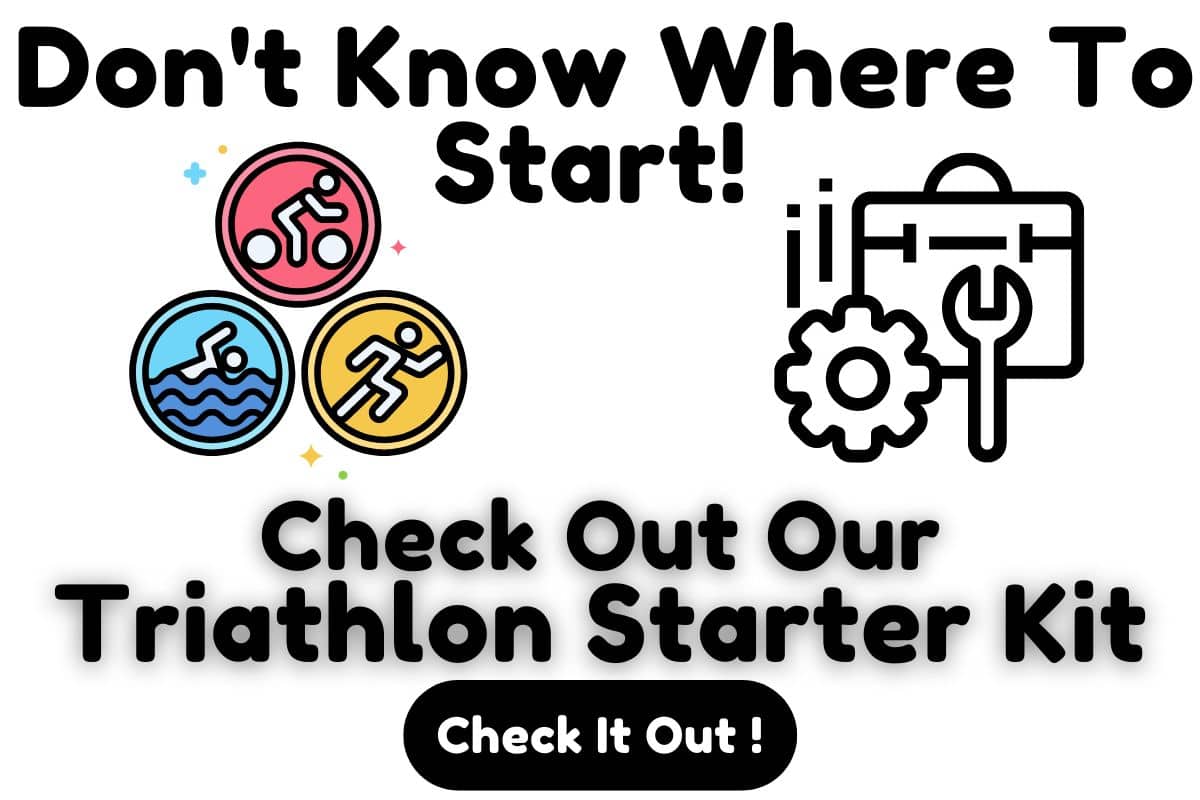 ---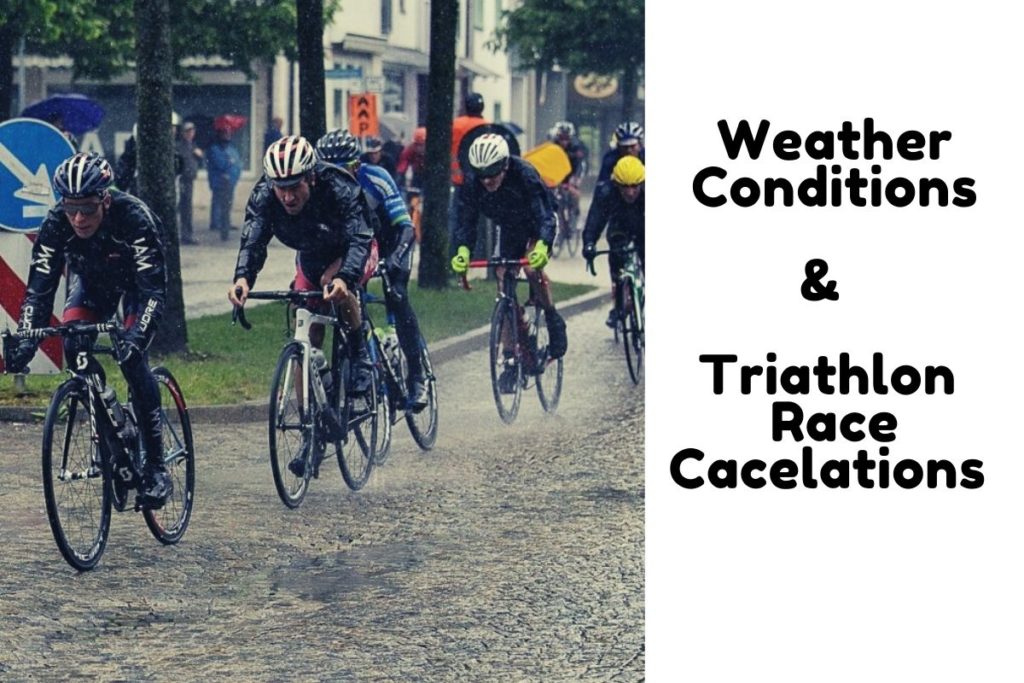 What Wind Speeds Cause A Triathlon To Be Canceled?
One of the major issues that can lead to a triathlon event being canceled is high winds. This is a particular concern for the bike leg of the triathlon. As you will have noticed, the wind has a huge effect on cycling. When you have a tailwind it seems like you can smash any of your average speed records, and headwinds can make it feel like you are making no progress at all.
The bigger issue, however, is crosswinds. These can become a real safety issue because bikes are so light and not designed to deal well with crosswinds. A strong gust of wind when an athlete is traveling at over 40kph is a genuine safety concern. Winds of over 40kph may lead to the cancelation of the event. Winds of 55kph will almost certainly lead to the cancelation of the event.
The 2020 Castle to Coast event in south England was canceled for this very reason. With predictions of gusts of up to 60mph across the entire course, organizers cited bike crashes as a major worry. The other issue was the potential for fallen trees which would not just be an issue for competitors, but also hamper delivery to aid stations on the run and the ability to provide swift medical aid would be impacted (source).
High winds may also lead to the swim leg being canceled. If water conditions are deemed to be too rough then the event may be canceled altogether or changed to a duathlon. This is what happened for the Ironman Busselton in 2018, where winds reached up to 55kph. (source)
For more on the impact of wind on bike riders, check out our post How Much Wind Is Too Much for Cycling? What Every Rider Must Know!
Can You Do A Triathlon In The Rain?
Doing a triathlon in the rain is absolutely possible. In fact, in some locations such as the Middle East or Asia, a light drizzle is a welcome relief to the heat! Rain on its own is not a reason to cancel a triathlon, however, if the rain is particularly heavy then it can cause secondary problems that could lead to the event being canceled.
For three years in a row, the CapTex triathlon in Austin, Texas was canceled due to issues caused by heavy rain (source). The first problem was that it caused currents in the swim leg to run at 4mph, which is far beyond what an average swimmer would deem as comfortable. Fatigue in the swim is not something to take lightly, as it has the potential for major safety issues.
The second concern was flooding on parts of the bike course. If the organizers find that flooding or slippery conditions impinge on competitor safety, then this will lead to the event being canceled unless it can be modified in a way that avoids the dangerous areas.
Also, we do recommend that you check out our post on "How To Dress For A Rainy And Cold Triathlon?"
What Happens In The Event Of A Thunderstorm?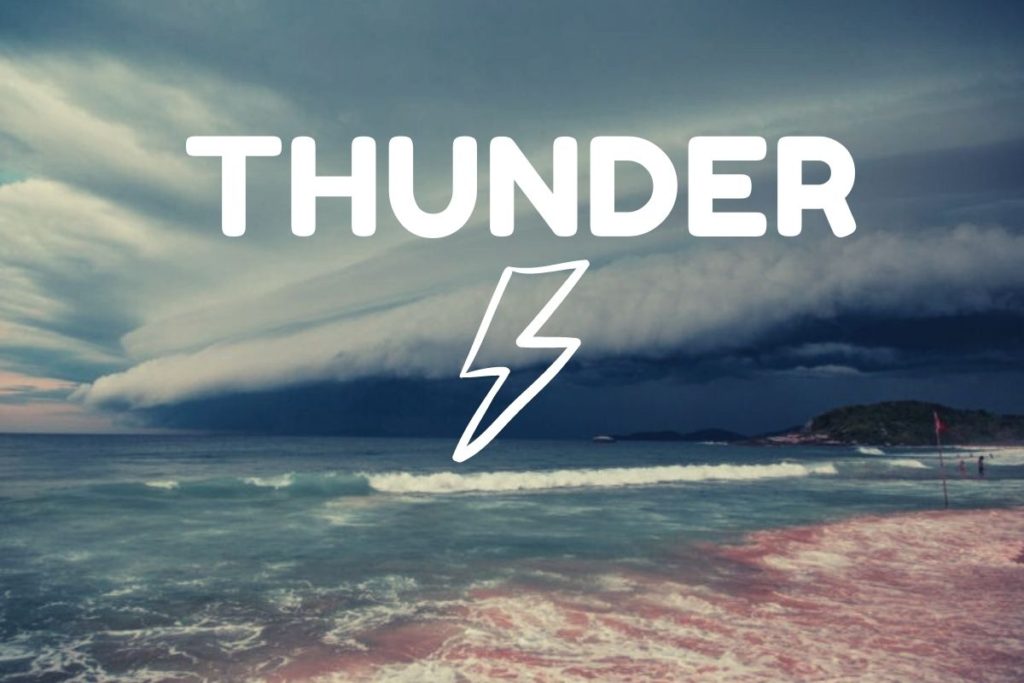 The race director is the one that will make the call to cancel an event, and the decision to cancel an event due to the occurrence of lightning will rest with them. Given the number of competitors and the nature of triathlons being in open areas, it does not make sense to run an event when there is a thunderstorm, so it is likely that a thunderstorm will lead to the event being canceled.
The guidelines for the 2021 TriDelSol in Michigan, due to start at 9 am, are very clear:
Lightning – the event will be postponed by 30 minutes. If lightning is closer than 6 miles away at 7:00 AM, then the race will be postponed by 30 minutes. If the lightning continues to be within 6 miles at 8:00 AM, the race will be canceled. If weather changes while the event is in progress we will stop/cancel the race. (source)
If the thunderstorm pops up during the race it is a more complex decision to make because it is logistically difficult to pull everyone off the course when they are scattered across its entirety.
The Ironman Kansas 70.3 in 2008 suffered this fate and organizers pulled athletes from the event as they passed the start/finish line of the run regardless of how many loops they had left to run. This led to 40% of the field not being allowed to finish (source).
When Does A Triathlon Get Canceled Due To Hot Weather?
The 2019 New York City triathlon was canceled due to extreme heat, as temperatures were predicted to reach over 100 degrees Fahrenheit (almost 38 degrees Celsius). While the decision to cancel the event remains with the race director, there are guidelines in place for excessive heat as it can lead to dehydration, heat exhaustion, or even heat stroke, which is potentially life-threatening.
Sports Medicine Australia offers the following advice for triathletes when training:
| | | |
| --- | --- | --- |
| Ambient temperature (Centigrade) | Risk of Heat Illness | Possible management for sustained physical activity |
| 15 – 20 | Low | Heat illness can occur in distance running. Caution over-motivation. |
| 21 – 25 | Low – Moderate | Increase vigilance. Caution over-motivation |
| 26 – 30 | Moderate | Moderate early pre-season training. Reduce intensity and duration of play/training. Take more breaks. |
| 31 – 35 | High – Very High | Uncomfortable for most people. Limit intensity, take more breaks. Limit duration to less than 60 minutes per session |
| 36 and above | Extreme | Very stressful for most people. Postpone to cooler conditions (or cooler part of the day) or cancellation. |
Triathlon Hot Weather Management Based on the Temperature
Data taken from: https://www.triathlon.org.au
Given these guidelines, one can expect events when temperatures reach levels when high to very high risk of heat illness occurs to be canceled.
Other Reasons Your Triathlon May Be Canceled
Triathlon events may be canceled for a variety of other reasons such as:
Pandemic
As we have seen recently, the pandemic has caused many events to be postponed or canceled altogether.
Water quality
The NYC triathlon was hit again in 2021, but this time it was an increase in the levels of bacteria in the Hudson River that caused the swim leg to be canceled, and an increased run leg was introduced (source).
Water Temperature
As well as the heat, extreme cold can lead to canceled events. The ITU guidelines are that the swim portion may be canceled if the official water temperature is higher than 32ºC or lower than 15 ºC. (source)
Sharks
Although shark attacks are rare, shark sightings have led to swim legs being canceled or altered at a number of events including the 2017 Busselton Ironman and the Sufferfest Western Australia Triathlon Festival (source).
Final Thoughts
A vast majority of triathlons go ahead with no issues. However, keep in mind that if an event is canceled or altered then the race director has your safety in mind. It may feel frustrating after all the training you have done, but an event is only going to be canceled if there is a serious risk to you or your fellow competitors. Remember that it is better to be safe today, and able to race again another day.